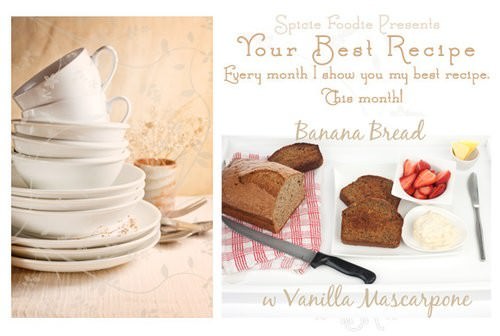 My banana bread recipe is my pick of the best recipe for the month,
It has been one of those months where I have been perpetually behind in everything I do!
I am not complaining, mind you.  I started the month in Bali doing a "Food Safari" for an upcoming FIRST EVER! Gourmet Getaways and Flight Centre package tour. I then spent four days in the Port Macquarie region with a fellow blogger attending a regional event which I will share with you very shortly.  Next up was a trip to the Gold Coast and a lovely stay at the Marriott Surfers Paradise.
Now I am finally home and sorting through the list of recipes I have prepared this month, in the hope of having something for my submission to Spicie Foodies "Your Best Recipe".
I have to say I am a little embarrassed.  With all that travel I really didn't cook very much last month! The recipe I have chosen is delicious, it is the Grilled Banana Bread w Maple Syrup Mascarpone.
The banana bread recipe really is worthy of submission to the round up.  The banana bread taste just like the Gloria Jean Banana Bread and grills up beautifully.
I hope you enjoy it! Please go over to the Spicie Foodie website, and take a look at all the other delicious submissions for the September "Your Best Recipes".