Spring is in the air!  By this statement I mean I can smell Jasmine, Orange blossoms, Gardenias  and all the gorgeous floral aromas that I associate with the warmer weather. I know it may not be a fun time of year for those with hay fever and allergies, but I love the overpowering sickly sweet honey aroma's of blossoming flowers.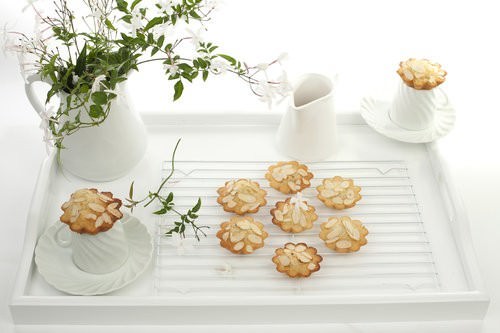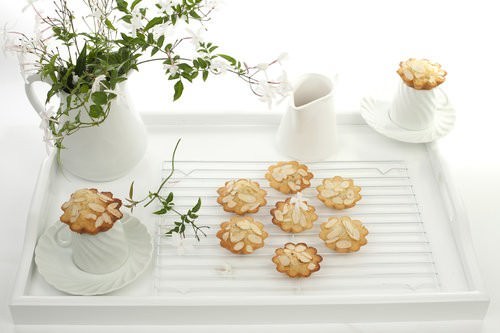 I wanted to make a cake which captured that smell precisely. So this morning I went into my garden and picked a big bunch of Jasmine and put it in a milk jug. This was for no other reason than inspiration. While I was going about my normal daily duties the gorgeous aroma was teasing me.  A plan started to take shape. I wanted to bake a cake.  It needed to be buttery with a delicious honey and orange blossom flavour.  I decided to make a matching syrup just to ensure the floral flavour was as intense as I wanted. This is how my Jasmine Friand recipe was born.
Once the friand had finished baking I could no longer tell which aroma was from the cake, the syrup or the original flowers. There was a melding of aroma's.
Mr GG is not a sweet tooth, so I expected this experiment to be met with very little enthusiasm.  He particularly dislikes the Jasmine bush because it grows over our native garden… oops! Anyway, I got the big thumbs up , he even slurped up extra syrup on the second cake.
So here is a nice way to welcome in the springtime!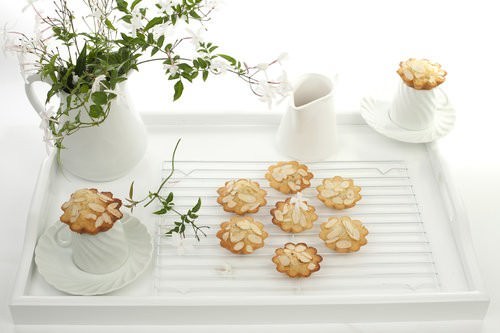 Ingredients
6

egg whites

185

gm butter

melted

2

Tbs

honey

1

Tbs

Orange Blossom Water

1

cup

ground almond

1 ½

cup

icing sugar

½

cup

plain flour

½

cup

flaked almonds

decoration
Honey Syrup Glaze:
2

Tbs

Honey

1

Tbs

Water

2

TBS

Orange Blossom Water
Instructions
Lightly grease a friand mould and preheat oven to 180 degrees. or 350F

Whisk the egg whites until just combined. Add the melted butter, honey and orange blossom water and whisk again to combine.

Add the almond meal, flour and sifted icing sugar and combine with a wooden spoon.

Pour the mixture into the mould.

Add the flaked almonds to the top of the Friand and cook until golden 10-15mins.
Honey Syrup Glaze
In a microwave safe dish (small crockery jug) make the sugar syrup by placing the honey and water in the bowl and microwaving for 1 minute. Remove from the microwave and add the orange blossom water. Drizzle the syrup over the friend. Allow to stand for a few minutes to soak up the syrup and then serve.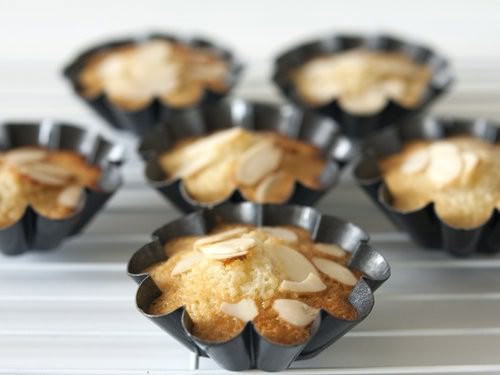 These cutes little cakes make the perfect addition to a High Tea platter.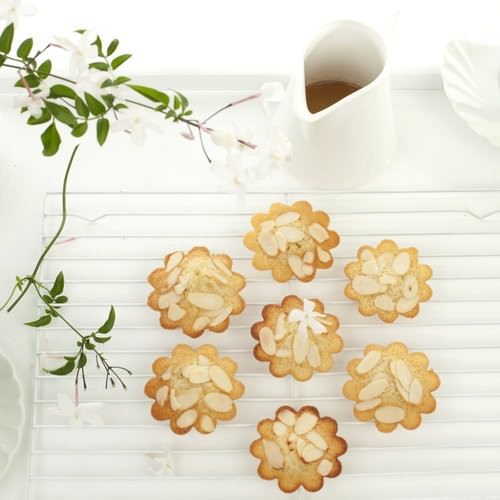 So readers, Which season is your favourite? Do you have flavours that you associate with a season?