"Little A" thought all her dreams had come true when I told her we would be making a White Chocolate Rocky Road. She wasn't quite sure what Rocky Road was, but she very quickly decided it was going to be pretty good by the bags of lollies I was getting down from the top shelf of the pantry. And the top shelf of the pantry always hold the "most wanted" treats.
It was so much fun to make this treat with her because she didn't need a lot of help to get results that she was thrilled with. I made the cups from some melted milk chocolate as a finishing touch.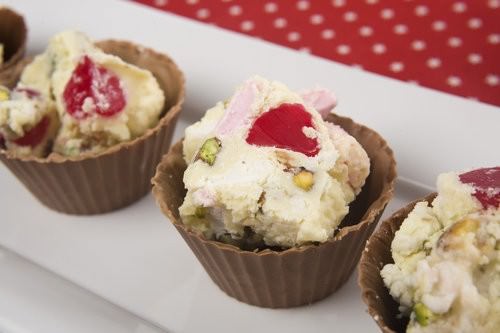 Thinking about introducing your little ones into the kitchen? Melt and mix recipes are some of the easiest to make with kids in the kitchen. From this Classic Rocky Road to this Rich Chocolate Crunch Slice and of course, Old Fashioned Coconut Ice.
White Chocolate Rocky Road
Ingredients:
440gm white chocolate*
1/3 cup desiccated or shredded coconut
85gm natural pistachio nuts, shelled
200gm raspberry lollies
250gm marshmallows, cut in half
150gm milk chocolate
Method:
Line a metal tray with folded aluminium foil.
In a bowl combine coconut, nuts, lollies and marshmallows.
In a glass bowl melt the white chocolate using short bursts of a microwave.
Pour the melted chocolate over the lolly mixture and combine well.
Pour the rocky road into the prepared tin and push all the ingredients down firmly.
Refrigerate until set. Cut into squares.
Melt milk chocolate in the microwave.
Using [easyazon_link identifier="B01N6437ZN" locale="US" tag="gourmetgetaways1-20″]silicon cupcake moulds[/easyazon_link], brush the mould with chocolate and refrigerate.
Repeat brushing chocolate on the moulds and refrigerating until the mould is thick with chocolate.
Turn the chocolate out of the mould and fill with the rocky road.
*Note: For best results I recommend using a good quality eating chocolate, rather than a baking or compound chocolate.