In a previous story, I highlighted an interesting food find from the Harbourside Farmers Market in Coffs Harbour. It was a brand of condiments, sauces, spices and seasonings which use Australian Native Produce to create a unique taste of Australia. This dish highlights a lovely spice to make a tasty Lemon Myrtle Seafood Salad.
The range is called Bakarindi and all the ingredients are grown in the Coffs Harbour area. I purchased a few products on that day, one of which was the Lemon Myrtle Seasoning.
I love the smell of Lemon Myrtle, it has a strong lemony aroma with a hint of Eucalypt. I have these trees growing in my garden and I will often put a dried leaf (folded) in my tea for an extra flavour. I had never really considered the seasoning value of the leaves beyond my tea enhancement until I came across the Bakarindi range.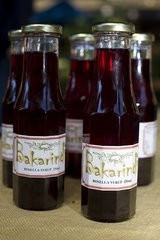 The ingredients in the Lemon Myrtle Seasoning are salt, lemon myrtle, chilli and garlic, all of which are dried and ground into a fine powder. The most obvious recipient of such a spice is seafood so I decided to try a Lemon Myrtle Seafood Salad.  I am also told it is a great seasoning for chicken.  I would be tempted to add a little cream to the pan after cooking the chicken to make a lemon myrtle sauce with the residual spice.
Keep and eye out for [easyazon_link identifier="B003UMVMZW" locale="US" tag="gourmetgetaways1-20″]Lemon Myrtle Seasoning[/easyazon_link] or lemon myrtle leaves for cooking it adds a very "Australia Summer" flavour to food.
Lemon Myrtle Seafood Salad
Ingredients:
200gm Ling Fillets Cubed
200gm green prawns
1 T/s Lemon Myrtle seasoning
1 T/s garlic infused Olive Oil
Cos Lettuce
1 bunch coriander chopped
1 cucumber (sliced finely)
½ small red onion (sliced finely)
½ avocado
½ lemon sliced
Caesar Salad dressing, to taste
Method:
Place seafood in a plastic bag with seasoning and toss to coat.
Mix together the cos, coriander, cucumber and onion. Layer salad on a platter.
Place a non-stick frying pan over medium heat and saute seafood in the oil until just cooked through.
Lay seafood over the salad. Add sliced avocado to the salad and garnish with lemon wedges.
Serve with Caesar salad dressing and a squeeze of lemon.
This was a delicious light meal full of flavour. We had some toasted ciabatta bread and melted gorgonzola with the salad for a lovely decadent meal which was on the table in no time at all.