As with all of my favourite recipes, there is a story which goes along with this one. I developed a serious dependency on this Chocolate Crunch Slice whilst I was pregnant. Some days I would consume two pieces per day! Once you have sampled the slice you will understand how bad this admission really is. It is delicious but so rich!  A normal person would struggle to eat even one piece.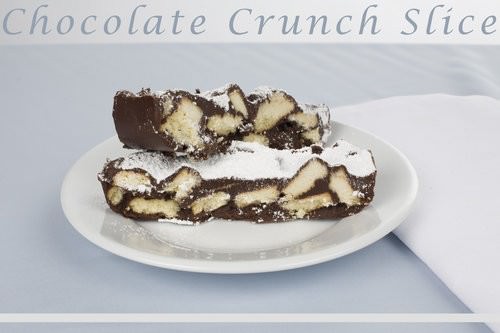 A few years later I chanced upon the recipe. I have made a few modifications over the years but it remains a firm favourite. Although, now I tend to cut the slice in half again to how they are pictured above.
When I was trying to find a Celebrity Chefs Recipe, for this weeks "Cookbook Challenge" I noticed that Donna Hay had a version of "my slice," in her Chocolate recipe book. Here it is, my recipe.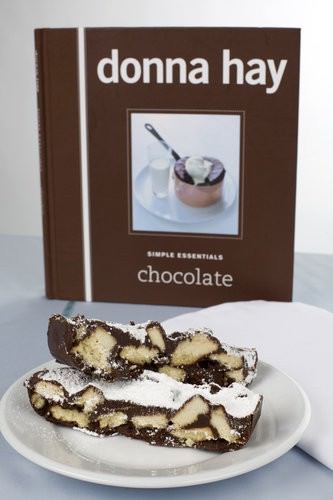 Chocolate Crunch Slice
Ingredients:
200gm Dark Chocolate
100gm Milk Chocolate
90gm Butter
¼ Cup + 1 T/s Golden Syrup
250gm Shortbread Biscuits
1 T/s Icing Sugar
Method:
Line a large loaf tin with a strip of folded foil, overhang the sides.
Put both chocolates, butter and syrup into a glass, microwave-safe bowl. Heat until melted, stirring occasionally.
Reserve 1/3 of the chocolate mixture in a separate bowl.
Break biscuits into chunks and put into the dish holding 2/3 of the chocolate mixture. Mix biscuits through chocolate until they are well coated.
Pour biscuit mixture into the prepared tin. Spread mix evenly.
Tap on the bench to help settle the chocolate.
Pour the reserved 1/3 chocolate over the slice, this assists in attaining a smoother finish to the top. Tap the slice on the bench to remove any air bubbles.
Refrigerate until set.
To release the slice from the tin use the foil to lift the slice out.  If necessary place the bottom of the loaf tin in a dish of hot water briefly.
Dust with icing sugar and slice.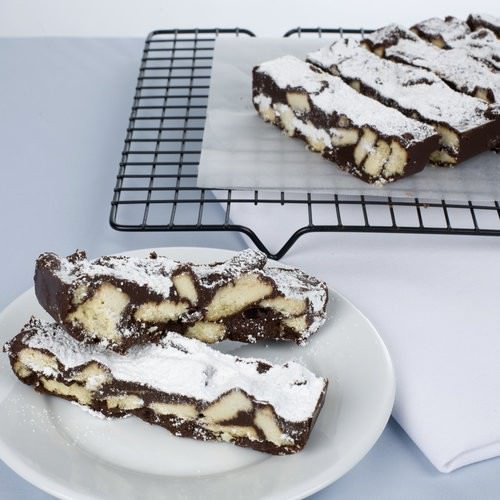 I hope you enjoy this slice as much as I do  Do you have a favourite treat which is as quick to make? Send me the recipe please, it is time for us to have a change!