Today I am joined by Executive Chef Markus Strieby of Teshi's Restaurant at Mercure Harbourside Cairns.  Markus has shared one of his most popular dishes with Gourmet Getaways readers.  The dish is a Wattleseed and Macadamia Crusted, wild caught Barramundi. The Barramundi is served with a Rosella and Mandarin dressing.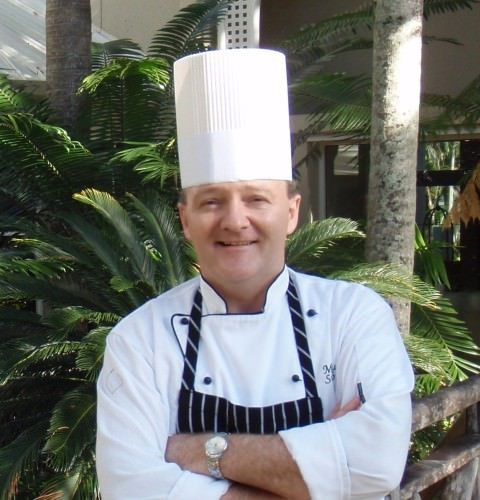 Something I particular love about the dish is the use of indigenous flavours such as the rosella, macadamia and  wattleseed. These ingredients have such an identifiable Australian flavour . I am always heartened to see our native foods being utilised in stylish modern dishes.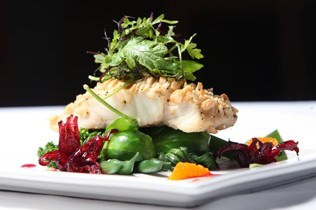 As with so many of Markus's creations the dish takes full advantage of local, fresh ingredients to create a healthy delicious meal.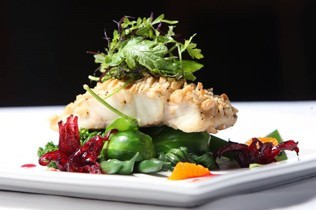 Wattleseed & Macadamia Crusted Wild Barramundi
Markus Strieby - Executive Chef - Mercure Harbourside Cairns shares his Wattleseed & Macadamia Crusted Wild Barramundi with Gourmet Getaways.
Print
Pin
Rate
Ingredients
180-200

g

wild caught skinless barramundi fillet

30

g

roasted and chopped macadamia nuts

10

g

bread crumbs

5

g

wattle seed ground

A pinch of sea salt flakes

A pinch of fine cracked black pepper

1

egg white

1

tsp

extra virgin olive oil

10

fresh seeded rosella flowers

1

mandarin

5

g

raw sugar

10

ml

red wine

10

ml

fish stock

5

ml

red wine vinegar
Instructions
Preparing the fish:
Preheat an oven to 180 C.

Mix macadamia nuts, ground waffle seed, bread crumbs, salt and black pepper together in a bowl.

Brush the barramundi fillet with egg white and coat the fish with the nut mix by pressing the nut mix gently a few times until all nuts are firmly covering the fish.

Heat olive oil in a non stick pan on low heat and place the fish with the crusted side first into the pan.

Let the crust brown for 3 minutes, then turn the fish over with a spatula and place the pan in the pre-heated oven for 8-10 minutes.
Preparing the dressing:
During that time juice a mandarin and strain it into a small cooking pot. Add sugar and simmer until slightly caramelised. Then add the vinegar, red wine and fish stock.

Once liquid has reduced to half, add the Rosella Flowers and simmer for two minutes.

Salt and pepper to taste.
Presentation:
Lay a bed of freshly steamed market vegetables like bok choy and green beans on to the plate. Gently place the barramundi crust up on top of the bed of greens, and drizzle with the rosella-mandarin dressing.

To garnish, use fresh herbs, rocket and mandarin slices.
I would like to thank Markus for sharing the recipe for his beautiful dish with readers.
So tell me, what indigenous foods have you tried?  Have you tried any of the more daring bush tukka items, like witchetty grubs? I don't know how I would manage to eat a grub but take a look at these little berries.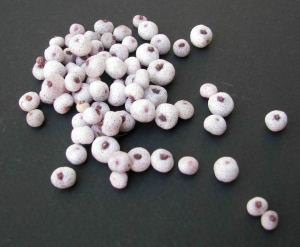 These are my favourite indigenous berry – the midyim berry.  Due to its delicate nature I can't imagine them ever being grown commercial. We have a few bushes planted in our garden and the flavour is a cross between a blueberry with a hint of Eucalyptus.
I hope you enjoy this delicious meal Markus has shared.
Check out the Teshi Restaurant Menu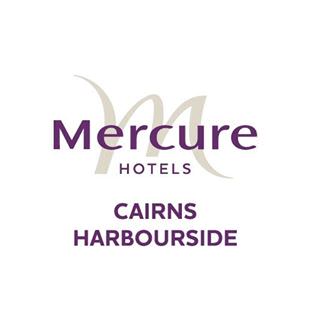 Mercure Harbourside Cairns
Teshi's Restaurant
209 – 217 The Esplanade (entry via Lake street)
Cairns, Queensland 4870