I kinda feel like I am cheating a bit this week. I am not even using a cookbook, and I have chosen something I make all the time. Delicious Cinnamon Walnut Scrolls.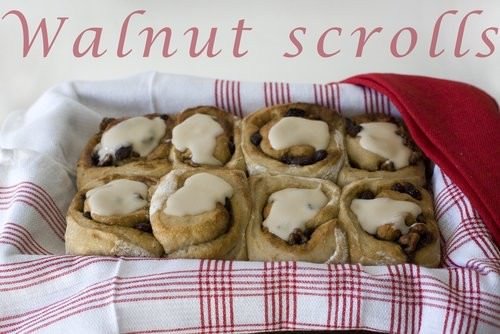 Actually, I make bread, or dough of some kind about three times a week. I love my bread maker, it is so handy, but I feel like I am being a bit lazy.
I am justifying this by telling myself although a kitchen appliance is doing all the work for this weeks recipe, it has been a very busy week for me in blog world, and this recipe is a great "back to school/lunchbox filler" for a hungry family.
It really is delicious and if you prefer you can skip the walnut filling and spread with Strawberry Jam prior to rolling up for and even quicker yummy snack.  The recipe makes about 14 buns.
Walnut Scrolls
Ingredients:
Dough:
500gm flour
8gms yeast
20gm oil
6gm salt
12gm sugar
310ml warm water
2 t/s ground cinnamon
2 t/s ground ginger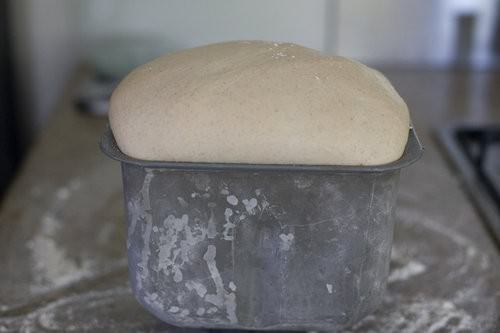 Filling:
60gm butter
1 cup sultana
1 cup walnuts
140ml golden syrup
1 t/s cinnamon
Icing:
1 Cup icing sugar
40ml maple syrup
Method:
Grease and flour a baking tray.
Place all the dough ingredients in the bread maker and select the dough mix setting. Leave the machine to finish the dough cycle.
Once complete, leave the dough in a warm place to continue to rise while you prepare the filling. Allowing the bread extra time to proof you will get lighter buns.
In a saucepan, heat all the ingredients together until the butter is melted. Take off the heat to cool slightly.
Preheat the oven to 160C/320F.
Flour the bench and carefully tip the dough out of the breadmaker.  Lift the dough and gently stretch it into a rectangular shape by lifting each side. Roll out evenly..
Spread the walnut filling over the dough taking care to ensure all the dough has an even amount of filling.
With the widest side closest to you roll the dough and then cut it into between 12- 14 even slices.
Place the dough slices cut-side down on the baking tray leaving room for spreading.
Once the tray is full allow the dough to proof in a warm spot for at least ½ hour.
Bake in the oven for between 15-20 mins. Remove from the oven and set aside to cool.
Once cooled add a dollop of icing to each of the buns.
| | |
| --- | --- |
| | |
| | |
| --- | --- |
| | |