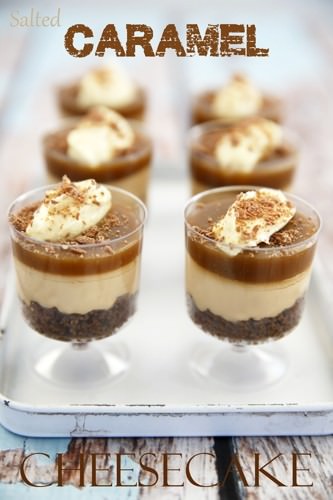 Today I am sharing a really simple recipe for a "no bake" salted caramel cheesecake. I promise this is SOOO good you will hate me forever!!
Like most of the desserts, I make it's a cheats recipe. By cheat I mean it tastes super good but is quick and simple recipe to cook.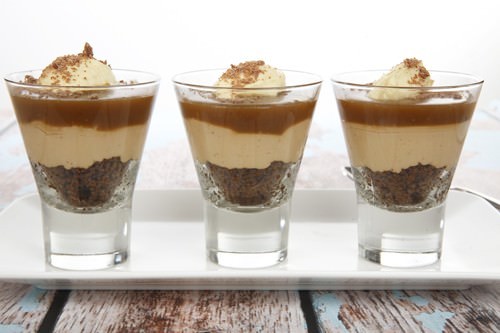 The Salted Caramel Cheesecake can be two or three layers.
In its simplest form, with just two layers of deliciousness, this dessert takes 5 minutes to make.
You can spend some extra time cooking a praline topping or adding a  layer of salted caramel sauce to the top.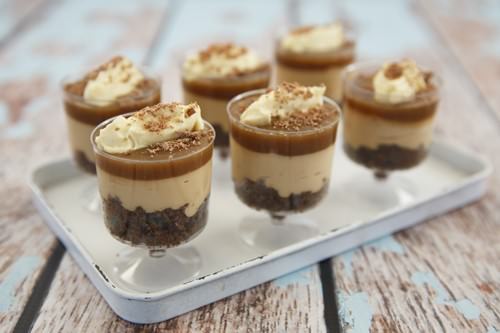 I was initially cooking the salted caramel cheesecake recipe for family dessert.  I had begun pressing the ginger-nut cookie base into glasses. Then I realised Mr. GG was going to his first ever poker night. I had made six dessert glasses with cheesecake base in the bottom and plenty more base leftover.
I had made six dessert glasses with cheesecake base in the bottom and plenty more base leftover.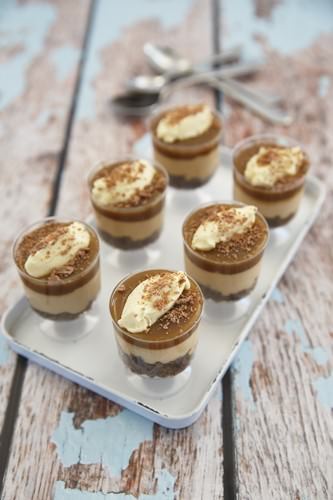 Instead of continuing to make the other six glasses I decided to make a batch for Mr. GG to take along to the poker game.
In the cupboard, I had some plastic wine taster glasses. I'm not sure where the plastic glasses came from, but I knew they would be perfect for the dessert.
Ingredients needed for your Salted Caramel Cheesecakes
250 gm Gingernut Cookies
100 gm salted butter melted
1/2 tsp cinnamon
350 gm Philadelphia Cream Cheese
380 gm "Nestles" Caramel Top & Fill
1 Tbs lemon juice
1 cupbrown sugar
3/4 cup cream
60 gm salted butter
1/4 tsp salt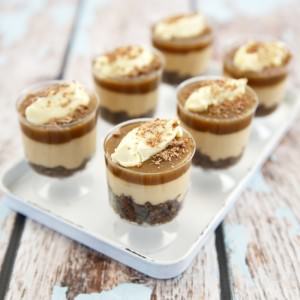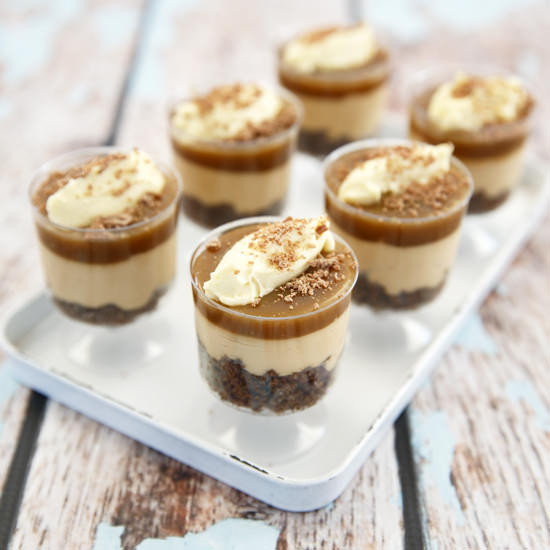 Salted Caramel Cheesecake - No Bake
With this recipe, we cheat a little, but this makes these No Bake Salted Caramel Cheesecakes all the more delicious. They look just like something from a fine restaurant
Print
Pin
Rate
Ingredients
Base
250

gm

Gingernut Cookies

100

gm

salted butter melted

1/2

tsp

cinnamon
Filling
350

gm

Philadelphia Cream Cheese

380

gm

"Nestles" Caramel Top & Fill

1

Tbs

lemon juice
Salted Caramel Layer
1

cup

brown sugar

3/4

cup

cream

60

gm

salted butter

1/4

tsp

salt
Instructions
Base
Place the ginger nut cookies in a food process and pulse until crushed.

Add the melted butter and cinnamon to the cookie base and pulse until the butter is evenly distributed.

Press the mixture gently into serving glasses.
Cheesecake Layer
Place the Nestle Caramel "Top & Fill", cream cheese and lemon in the food processor and pulse until smooth.

Pipe or spoon the filling into the glasses to form a second layer.

Refrigerate the cheesecakes for at least 3-4 hours if serving in glasses. If you are making a large cheesecake in a springform pan you will need to refrigerate overnight to enable the dish to set. Alternatively you could add gelatine to set the cheesecake. *Please note, I prefer the cheesecake without gelatine and served in glasses.
Salted Caramel Layer
In a saucepan combine the butter, sugar, cream and salt.

Simmer the mixture for 4 minutes whilst stirring.

Remove the caramel from the heat.

Allow the caramel to come to room temperature.

Pour a thin layer of caramel over the cheesecakes.

Serve with cream and grated chocolate if desired.
Notes
Please note this recipe is designed to be served in glasses as an individual style dessert. It is not a firm baked cheesecake.
Nutrition
Serving:
100
g
|
Calories:
320
kcal
|
Carbohydrates:
30
g
|
Protein:
10
g
|
Fat:
16
g
Since I prepared this dessert, I have made two other desserts in the plastic wine glasses. The first was this Chocolate Mocha Mousse and the second was this Chocolate Raspberry Brownie Trifle.
I've found that these are popular for BBQ's and parties. The plastic wine taster glasses can be found at the "Reject Shop" for Australian readers or here on Amazon for those in the US or elsewhere.