These tasty little snacks have been a long time coming, but the Chinese Steamed Pork Buns are definitely worth the wait. I promised them to hubby about two weeks ago but have not had a chance to make them.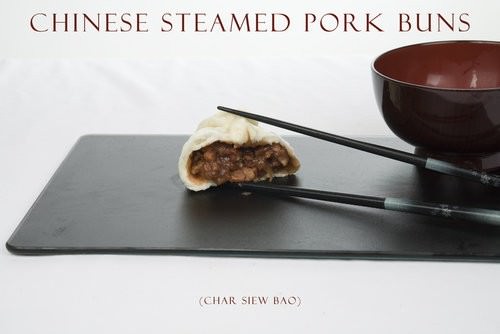 These tasty steamed buns have been a bit of a labour of love too, as there are quite a few steps in the process. Firstly because we are not in a major city I can't buy Char Siu (Chinese BBQ Pork). I needed to make my own, and the recipe is right here. We enjoyed a meal of the Char Siu a few nights ago and I reserved enough left over pork for the steamed bun filling.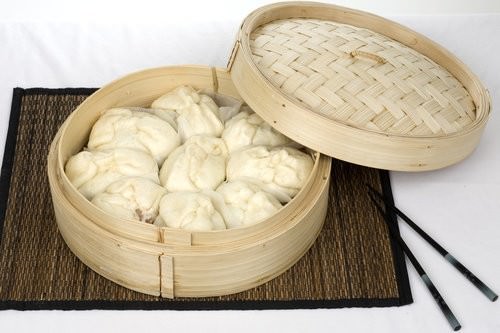 The next step is making the dough for the buns from lovely white Hong Kong Flour. Thankfully I have a bread maker for this process so it wasn't too difficult. The ingredients go in, and the machine gets set to "dough".
Finally, while the dough was being prepared I concentrated on the pork bun filling. It is not a difficult recipe but all of the flavours and techniques are new to me. This has caused me some concern as I have been a little unsure how these little buns would turn out.
Hubby told me the flavour was spot on and even though I have never attempted steaming buns in a bamboo steamer everything went according to plan. Delicious!
Chinese Steamed Pork Buns
Dough Ingredients (makes 12 buns):
8g instant dry yeast
160ml warm water
½ tsp white vinegar or lemon juice (optional)
280g Hong Kong flour
100g wheat starch
90g icing sugar
30g vegetable oil
10g baking powder
10ml cold water
Filling Ingredients:
150 ml water
1½ T/s corn flour
250g char siew, diced (recipe)
½ T/s oil
1 t/s sugar
1 small onion, diced
1 tbsp oyster sauce
1 tbsp soy sauce
1 tsp. sesame oil
1-2 drops red food colouring
Dough Method:
Breadmaker Method
Place all ingredients into a bread maker and set onto dough setting.
By Hand
Sift together flours and icing sugar. Place sifted flour mixture in a large mixing bowl.
Add lukewarm water and the oil, vinegar and yeast.
Using a spatula, gently stir the water to dissolve the yeast then slowly bring together flour mixture.
Knead the dough for 10-15 minutes until soft smooth dough is formed.
Cover dough with damp cloth and leave in a warm spot for 30 minutes or until it is doubled in size.
Dissolve baking powder in cold water, sprinkle over dough and knead until well combined. Divide dough into 12 equal portions and roll with a rolling pin to make a 3" circle.
Filling Method:
Mix the cornflour with the water and put to one side for use later.
Heat oil in frying pan, sauté onion for 1 to 2 minutes. Add all other ingredients except cornflour mixture. Fry for 1 minute.
Add the cornflour to the pork mix and simmer until sauce is thickened.
Transfer to a bowl and allow mix to cool.
Place a spoonful of filling in the middle, wrap and pleat the dough to seal. Place it on a square of baking paper, seal side up.
Arrange buns in a bamboo steamer, leave about 2cm spacing between buns.
Heat some water in a wok until boiling.
Place the steamer on the wok taking care that the water level is below the base of the bamboo steamer.
Steam on a high heat for 12 minutes. Once the buns are cooked remove the steamer from the wok and cool on rack to prevent soggy bottom.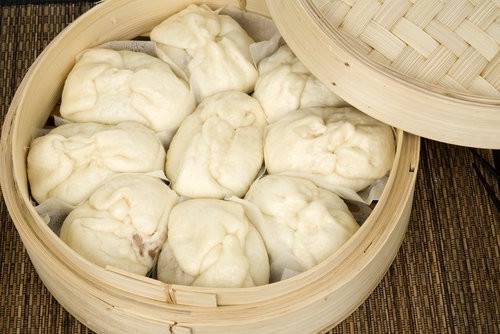 These buns were absolutely delicious and I loved the satisfaction I felt from making something completely different.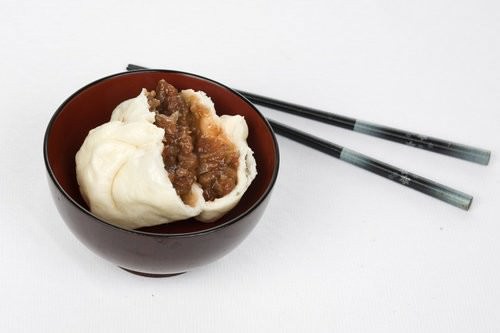 I probably wouldn't make the Chinese Steamed Pork Buns again. It is not difficult but it is a lot of time for something which is just a snack food.