The topic of "Crunch" has given me grief from the start. I simply could not think of anything crunchy that I hadn't already posted on the site. I also did not want to go deep fried. This sent me on a journey before coming up with the Streusel Butter Cake.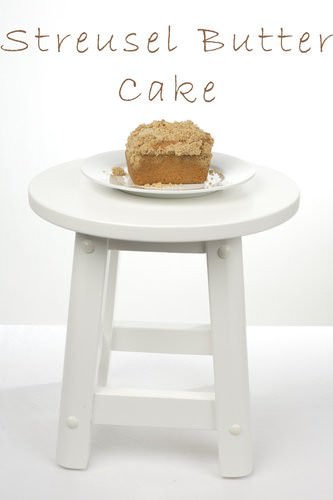 I remembered a beautiful cake my mother made when I was little. About two weeks ago I asked my mother if she remembered the cake. I didn't know what it was called it just had a crunchy yummy topping and she used to make it a lot when I was about 4.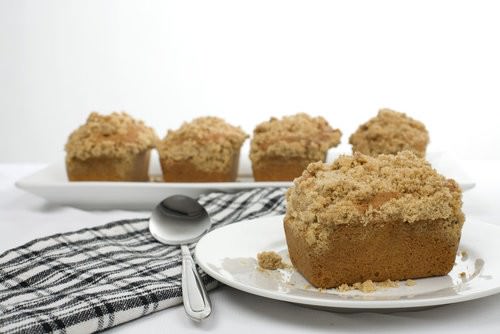 I explained she made it in the circular pan, and it had a buttery crumbly topping. She vaguely remembered, but couldn't think what the cake was called, or where I could find the recipe.
After much research I found the cake was called a Streusel Butter Cake, and I do remember mum calling it that when I was a kid. I have come up with this recipe from my research. I don't know if it will taste like mums cake but I will be turning her recipe books, files and folders upside down next time I am at her place.
Streusel Butter Cake
Steusel Topping
Ingredients:
½ t/s cinnamon
¼ cup brown sugar
40gm cold butter
50gm coarsely chopped walnuts
In a food processor pulse butter cinnamon and sugar until it resembles breadcrumbs. Very briefly add walnuts.
Refrigerate the crumble until it is needed for the cake topping.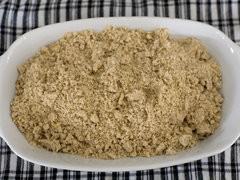 Butter Cake
Ingredients:
120gm butter
1 cup sugar
2 eggs
1 t/s vanilla
2 cup plain flour
3 t/s baking powder
160 ml milk
Method:
Preheat oven to 160C/320F.
Cream the butter, sugar and vanilla in stand mixer until pale and fluffy. Add the egg and beat well.
Sift the flour and baking powder. Alternate between adding flour and milk to the butter mix until both are added.
Pour into a greased spring form pan or muffin tins.
Evenly sprinkle the streusel topping over the cake.
Bake for 30mins or until an inserted skewer comes out clean.
I had forgotten how much I like raw cake batter. I highly recommend cooking these cakes while the kids are at school so that you can lick the beaters. Yum, it is lucky I put the cakes in the oven first or I might have been tempted to continue eating.
While I was adding the Streusel topping I was starting to suspect I may have a problem. The crumbs seemed too dry to make the buttery topping I remembered. Nevertheless, I added the topping and crossed my fingers.
Watching the cakes cooking it was pretty obvious they were not going to become crunchy and lush like the ones I remembered from my childhood. The aroma of the cakes baking was magic, but so far as the topic "Crunch" goes, as my teenage son would say "Epic fail mum".
I was less than pleased with the crumbly topping and dumped them upside down on a tea towel.Thankfully the taste got a thumbs up from the hubby, so it hasn't been a complete loss. I have taken the flour component out of the Streusel topping and the second time round the topping worked much better.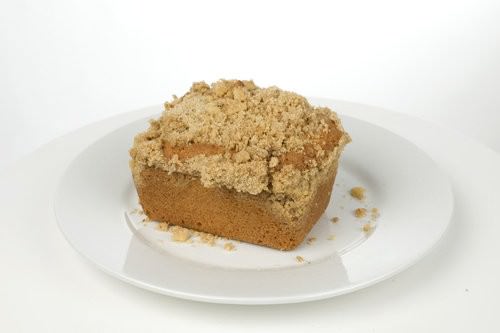 I will still be looking for my mother's recipe.