Have you ever had one of those mediocre days when things are not quite going to plan? Well I was having one of those days. Then there was a knock at the door and I received a most welcome surprise. A courier was delivering my "Little Box of Yum."
My day had taken a most delicious turn.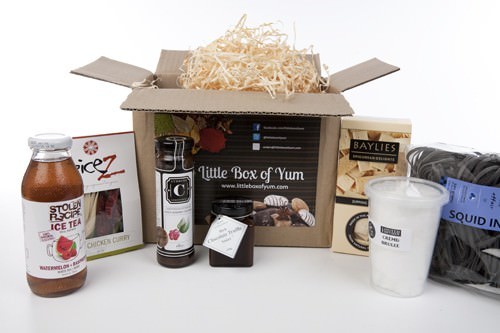 Little Box of Yum is a gourmet tasting box which is delivered monthly to discerning customers. Foodies can choose to purchase a box as a one off transaction, or extend the pleasure, and sign up for an ongoing subscription.
So what exciting treats did I find to brighten my day?
The first item out of the box was a Sri lankan Spice kit from "Spicez". The package contains all the spices needed to make an authentic Sri Lankan Chicken Curry and a step by step recipe to follow. I know this will be the first item I use from the box.   I absolutely love spicy food, I am thrilled that I will be able to try my hand at a Sri Lankan curry.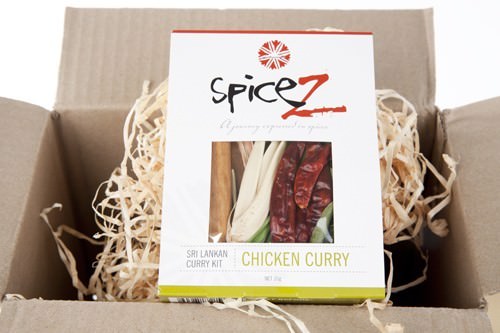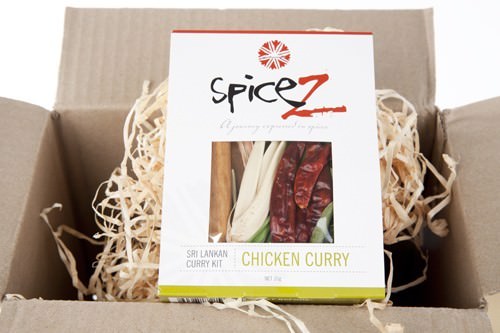 What a  fantastic way to discover great new gourmet foods.
So who is behind this unique the business venture, and where did the idea come from? " Little Box of Yum" is an extension of owners Alex and Jamie love of finding interesting and unique tastes and sharing those tastes with friends.  The circle of friends may have grown as they turned their passion into a business, but the excitement of finding a new gourmet taste and sharing it remain the driving force behind their successful endeavor.  The are always searching for something new amazing  to excite recipients of their tasting box.  A lot of the products are sourced locally, and there is a strong emphasis in supporting the best of what Australia has to offer, but quality  imported specialty treat also feature in the collections.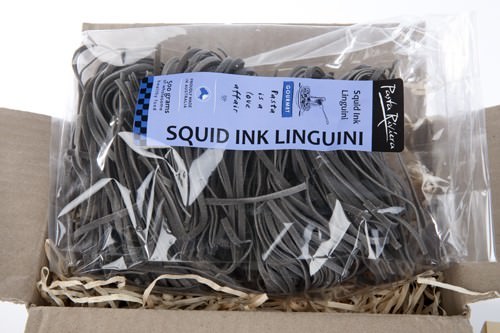 In each box they aim to supply a product that customers  might not have otherwise tried. In my box I suspect this item was the Squid Ink Pasta from Pasta Riviera. I have tried, and enjoyed this style of pasta but I have never seen it outside of a restaurant.  It will be really interesting to cook with this product at  home, my mind is already racing through possible sauces to accompany the pasta… Although I may wait and serve it when  I have friends over for dinner,  so that I can impress them with my gourmet repitoire.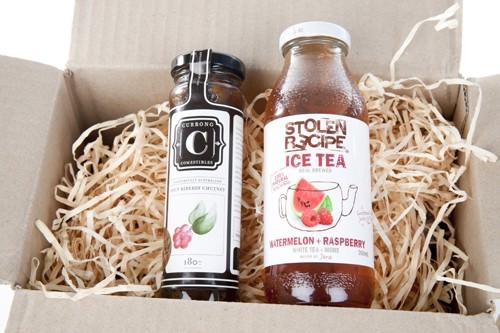 As I sorted through my box of goodies it starts to feel like these items were selected especially for me. Oh course it wasn't, there is a long list of happy subscribers receiving the exact same box, but every item made me want to squeal with delight.
Anyone that know me, or has followed along on my site for a while will already be aware that I love our native bush foods. It is such a treat to see our own fruits and seeds being used in sauces, condiments and as ingredients in dishes. Native Australian produce has such a unique flavour, it is the true taste of our country. I am already thinking this will be used alongside of Kangaroo meat, you will have to stay tuned and see what I make with Currong Comestibles Spicy Riberry Chutney, I am sure it will be an Australiana  taste sensation.
Now to cleanse the palate I have been given a Stolen Tea… Such an interesting name, I certainly won't be forgetting it in a hurry. I have never been excited over bottled fruit tea previously as they all seem to taste so manufactured.  It was a pleasant surprise to find that these drinks use brewed loose leaf tea with real fruit juice. There are a number of different flavours in the range but I received the Raspberry and Watermelon Tea.  I am torn as to how it will be consumed.   I would love to chill it and drink it a la natural, but the accompanying  booklet featured a cocktail recipe for a Pink Melon Crush which looks so tempting… I do think the vodka cocktail will win 😉
The next item in my box is the Baylies Dipping Cracker, these crackers are handmade from the best ingredients South Australia has to offer. The crackers are made from Lavash and Australian Extra Virgin Olive oil. Baylies is an Adelaide Hills producer who make a wide range of gourmet products for the discerning foodie.
By this time I am looking for a sweet treat,  I found not one, but two delicious options.  The first is a Creme Brulee flavured Spun Fairy Floss. The company produces an all natural, gluten free and vegan friendly fairy floss in sweet and savoury flavours.  They have made over 100 different variations, with the Creme Brulee being a limited edition especially chosen for "Little Box of Yum" customers. I love adding floss to the top of my desserts transforming a plain dessert into something more spectacular.  The Spun Floss retails for just $4.95 which I feel is great value, I will be keeping an eye out for other flavours to match with my desserts.
All the products seem well suited to the everyday cook. The products simply encourage food connoisseurs to explore beyond their normal range – and try something new and interesting.
As I previously explained, boxes can be bought as a "one off purchase" or as a subscription which can be cancelled at any time. If customers elect to subscribe to "Little Box of Yum" they receive a bonus item.
This month the bonus item was Alice Langtons Chocolate Truffle Sauce!  What a bonus! A handmade, old fashioned style chocolate sauce made from couverture chocolate and rich cocoa.  It was lust at first sight.
"Little Box of Yum" has its own blog and facebook page where recipients can look through more recipe ideas, or leave ideas and recipes of their own on what could be done with the products received each month. This is a true journey of  food discovery.
So much fun in one little box…
I am sure all my lovely readers would like to receive a surprise package on their doorstep, so "Little Box of Yum is offering  Gourmet Getaways followers $10 off their first tasting box.
Why not go over to LBY Facebook page and "Like."
So tell me… which product excites you the most in the "Little Box of Yum?"  Would you make a  one off purchase for yourself or as a special gift for a foodie friend? Or would you treat yourself to a surprise gift each month?
Gourmet Getaways would like to thank "Little Box of Yum" for supplying the product for this review. Whilst the product has been received in exchange for a review all opinions in this story are honest, and accurately reflect the writer's opinion.