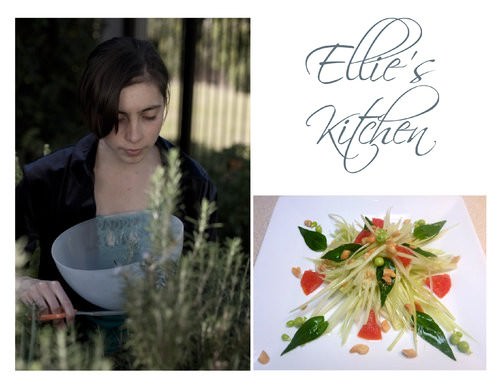 Hello again everyone!
I have been busy cooking this month;
With the weather warming up I thought I would bring you a refreshing citric, sweet and salty green papaya salad.  Papayas grow plentifully in my back yard, and it's great to be able to eat them green as well as ripe. The possums don't like them green, so if I get them early there are more for me.
This dish is good as a main and also for a side dish, you could also use prawns, pork belly or just add a drizzle of sweet chilli sauce an have it as is.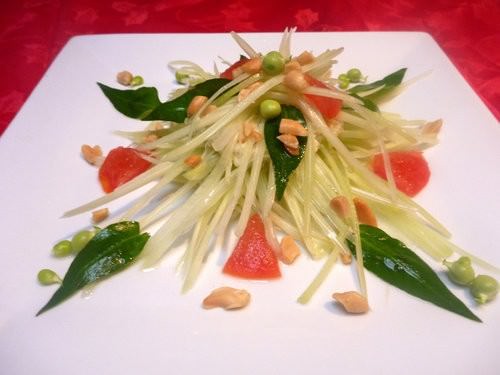 I have made so many variations of this salad over the years. My taste buds have lead me to choose this recipe over them all.
The salad has a unique crunchy texture, at first I wasn't a fan, but it grows on you and now when it's served up to me I always make room for a second helping. If you have peeked ahead at the recipe and noticed the anchovy fillets, never fear, you can't taste them.  The anchovies simple add a salt factor.
So please try my Green Papaya Salad and let me know what you think. I hope u enjoy the dish as much as I do.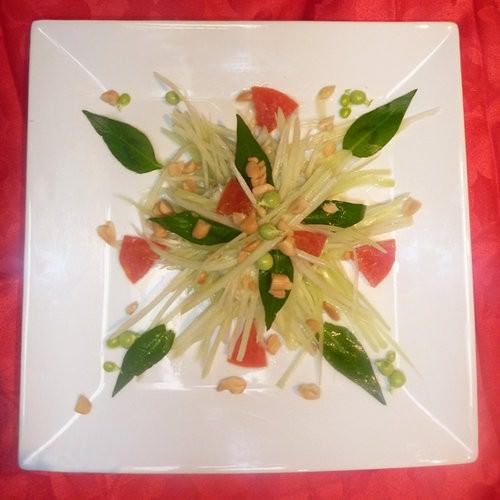 Ingredients:
1 medium unripe papaya (green).
3 cloves of garlic.
1/3 cup lime juice.
6 small anchovy fillets.
1 Tbsp palm sugar.
50ml peanut oil.
1 cup Vietnamese mint.
2 chicken breasts or prawns.
1 small chilli sliced.
sweet chill sauce (optional)
toasted almonds or peanuts for garnish.
 Method:
Peel papaya and slice the flesh into fine strips (using a papaya shredder ).
Place garlic into a mortar and pestle, once crushed add lime, anchovies and sugar. Taste and add more of any ingredient then pound to form a paste.
Add the peanut oil in a thin steam while stirring to emulsify the sauce. Add some of the papaya and pound.
Grill the chicken, rest for 5 minutes, slice into long strips.
Toss all ingredients and sprinkle with nuts, chill, and sauce, serve.
What is your favourite summer salad? Are you known for a particular dish which you always bring to parties and picnics? Let me know!