I think it's a little bit cruel that the "snacking season" aka Christmas is also our bikini wearing season. I don't know about you, but my swimwear seems to have shrunk over the winter. I've realised I'm going to need to lighten up some of my snacks if I intend on splashing around in the water this year. My downfall seems to be the wine and nibbles. Since I'm not planning on giving away my bubbly I decided to develop a recipe for a Healthy Smoked Salmon Hummus Dip.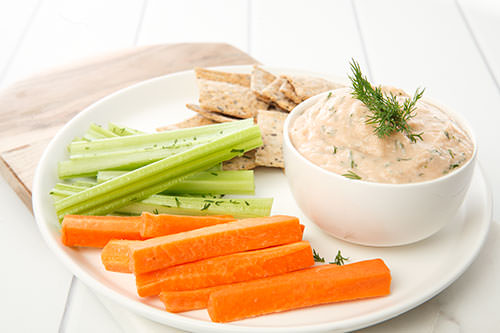 Smoked salmon is one of my favourite ingredients to use in finger foods and dips. Unforetunately it's usually paired with calorific, cream cheese! Perhaps it wouldn't be so bad if I only dipped once or twice, but once I start, I just can't stop munching.
Happily this dip is more like a  hummus and is full of hidden goodness. Instead of being dairy based and high in fat, this recipe uses fibre rich cannellini beans. Cannellini beans contain 19gm fibre per cup! Fibre is the magic ingredient that keeps you feeling satisfied longer. When I was at school we were taught that fibre was like a toothbrush for your insides. Not only is this a delicious snack food, it's also healthy!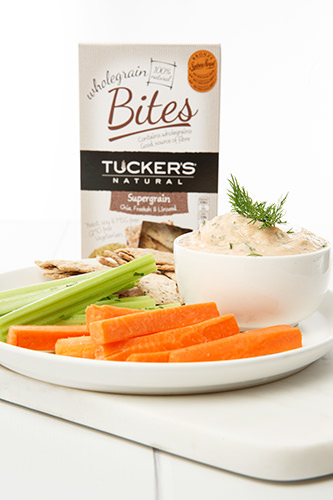 To continue with the healthy choices I wanted to serve the dip with some healthy accompaniments. I took a trip to the supermarket with the intention of reading the back of cracker boxes. I wanted to find a cracker which contained lots of wholegrains, and was high in fibre. The best cracker I found was the Tuckers Naturals Wholegrain Bites.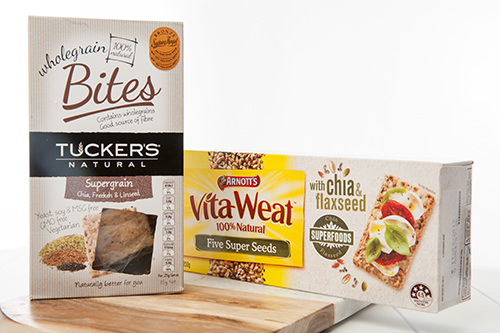 Most of the other multigrain crackers had less than 1gm of fibre per serve. The two best crackers on my supermarket shelves were the Tuckers Naturals Wholegrain Bites and Arnotts Vita-Weat Superfoods Ancient Grains & Seeds Crispbread.  Tuckers had 22.4gm of fibre per 100gms and Vita-weat Ancient Grains had 11.9.
I've been on a quest to increase all three types of fibre in my diet after reading these two articles on gut flora;
These stories explain the link between weight difficulties and your individual gut flora. It seems that different gut microbes have different jobs in the human body. Some microbes digest the residual food in the gut and help eliminated it, whilst others help you store fat.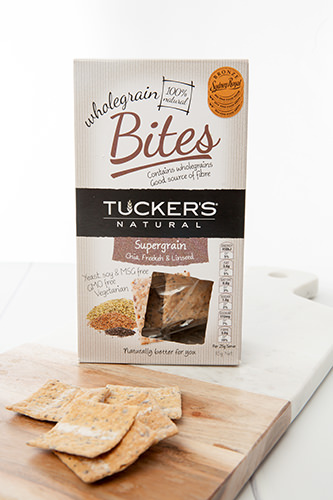 By feeding the gut microbes that eliminate food, the colonies increase and seem to help us maintain a healthy weight. These diet friendly microbes love fibre. As a consequence of my reading I've increased my fruits, vegetable, whole grains and legumes.
The microbes that help store fat would have been vital through history when food was scarce. Now however most people would prefer to have a few million less of them in their body now. The key to this seems to be not to feed them. It sounds easier than it is, as those microbes thrive on junk food!
Anyway I've become kind of obsessed with gut flora and the fibre that feeds my microbes. I even read through the original research papers and various case studies for faecal transplants!! Believe me when I tell you I won't be participating in that research! I would rather eat some of this Salmon Hummus with celery sticks and a few crackers.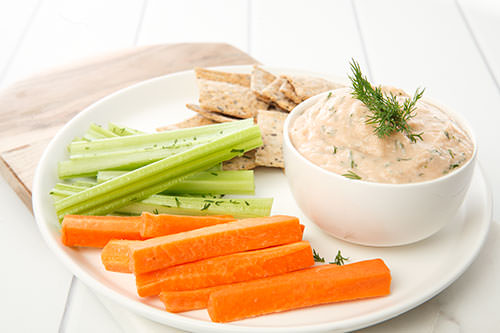 Why Eat More Fibre & A Skinny Smoked Salmon Hummus Dip
Ingredients
400

gm can cannellini beans

drained and rinsed

200

gm smoked salmon

1

lemon

juice only

30

gm water

5

gm fresh dill

pepper to taste
Instructions
TM Instructions Method
Place all ingredients except the dill in a TM. Blend 10 sec/Speed 9.

Scrape down the bowl. Blend 1 min/ Speed 6.

Add the roughly chopped dill. Blend 10 sec/Speed 7.

Refrigerate until required.
Food Processor Method
Place all ingredients except the dill in a food processor.

Process until smooth.

Add the roughly chopped dill.

Pulse.

Refrigerate until required.
The best part of preparing the smoked salmon dip was knowing I could devour as much as I liked completely guilt free. The celery was a particularly good accompaniment because the smoked salmon was a bit salty. The celery balanced it perfectly.
Do you have any secret snacking cheats you could share with me?