Sometimes it seems like my best recipes are born out of a desire not to waste leftovers. These salted caramel donuts definitely fall into this category. Regular readers will remember my Salted Caramel and Pecan Monkey Bread.  It was a big hit in our house, but now I have a jar of homemade salted caramel leftover. What can you do with an excess of caramel sauce?? I thought about eating it straight from the fridge but decided to put it to better use.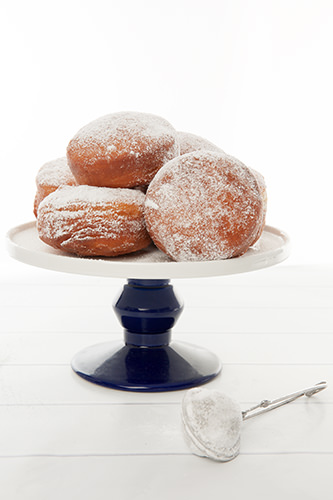 I had already been toying with the idea of making donuts when a brilliant idea struck me! Why not make filled, salted caramel donuts. I know, it's a stroke of genius. When you try them I'm sure you will agree.
The donut batter can be made with the help of a lot of fabulous labour saving devices, or it can be made by hand. You see there is no excuse not to make these delicious treats.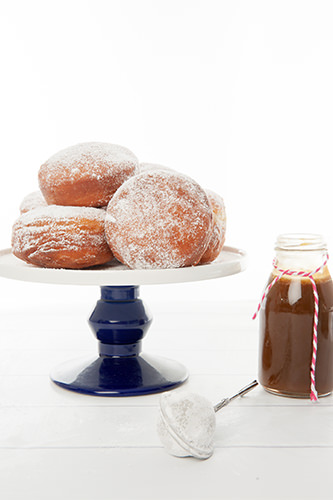 In my house sweet dishes don't necessarily get the love they deserve.  For some reason I am part of a family that can walk passed cakes, cookies, and slices with out even considering taking a bite or two. It can be a little depressing being the cook for this family. Anyway, the whole family absolutely smashed these babies, so I thinks it's safe to say they're a sure thing in any normal, dessert loving household.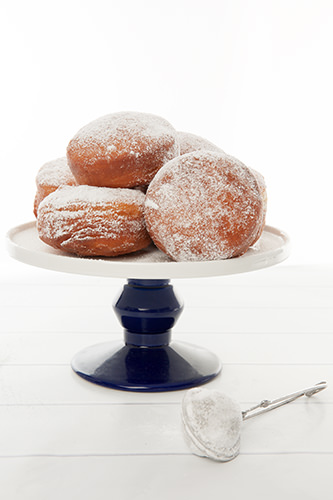 Ingredients
Salted Caramel
1

cup

brown sugar

200gm

1

cup

cream

250ml gm

1/2

stick butter

60g

½ - 1

tsp

sea salt flakes
Donuts
3

cups

plain flour

450g

2

tbsp

sugar

1

pinch salt

2

tsp

dry active yeast

1/2

cup

lukewarm milk

120ml gm

1

tsp

vanilla paste

2

eggs

½

stick butter

melted, 50g

oil for frying

caster sugar for dusting

superfine sugar
Instructions
First
Combine the milk and yeast in a jug and allow to sit in a warm spot for at least 5 minutes.
Thermomix Caramel
Add all the caramel ingredients to the TM. Make sure to avoid getting the sugar on the blades. 15min/110degrees/speed. MC Out.

Pour the sauce into a heat proof jug.

Refrigerate and reserve for later. It will need to be completely cold to pipe.
Stove Top Caramel - BEST METHOD FOR A THICK CARAMEL
Add the sugar and cream to a saucepan over a low heat.

Stir the mixture until the sugar has completely dissolved.

Increase the heat and allow the sauce to simmer without stirring for 5 minutes.

Add the butter and stir to combine.

Remove from the heat.

Refrigerate and reserve for later. It will need to be completely cold to pipe.
Thermomix Dough
Add the flour, butter, vanilla, sugar, egg and salt to the TM bowl. Pour the milky yeast over the dry ingredients in the TM bowl. 3min/knead
Bread Machine Dough
Add the flour, butter, vanilla, sugar, salt, egg and frothy milk mixture to the breadmaker.

Set on dough cycle.
Hand Method Dough
Add the flour, salt and sugar to a large bowl.

Add the wet ingredients (yeast milk, egg, butter and vanilla) to a jug and stir to combine.

Make a well in the centre of the flour add the liquids slowly and incorporate until combined.

Once combined knead for 5 minutes until a shiny elastic dough forms.

Grease a large bowl with oil.
Proofing the Dough
Once you have your dough add it to a large, oiled bowl.

Cover the bowl with a clean tea towel.

Place the dough in a warm place for one hour to proof. The dough should nearly double in size.

Remove the dough from the bowl and kneed it by hand for a minute or so.

Roll the dough lightly so that its about 1/2i inch or 1 1/2 cm thick.

Use a cookie cutter to cut rounds.

Place the circles of dough on baking paper and cover with a tea towel.

Leave them to double in size.
Cooking
Preheat oil in a deep heavy based saucepan or a deep fryer. The oil should be at least 2 inches (5cm deep)

Bring the oil to 350F/180C, and then add 2 donuts at a time to the oil.

Cook the donuts for 2 minutes per side or until golden.

Set them aside on absorbent paper to while you cook the rest.

Once the donuts have cooled dust them with the icing sugar (powdered sugar).

Add the cooled caramel to a piping bag with a filling nozzel.

Put the piping tip into the top of each donut.

Pipe the caramel into the donut until the donut starts to look a little puffy.

Enjoy
Don't forget to pin the recipe for later.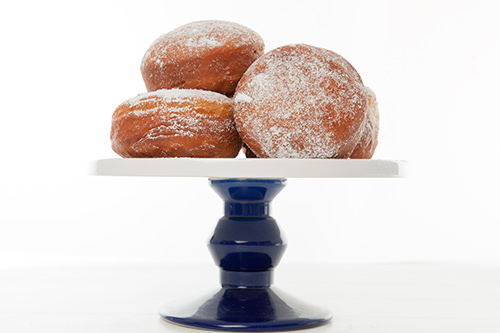 What other fillings do you think would go well in a donut? I have to admit I do like the standard creme patisserie or jam filling.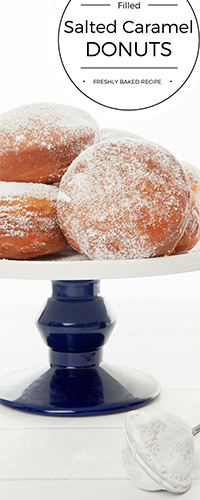 Make sure you pin this recipe for when a donut craving strikes!