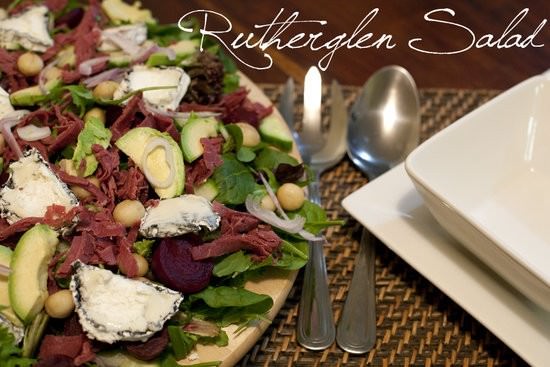 As readers may be aware I have been traveling around the Rutherglen and Beechworth area sampling the local food and wine and visiting with friends.
Tonight I was my turn to prepare a meal for everyone.  I wanted to make something fairly light and healthy as we have been eating very rich, stodgy comfort foods. I also wanted the dish to be quick and easy, as it is more fun to chat with friends over a wine, than to slave in the kitchen, especially when you are on holidays.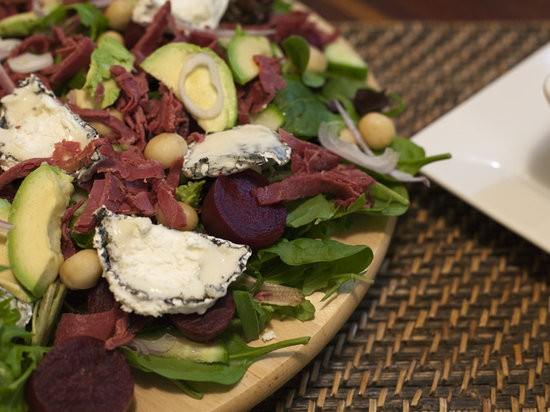 I decided to make a "Rutherglen Winter Salad using some of the local produce I had bought whilst "tasting" my way around the region.  The salad is dressed with a vinaigrette made from a spiced pear & apple chutney I found at Beechworth. I then served the salad with the 2010 Merlot, chosen because it was a wine we all enjoyed at Stanton & Killeen. To finish the meal we enjoyed some fudge from the Rutherglen Lolly shop.
Ingredients:
1 Pkt mixed leaves (rocket, baby spinach etc)
220gm Milawa Ceridwen Goats cheese (sliced)
200gm Butts Gourmet Smokehouses Smoked Kangaroo (torn)
½ Lebanese cucumber (sliced)
½ red onion (sliced)
½ cup salted macadamia halves
1 avocado (sliced)
440gm tin whole baby beetroot (sliced)
Dressing:
¼ cup white wine vinegar
¼ cup macadamia oil
2 Tbs The Larders "Spiced Pear & Apple Chutney" (Beechworth)
Method:
Place leaves on a serving platter and layer salad items on top.  I chose the Milawa white mould goats cheese which has been rolled in ash, but any tangy creamy cheese would work. If you have difficulty sourcing smoked kangaroo any smoked meat can be substituted.
In a jar add all the dressing ingredients and shake. Pour the dressing over the salad to serve. If you would like the dressing thinner you can add a little water without effecting the flavour.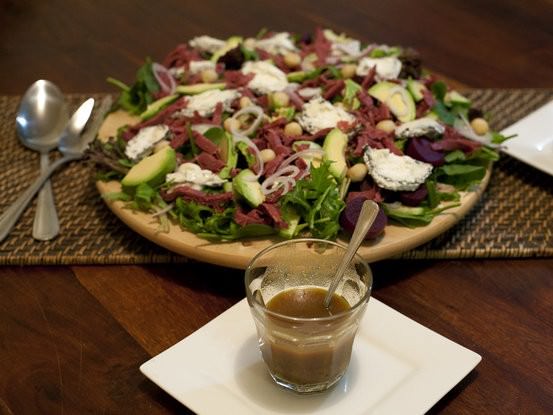 So there you have it, my Rutherglen salad! Made from gourmet produce I found in my travels, and thrown together for a quick meal with friends.  Tell me dear readers, when you are in a new area do you sample all the local produce and bring home bags of pickles, jams, sauces and wines?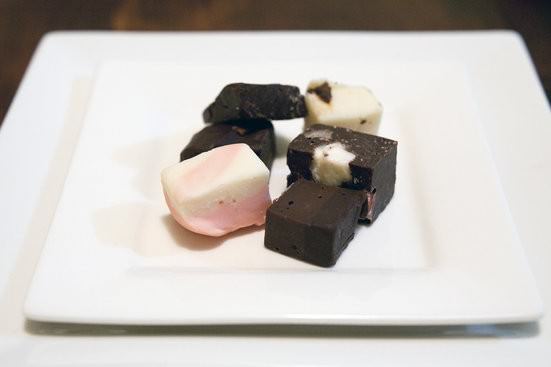 17 Milawa-Bobinawarrah Rd
Milawa, Victoria 3678
100 Main Street
Rutherglen Vic
417 Tribune Street (Cnr Young St.)
Albury NSW 2640
14a Camp St
Beechworth, Victoria