Raleigh Vineyard is 15 minutes South of Coffs Harbour and is the next stop on the North Coast Wine Trail. The vineyard is set on the banks of the Bellinger River, so the grounds are lush, green and peaceful.
We sampled the selection of wines on offer and found the grape varieties we had enjoyed at Two Tails were also our preference here at Raleigh Vineyard.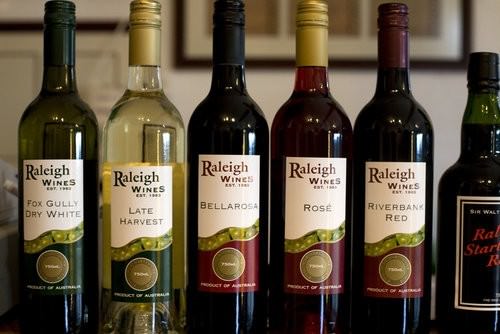 My favourite was the Fox Gully Dry White. It is an unwooded white wine, with a lovely light, crisp, clean flavour which would go well with seafood. This seems to be the style of wine I prefer, and I was quick to collect a bottle or two for our travels.
The other whites I found quite a lot sweeter which I had been warned by our host.
The Riverbank Red was a smooth mellow red, with plum, port flavours. This red uses the Chambourcin grape variety. The wine is aged in oak and has a rich full flavour. This was my preference with the reds.
Again I was warned that the other reds were more of a Lambrusco style of red and would probably be too sweet for my taste.
Visiting vineyards is the ideal way to choose wines which suit our palate. It is the ultimate "try before you buy" and the host at the vineyards are so helpful and knowledgeable. I am the first to admit that I am not a wine connoisseur and I appreciate being guided.
Hubby tried the ports which he enjoyed. The vineyard also produces a version of Baileys Irish cream, called Raleigh Brandy Cream. The taste is amazing, it is creamy and lush and goes straight to my head. Judging from the group tasting with us, the Brandy Crème just walks out the door.
The vineyard offers cheese and wine platters on the deck which would be the ultimate in relaxation. The large deck has a view over both the river and the vines so it would be very easy to lose a few hours in this tranquil environment.
The vineyard is open from Wednesday to Sunday 10am – 5pm, and open 7 days in school holidays. Wines are all priced at $16 per bottle.