We have set off on our vineyard road trip. Our first stop of nine vineyards is Two Tails Wines. This vineyard is located 25km west of Coffs Harbour along the Orara Way, at Nana Glen.
It truly is a boutique vineyard, with just a small plot of carefully selected grape varieties, specifically grown to suit our North Coast climate.
The vineyard is quite modest, but they have had considerable success with their wines. They have produced a large number of winning wines and the awards are proudly displayed on the walls. Jean is our host and owner of the vineyard, she is very friendly and is happy to explain how they produce their wines. She serves us cheese and biscuits and sets the children up with colouring in, while we enjoy sampling the different wines on offer.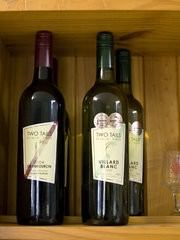 The first wine we sampled was the Villard Blanc. I am familiar with this wine as it was served at the Cheesemaking Workshop I attended recently. I really enjoyed the crisp, clean taste, and I was pleased to find that hubby like it too, so it was an easy decision to purchase a few bottles of this variety. We moved along to the Chardonnay which was also very nice, but the Villard Blanc was definitely our pick of the whites.
The Vineyard grows a Chambourcin grape, for the red wines. I have tried Chambourcin previously and found that I enjoyed the change from my usual Shiraz or Merlot. I was pleased to find that the Two Tails Chambourcin red was a favourite too. When it came to the crunch I couldn't pick between the two red wines so we ended up with a bottle of each.
We completed our tasting by sampling the three ports, my favourite was the white port called Forte Blanc, but they were all syrupy and smooth. I could have easily taken home a bottle of each but I showed great restraint and resisted this time.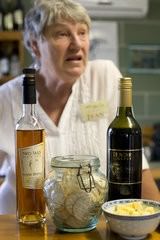 Two Tails wines are priced between $10 – $14 per bottle. The vineyard offers a member special which takes an additional 10% off the purchase price.
The vineyard is open to the public for tasting, and cellar door sales from 11.00 to 5.00pm daily, (except Mondays).