I have a recipe to share for one of my favourite Japanese dishes, Osaka Style Okonomiyaki. Before I share the recipe I have a story to tell, my first trip to Japan was with my husband and 2 children in 2001. Our family had been hosting Japanese students since 1995, and I wanted to experience Japan first hand.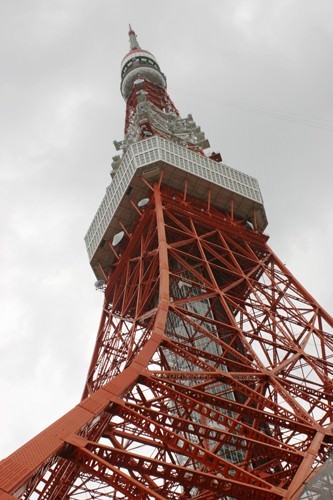 The students had taught me how to make Japanese dishes at home but I wanted to be eating Japanese food in Japan. Mr GG has always been happy when I suggest a holiday, so I booked two weeks in Japan, and we commenced our whirlwind tour.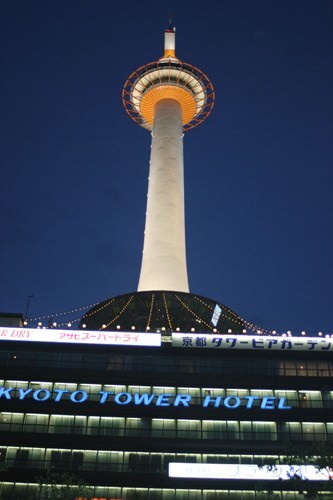 We arrived in Tokyo quite late, but we were excited and ready to do some sight seeing. Tokyo never sleeps, so we were able to grab a meal before getting a train to our hotel. Thankfully all my children have always been good travelers and good sleepers.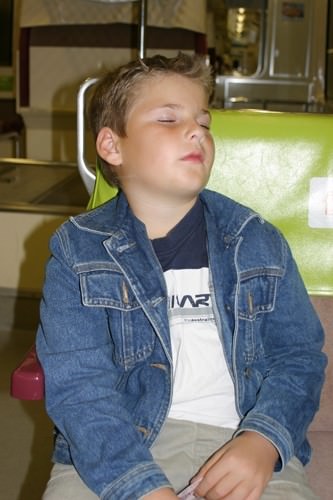 Even before the Gourmet Getaways website, travel was all about the food! We had so many delicious meals in Japan. Most of the time we just pointed to items on the menu, not really knowing what we would be eating. The boys mastered the art of eating hot, noodle soup with chopsticks.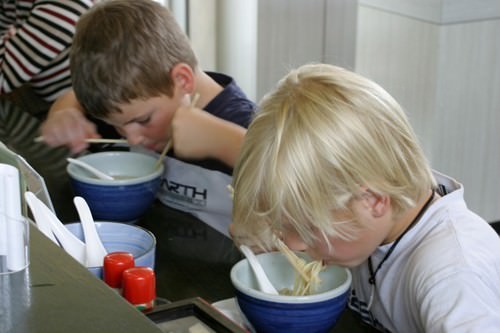 Then we flew to the island of Hokkaido, to meet up with a former student, Kaori. Kaori had offered to show us around her hometown of Asahikawa, near Sapporo. This is when we were first introduced to Osaka Style Okonomiyaki. Kaori took us to a cute little Okonomiyaki restaurant for dinner which had hotplates on each table for cooking.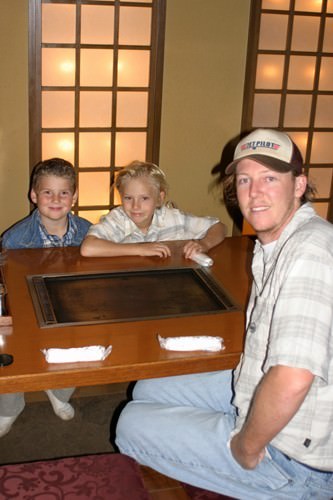 Each person ordered their Okonomiyaki with different meat items. Pork is the most common meat to have in this dish but seafood is also popular. When the dishes came to the table each person was given a large bowl containing the raw ingredients. I asked Kaori if she knew the recipe for the dish, but she said she had never made Okonomiyaki at home before.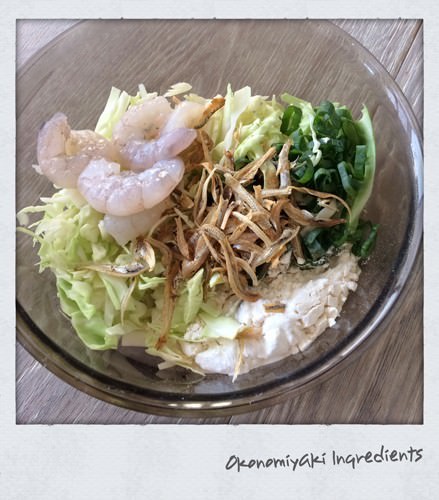 Next an egg was broken into each of the bowls and a small amount of water added.  We were instructed by the waitress to mix the Okonomiyaki with the chopsticks and pour it onto the hotplate.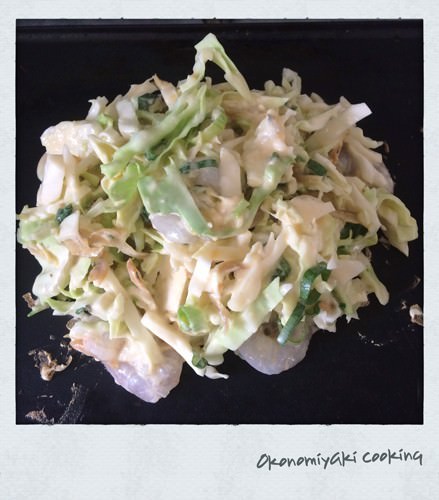 While the Okonomiyaki cooked, we enjoyed some sashimi and Sapporo beer. The hotplate is only on a very low heat so as not to burn the thick pancake before it's cooked through. This was something I had trouble with when I tried to replicate the dish at home.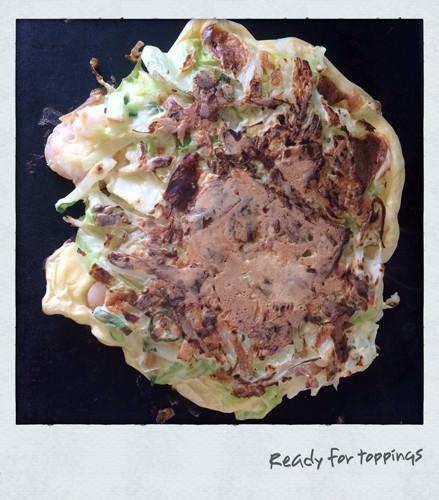 Once the Okonomiyaki is cooked it's time to add the toppings. The Okonomi sauce, which tastes similar to BBQ, is drizzled over the pancake and then topped with Japanese mayonnaise. The final ingredient is the bonito flakes, which are sprinkled liberally over the top.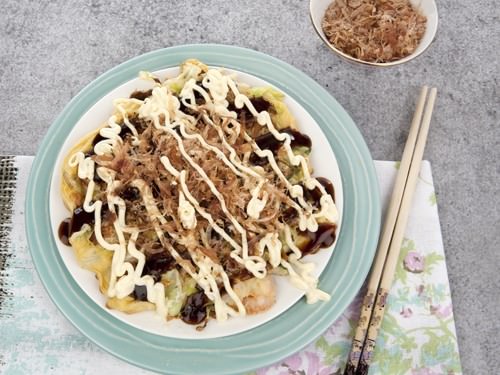 We all love the Osaka style Okonomiyaki so much I knew I needed to track down a recipe. I bought a Japanese cookbook while I was in Japan which included various homestyle recipes including Okonomiyaki.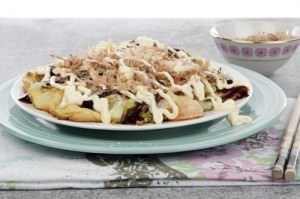 Osaka Style Okonomiyaki
One of my favourite Japanese dishes. Can be made into smaller circles for a picnic food or lunch box snack.
Ingredients
1/2

cups

head of cabbage shredded

about 6

2

cups

plain flour

2

t

/s baking powder

2

t

/s dashi powder

2

shallots chopped

1/2

cup

freeze dried anchovies or prawn

dehydrated

150

gm peeled green prawn

4

eggs

2 2/3

cup

water
Topping
Japanese Mayonnaise

Okonomiyaki Sauce

Bonito Flakes
Instructions
Place the cabbage, flour, baking powder, dashi powder, shallot and prawns in a large mixing bowl.

Add the egg and water and mix to combine all ingredients. At this stage it will look like there isn't enough batter to form a pancake. Don't worry, this is how it should look.

Heat a flat bottomed sandwich press and place a ladle of the mixture onto the hot base of the press.

Gently arrange the Okonomiyaki filling into a flat circle as it is cooking.

Allow the Okonomiyaki too cook for a few minutes then close the lid of the sandwich press to allow the top to cook. Do not open until the Okonomiyaki is ready.

Use an egg flip to remove the Okonomiyaki and place it onto a serving plate.
Topping
Squeeze the desired amount of Okonomiyaki Sauce over the pancake.

Add Japanese mayonnaise to the pancake, then sprinkle with Bonito flakes.
I still wasn't a very successful Okonomiyaki chef until Yuichi, our next long term student cooked the dish for me at home.  This time we used the sandwich maker instead of a frying pan and we had success. The press replicated the Japanese hotplate perfectly.  The recipe has altered with the assistance of our other Japanese students over the years and as a result, I can now confidently give you my recipe for Osaka style Okonomiyaki.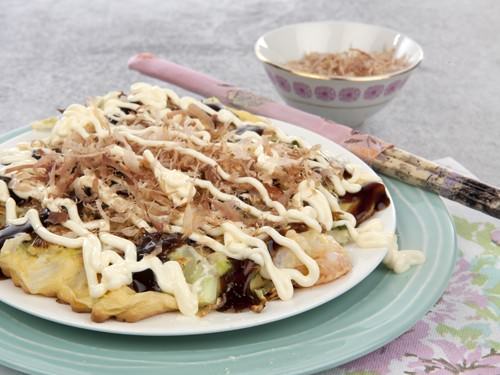 Time moves on, and the little children I first took to Japan as 4 and 5-year-olds are all grown up and have left home. Looking at these photo's it really only seems like yesterday.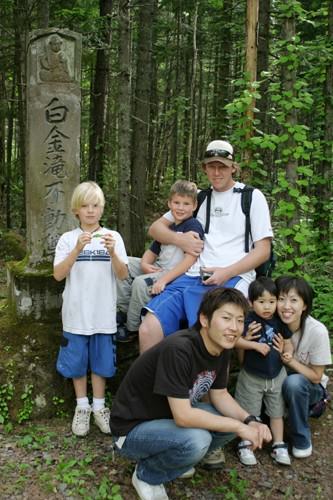 Over the years we have made a few more trips to Japan, although not with the "new" little children. We have been to Hiroshima, and tried the Hiroshima style Okonomiyaki and it's so good! The Hiroshima Style Okonomiyaki includes loads of noodles in the pancake.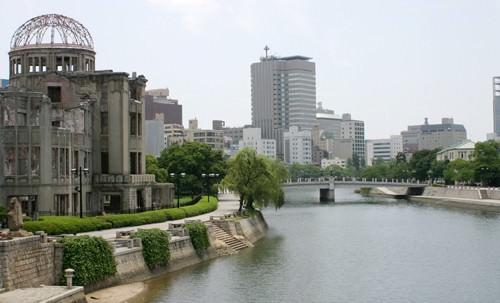 Perhaps I will learn how to cook that dish and share it with you also.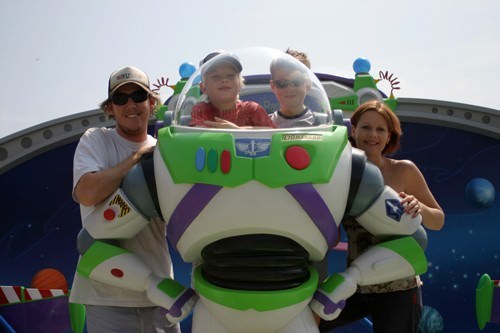 I will definitely need to pack Anais & Locky off to Japan with us soon. They always tell me their older siblings got to do all the good things, I better not show them the pictures of Tokyo Disney and Universal Studios!