This feeling of having over-indulged led me to my significant cookbook collection, I was in search of one of the many "light and lovely" cookbooks. The book which immediately caught my eye was Michelle Bridges, [easyazon_link identifier="0670076376″ locale="US" tag="gourmetgetaways1-20″]The No Excuses Cookbook[/easyazon_link].  I had a quick flip through the pages and immediately wondered why I hadn't yet made any of these delicious dishes, especially this Indian Spiced Chicken!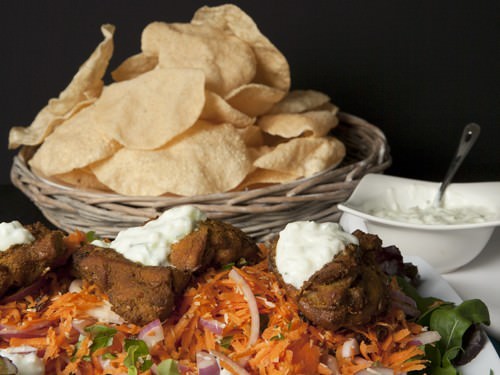 Given that my New Zealand holiday followed closely by Christmas has added about three kilo's to my otherwise small frame I decided it was time to share a few lighter evening meals instead of my usual indulgent offerings.
If you have any excess baggage from Christmas give some of the dishes a try and tell me what you think.
[easyazon_image align="none" height="500″ identifier="0670076376″ locale="US" src="https://www.meatandtravel.com/wp-content/uploads/2017/03/51k2eQS1cL.jpg" tag="gourmetgetaways1-20″ width="404″]
Now back to Michelle Bridges Indian Spiced Chicken with Carrot Salad, I did make a few adjustments but I will be giving you the recipe as it is written in the book. I didn't have tandoori seasoning so I used the spices I would usually use to make a curry, ground cumin, coriander, turmeric, garam masala, chilli powder, white pepper and fennel seed and coated the chicken in the mix.
I also chose to bake the chicken for 20mins on 190 degrees rather than pan fry with oil.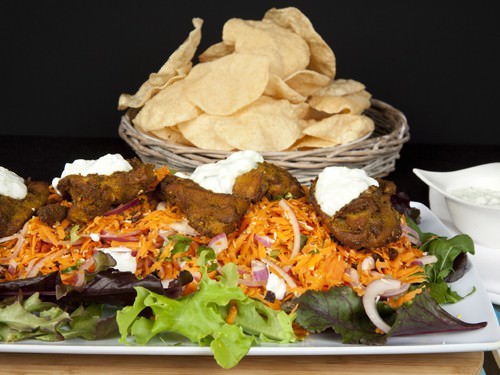 The conversation over dinner was actually quite funny as I explained to Mr GG that Michelle thinks I only need to allow 100gm of chicken per person with this dish. He looked at me like I was a little crazy because I was speaking about her as if we were best friends.
I went on to explain to Mr GG that Michelle recommends breast but I prefer thigh, and although it is a little higher in the calorie count I am sure she would be pleased that I didn't fry the thigh.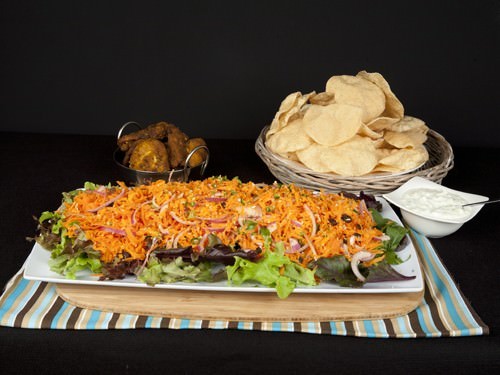 There were a few things Mr GG and I agreed not to tell her though. Firstly, the dish needed a low-fat yoghurt raita, which I made to go with it. I don't think she would mind though as it only added 30 calories per serve.
Secondly, I made deep fried poppadoms for the rest of the family to enjoy with the dish! Sorry, Michelle.
Thirdly, and worst of all, it wasn't enough for me as my main meal! I had another 100gms of chicken and a burrito wrap to bring me up to a whopping 634calories for my evening meal.
Michelle tells me I only need 319 calories per meal. Oops! I doubled it!
We just won't tell her.
All the extras haven't been approved by Michelle but the dish was amazing. The recipe was full of flavour and I felt that I was doing something great for my body by eating this dish anyway.
In my defence, if the meal wasn't totally awesome I may have been able to stop at only 100gms of chicken; but it was a flavour sensation and I loved the dish.
Do I mind that I went over the recommended 319 calories? Not at all, it was a healthy and delicious meal which was high in protein, fibre and flavour and low in fat. I am sure I received more vitamins and minerals in that dish than I had for the whole of the previous month. Besides, I tend to need a bigger evening meal and I think this was a great choice for my body.
Give it a try and tell me what you think.
Indian Spiced Chicken w Carrot Salad (serves 2)
220gm chicken breast fillets
1 T/s tandoori seasoning
cooking oil spray
Salad
2 Tbs shredded coconut
2 tsp oil (I didn't use this)
1/4 tsp black mustard seeds
8 fresh curry leaves (I bought a tree and potted it for the balcony)
1/2 small red onion finely sliced
1/2 long green chilli finely sliced (from my garden)
300gm grated carrot
fresh black pepper
1 Tbs sultanas
 Method:
Trim chicken fillets of all visible fat, coat in the seasoning. Bake in an oven at 190 degrees for 17minutes, or fry with cooking oil spray.
Cover the coconut in boiling water to soak for 10 minutes.
Dry fry the mustard seeds in a non stick pan and set aside for later use.
Drain the coconut.
Add the carrot, mustard seeds, coconut, chili, black pepper and sultana to a bowl and stir to combine.
This mixture can be fried in 1 teaspoon of oil or served cold. I enjoyed mine cold.
Slice the chicken and serve with the salad.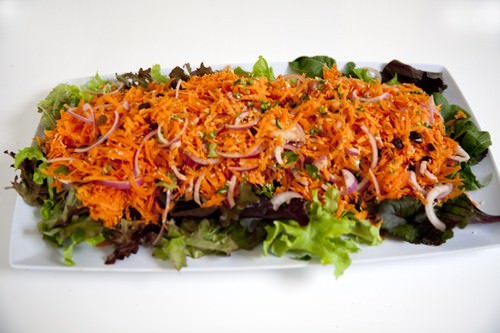 Cucumber Raita (Serves 4) – 30 calories per serve
70gm cucumber
1 handful fresh mint
200gms Low fat yoghurt
Method:
Finely chop the cucumber and mint and stir through the yoghurt.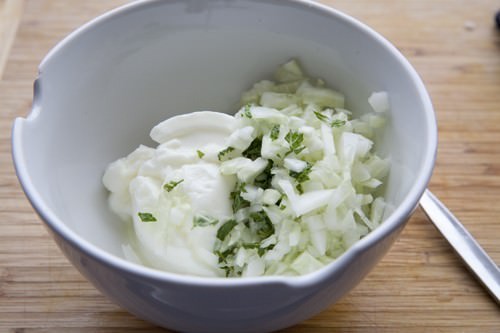 You may have also noticed that I have added other salad leaves to the carrot salad. I have these growing and really wanted a little more variety.
What is the verdict? I loved the use of herbs and spices. The flavours were amazing and the dish was very quick and easy to make. I would definitely make this dish again! Next time I will try to only have 100gm chicken but I will always serve it with the cucumber raita.
Did you put on any "Christmas Cheer" over the festive season? Do you have a little bit of "pudding" left over. Are you planning to eat a little lighter? Tell me your slimming secrets.