As a former vegetarian some of my more delicious and satisfying recipes are either vegetarian or vegan.  This Vegan Moroccan Spiced Beans recipe is no exception. The dish is full of flavour, is exceptionally nutritious and has an amazing comfort food appeal.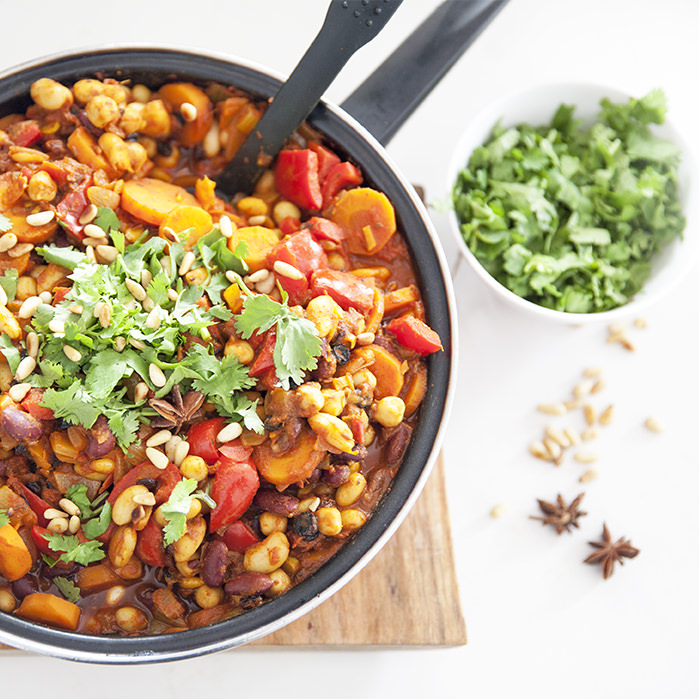 Just eating this dish feels like you are doing your body (and your taste buds) a favour. I like to serve my Moroccan Spiced Beans with some warmed flatbread, a squeeze of lemon and some freshly chopped coriander as a stand alone vegan dish.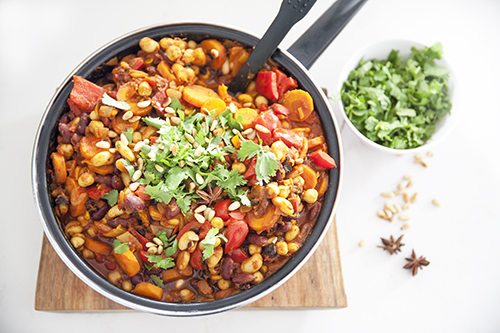 If you like the dish could be served with either wild rice or some brown rice. If you're a vegetarian, a nice addition to the dish is a generous scoop of minted yoghurt.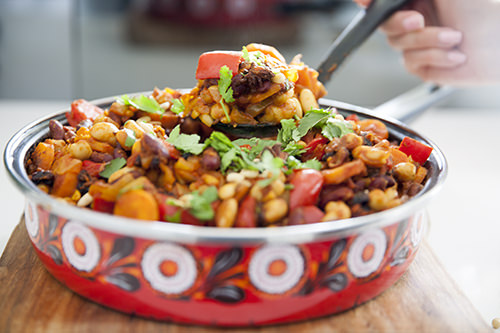 I'm sure I wasn't alone in making a New Years resolutions to be more kind to my body. My specific aim was to be more conscious of how I fuel my daily activities. I want to eat healthier, high quality food and balanced meals. I feel I've made a good start with this Moroccan Spiced Beans dish.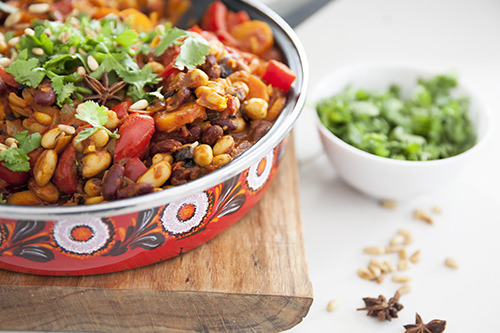 I always remember advice from the dietician Rosemary Stanton when I'm assessing the nutritional value of a dish. Her recommendation was that each day, we should all aim to eat at least 20 different foods preferably of varying colours. Following this guide gives us the best chance of reaching the recommended minimum levels of vitamins and minerals.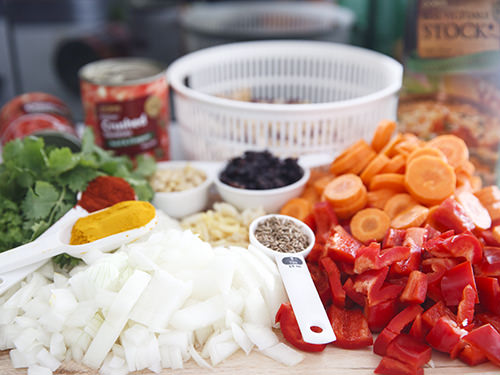 When you follow this practise it's easy to ensure that a varied range of nutrients is consumed each day. As and added plus, the beans in the dish are a great source of fibre which provides a sustained feeling of fullness.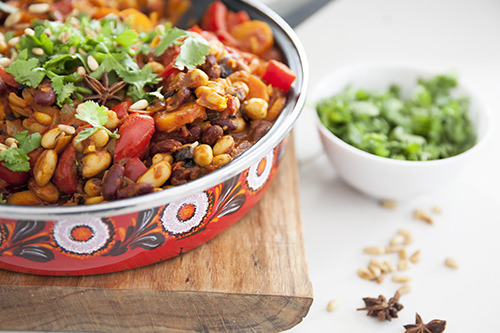 This Moroccan Spiced Bean dish has 12 significant ingredients. I haven't included the oil, salt or spices which are only used in small amounts when counting the ingredients. Even so, just in this one dish we have almost reached a daily goal of using 20 ingredients.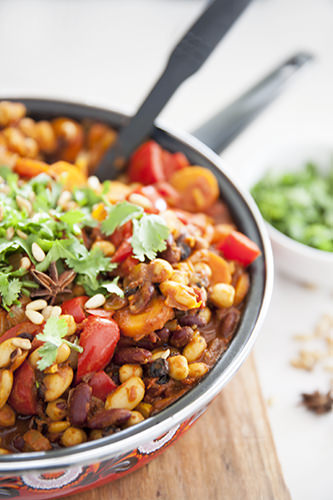 Although, if you are serving the meals as a side dish you could easily pair it with a non vegetarian option. The smokey flavour of the beans lends itself to being served with some luscious barbeque ribs or slow cooked roasted meat for a hearty, soul warming meal.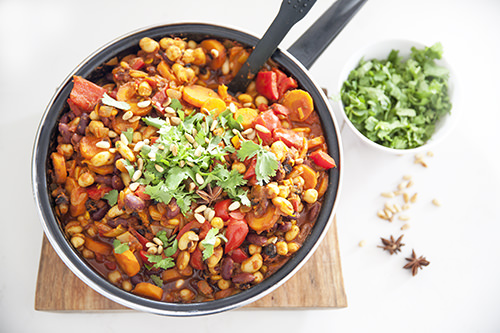 Ingredients
2

Tbs

olive oil

5

cloves

garlic

4

cm

piece fresh ginger

1

fresh red chili chopped

hot

2

brown onions diced

1

cm

red capsicum diced 1.5 squares

3

large carrots sliced thinly

2

Tbs

cumin seeds

440

gm tomato puree

250

ml

vegetable stock

2

Tbs

smokey paprika

1

Tbs

ground tumeric

1

tsp

ground cinnamon

2

star anise

1

tsp

salt

or to taste

60

gms currants

65

gm pinenuts

dry roasted

420

gm can chick peas

drained and washes

420

gm can red kidney beans

drained and washes

420

gm can white beans

drained and washes

1

bunch or coriander chopped

1

lemon - juice and zest of lime
Instructions
Heat oil in a large heavy based frying pan.

Add the garlic, ginger, chilli and onion and fry on a medium to high heat until soft.

Once the onion is soft add the cumin seeds and capsicum. Continue to cook for a few minutes.

Next add the carrots to the pan and continue to stir for 5 minutes as the carrot softens slightly.

To further cook the carrot add the tomato puree and vegetable stock.

Stir until combined and turn the heat down to a medium temperature.

Add the smokey paprika, ground turmeric, cinnamon, star anise, currants and salt to taste. Continue to stop and allow the dish to cook until the carrot has reached the desired level of softness.

To serve, gently stir the beans through the dish and allow them to be coated in the spiced tomato mixture.

Allow the beans to heat through.

Remove the frying pan from the heat and top the beans with pinenuts, lemon zest and coriander.

Serve the Moroccan Spiced Beans with the reserved lemon juice for added zing.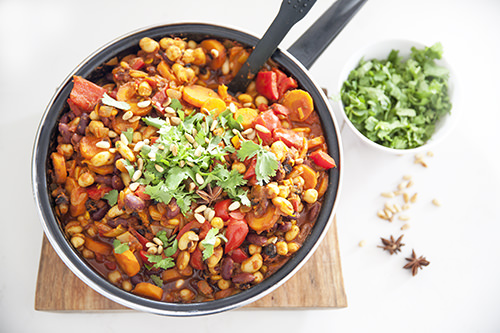 Personally I like my Moroccan dishes a little more on the spicy side so I usually add an extra hot chilli or so to the dish.  I have been very restrained in this recipe so if you like your food hot, feel free to adjust the chilli to the desired heat.
Have you made any New Years Resolutions? Are they health or travel related? I'd love to here your goals for the year.