Oh Gosh I love PORK! And this Korean Chili Pork is delicious!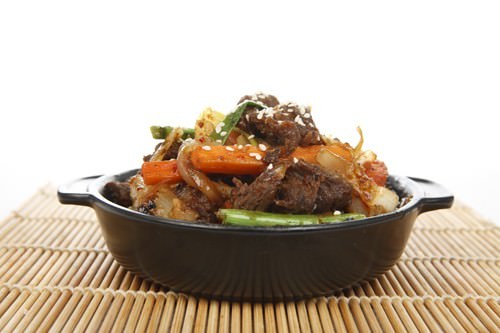 I love the lush sweet, and salty flavour of the meat. I dream about the melt in your mouth pork fat and I crave the delicious pork crackling. I am a pork addict.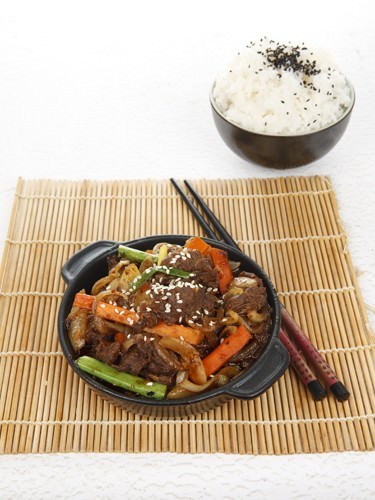 I am a pork addict. It has been 10 minutes since my last pork dish. I think about pork all the time. I find my mind wandering to BBQ pork spare ribs, pulled pork rolls and any other pork dish I can get my hands on.
I thought I could control the cravings but I can't.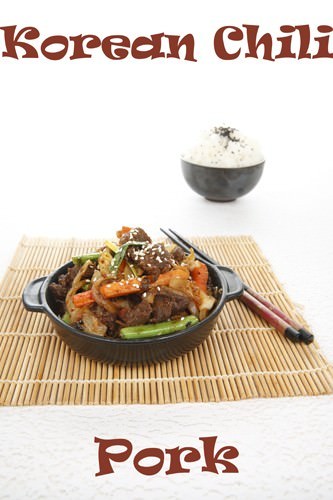 I live and breathe pork.  All I think about is my next meal.
In an attempt to vary my pork experience I have explored Korean Chili Pork.  It hasn't improved my pork addiction it has made it worse. The chili, garlic and ginger flavours compliment the sweet pork so perfectly.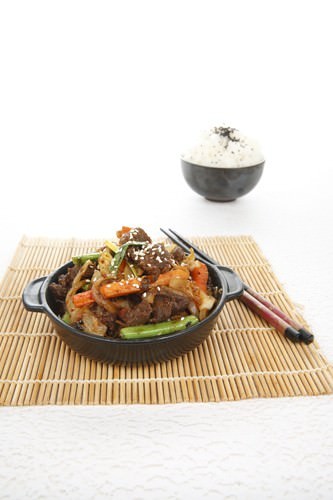 In this dish the garlic and chili marinated meat is stir fried quickly.  Then onion, shallot and carrot are added to the pork.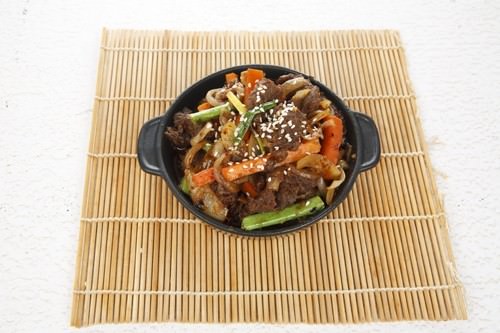 I am warning you this dish is quick and delicious. Try it at your own peril. It could make a pork addict out even the most rational and dietary conscious eaters.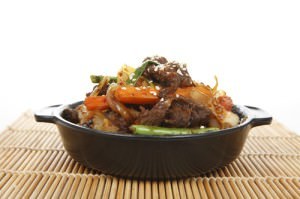 Korean Chili Pork
This is a quick and extremely tasty Korean Chili Pork dish.
Ingredients
400

g

Pork Fillet

cut into cubes and then sliced into thinner squares

2

shallots

cut into 3cm lengths

1

carrot

cut into batons

1

brown onion

cut half and then into thin strips

2

Tbs

oil

1

Tbsp

Mirin

2

Tbsp

lemon juice

zest from 1 lemon

1

tsp

sesame oil

1

tsp

sesame seeds
marinade
3

cloves

garlic finely chopped

1

Tbsp

garlic grated

3

Tbsp

Korean Chili Paste

1

Tbsp

sesame oil
Instructions
Place the meat, and marinade ingredients in a bowl. Combine and allow to marinade for an hour or more.

Heat the oil in a wok and add the onion and the carrot. Cook until the onion has softened.

Add the meat and the marinade to the wok. Cook for 2 -3 minutes stirring.

Add the mirin and lemon juice and continue to cook and stir until the meat is cooked.

Turn off the heat and add the shallots. Stir them through the dish.

Add the lemon zest just before serving.

Place the Korean Chili Pork in a serving dish and top with sesame seeds and a drizzle of sesame oil.
So, what are the flavours? The dish is smokey, garlicky and zesty with a nice amount of heat. We served the dish with rice and a braised Kale side.
I know I am biased but this is such an easy and tasty dish.
What is your food weakness? Are there any savoury dishes that make you go weak at the knees?