The Daring Bakers is an international cooking forum which chooses a cooking challenge each month for members to attempt.  This month's challenge was "Tubular and Coiled Treats" set by Swathi of Zesty South Indian Kitchen.  The examples given were the Spanish Ensaimada and the Romanian Kürtőskalács aka chimney cake.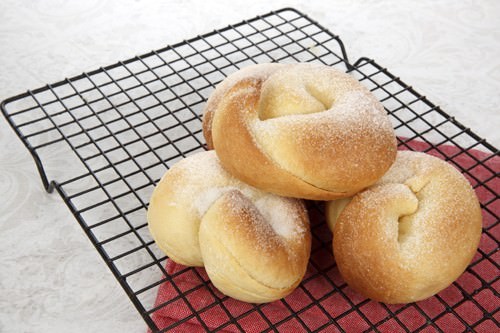 As you may know the Philippines has a rich Spanish history, so the Ensaimada (or Ensaymada) is a very popular baked good here also.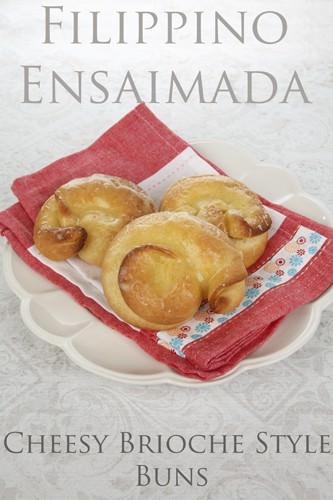 Given that Alesah is from the Philippines, I decided to make a Filipino Ensaimada for the Daring Bakers Challenge. In case you are wondering what an Ensaimada actually is, I will explain. It is a very buttery bread like a Brioche, which is rolled and then twisted to form a little bun. Once the little buttery bun is cooked it's then finished with a choice of sweet or savoury toppings.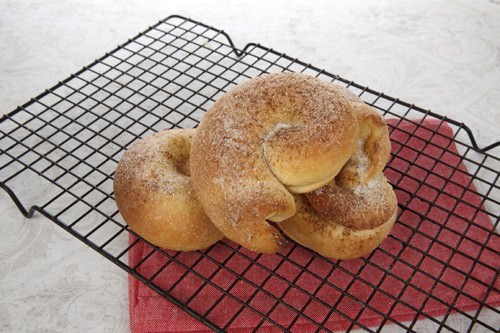 Before baking I quickly conferred with Alesah about these little Filipino treats. I asked her what toppings she would expect to find on her ensaimada in Manila.
She said her favourite was a mix of grated melty cheese, and sugar.  I was perplexed!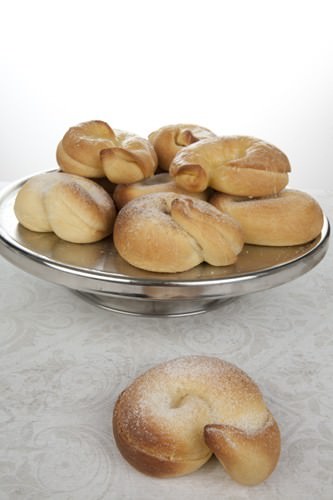 "So you top your ensaimada with cheese and sugar"??  I asked.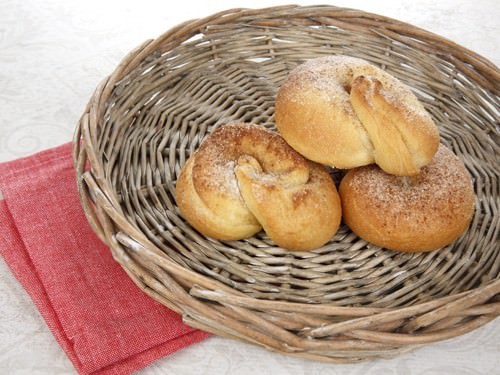 "Yes," she agreed.
I wasn't convinced. I could see how a glaze of sweet sugar would be nice, or some lovely melted cheese… but both!!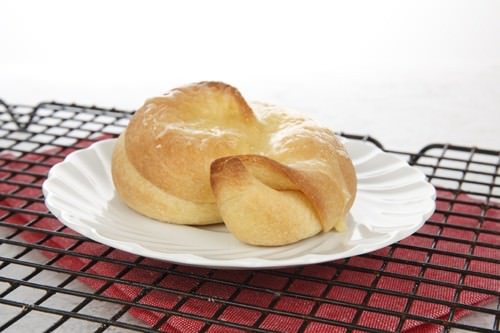 …anyway I took Alesah's advice on board and continued with my buns.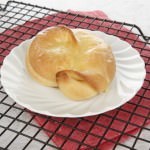 Ensaimada Filipino Style Brioche
Ingredients
Dough
1

packet instant dry yeast

1/4

cup

warm water

6

tablespoons

sugar

4

cups

all-purpose flour

1/2

teaspoon

salt

3/4

cup

butter

at room temperature, plus more melted butter for brushing the rolls

6

egg yolks

1/2

cup

evaporated milk

oil for greasing a large bowl

baking sheet, and brioche molds
Instructions
Dissolve yeast in warm water.

Add 1 tablespoon sugar to the yeast and allow it to activate. The yeast should double in volume.

Add 1/2 cup of flour to the yeast.

Beat butter and sugar in an electric mixer until light and fluffy.

Add the egg yolks one at a time. Beat well.

Add flour and milk alternately. Mix on low until incorporated fully.

Add the yeast mixture to the electric mixer and mix until combined.

If you have a breadmaker add the dough to the breadmaker and select a dough setting. Allow the machine to complete the breadmaking process.
Bread Dough by Hand
Alternatively, knead the dough by hand on a clean surface dusted with flour until smooth and elastic. Let the dough rest in a bowl greased lightly with canola oil.

Cover the bowl with plastic wrap and let the dough rise until double in size, about one to two hours.
Making the Rolls
Punch the dough down and divide into twelve small balls.

Roll out each dough ball into a thin sheet.

Brush the flattened dough with melted butter.

Roll the dough into a thin sausage.

Coil the sausage like dough into a spiral-shaped bun.

Place the bun on a lined baking sheets or greased fluted brioche molds.

Set the buns aside to rise until they have doubled in size.

When the dough is almost done, preheat the oven to 180 degrees or 350 degrees F.

Bake until the buns are golden.

Brush buns with melted butter and dust with caster sugar or finely grated cheese.
When it came time to take the buns from the oven I had a plan. I would make three cheese, three buttered sugar and three my own version which was a buttered cinnamon and sugar combination. The final three would be the way Alesah likes them, with cheese and buttered sugar.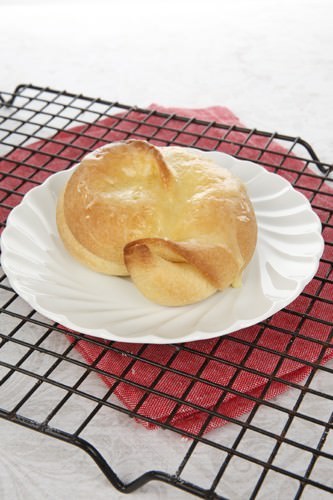 Alesah also mentioned they can be topped with a "red egg" but since we don't have red eggs here that option was out.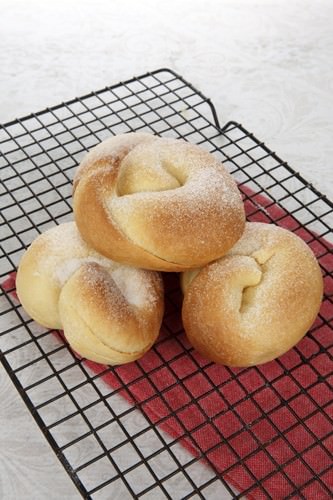 Mr GG had the first ensaimada almost as soon as the cheese was melted. He had chosen to try Alesah's combination and he loved it. The outside of the bun was a little crisp but the inside was so soft, sweet and light.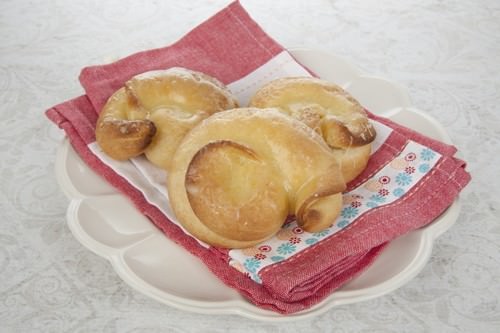 All the flavour combinations were delicious, but it was the cheese, and the cheese sugar combination that everyone kept asking for.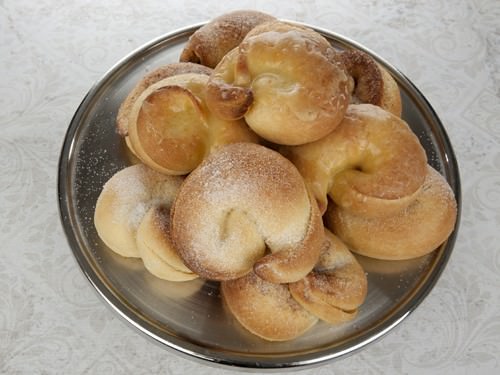 As with all the challenges this was great fun. The Daring Bakers is something I enjoy because it throws out a recipe to all that I probably wouldn't have otherwise tried.