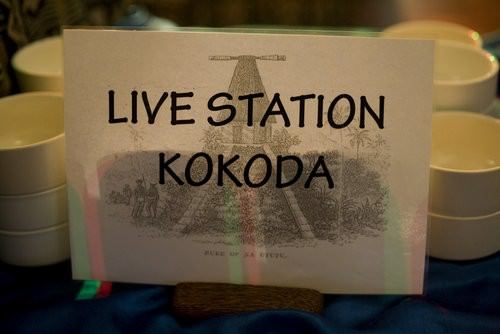 Bula everyone!
I am back from Fiji, refreshed and with so many great stories and travel ideas.  First up though, I have to share a traditional Fijian kokoda recipe with you. I had this dish at a number of places during my travel and it suited the hot, humid climate perfectly. I thought it would suit our Australian Summer equally as well.  The dish is called Kokoda, it is served cold.  I was served it in shot glasses as an entrée, and in a bowl as a more substantial dish.  I liked it as a fresh entrée, and when I make it at home I would utilise a suitably sized glass for presentation.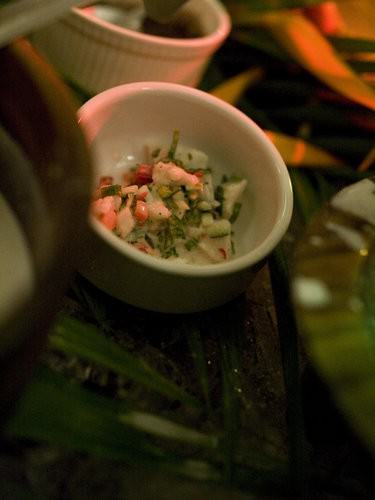 Ingredients:
1 Spanish Mackeral Fillet/ Mahi Mahi (or similar boneless, white firm fleshed fish)
½ Cup Lime Juice (marinade)
1 cup Coconut Cream (fresh is best)
½ cup Lime Juice (serving)
2 Tbs Shallots (finely diced)
2 Tbs Red Capsicum (finely diced)
2 Tbs Green Capsicum (finely diced)
2 Tbs Cucumber (finely diced)
2 t/s Red Chili (finely chopped)
2 Tbs Red Onion (finely diced)
2 Tbs Coriander (finely chopped)
2 Tbs Tomato (finely diced)
Salt & Peper to taste
Method:
Dice the fish fillet into small cubes.  Place in a non reactive container with the lime juice to marinade. Cover and refrigerate overnight.
Over the next 12 to 24 hours the fish should become opaque and cooked.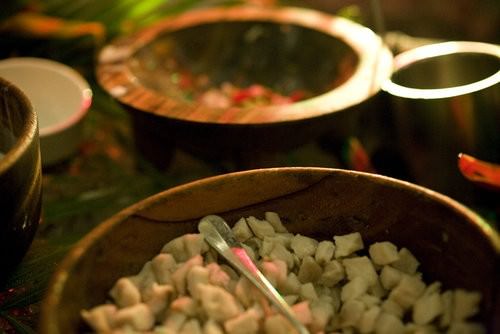 Drain the lime juice (discard) and place the fish in a serving bowl.
Prepare individual bowls of condiments by very finely chopping the ingredients and adding to separate bowls.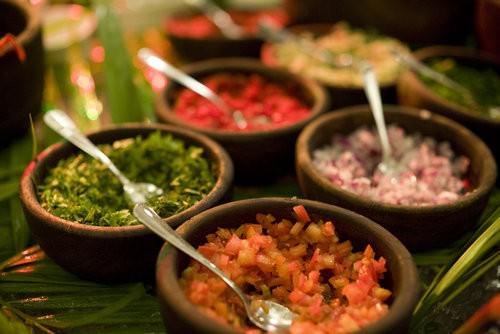 The Kokoda can be served as individual dishes, with the condiment bowls on a platter for self service or can be made up in advance and served in glasses or bowls.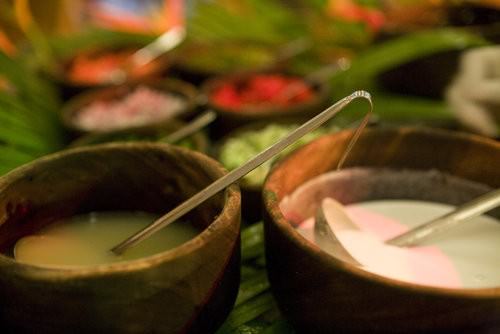 To prepare the dish place ¼ cup of coconut cream and 2 Tbs of lime juice into a small mixing bowl. Add a quarter of the marinated fish to the liquid and then place half a tablespoon of each of the desired condiment into the mixing bowl. Stir until combined and then transfer to a serving dish.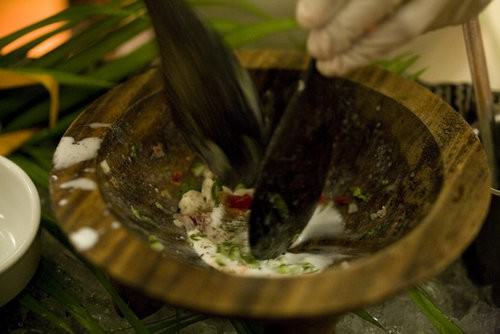 Serves 4 people as an entrée.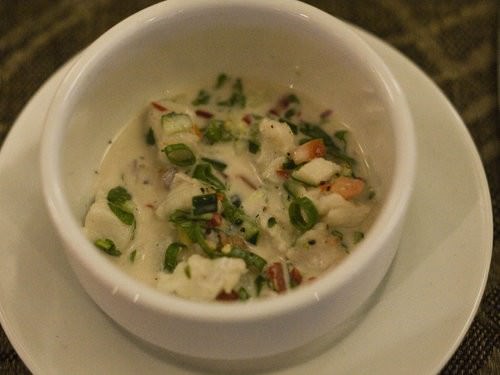 * Canned coconut cream can be used in this dish but in an up coming story I will show you how to make coconut milk and cream from the nut itself. The taste is amazing!
I have to thank all of the chefs at the Outrigger Resort, Fiji for sharing some of their wonderful recipes with me.  We thoroughly enjoyed our stay there, everyone was so friendly and the food was amazing! I would particularly like to participate in the Outrigger's Fijian cooking classes' next visit, as time did not permit this trip.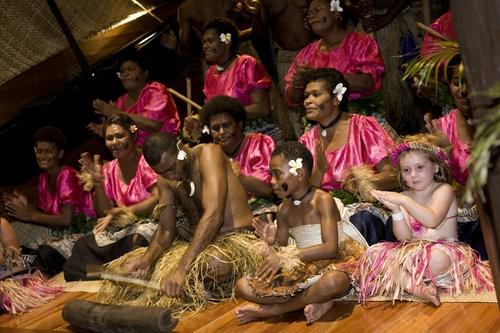 Thank you also to Flight Centre and in particular Ian Carswell for putting together a fantastic itinerary. When you're overseas on holidays with a family in tow, you want the only surprises to be good ones. We had lots of fantastic surprises which Ian had organised with the Outrigger Resort.
Above is an image of Anais being included in one of the evening performances at the Outrigger Resort in her little pink grass skirt. She was smothered in kisses from all the Fijian ladies at the end of the performance. I think this would have been one of Anais Fijian holiday highlights.