I hope you we had a wonderful Australia Day on Saturday, and are now enjoying this long weekend! We enjoyed a feast of Kangaroo Puff Pastry Pockets – very Australian!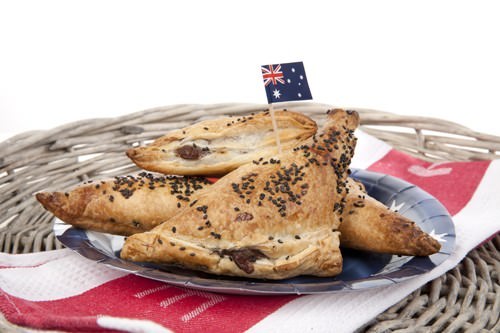 There is nothing more Australian than a three day weekend.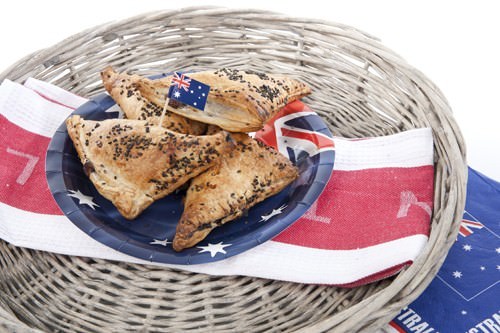 As I promised in my Australia Day story, I am sharing the recipe for my tasty Kangaroo pockets. If you are serving these to children you might want to start slowly with the pepper.
This recipe is a completely original Gourmet Getaways creation so I do hope you enjoy it.
Kangaroo Puff Pastry Pockets
Ingredients:
1 kg Kangaroo Mince
2 ½ cups water
6 cloves garlic
2 Tbs chopped fresh thyme
3 shallots
2 tsp salt
2 tsp white pepper
520gm jar Fruit Chutney
2 Tbs corn flour
8 sheets puff pastry
Milk to glaze
Black sesame seeds to garnish
Method:
Place the mince and water in a heavy base saucepan. Stir the meat so that all the pieces of meat have separated and boil.
Chop the garlic, shallots and thyme and add this to the poaching meat with salt and pepper.
Continue to cook until most of the residual water has evaporated.
Combine the jar of fruit chutney with the cornflour and stir until the cornflour is dissolved.
Reduce the heat, and add the fruit chutney mixture to the meat. Stir until the sauce has thickened.
Remove the minced meat from the heat and cool before use. If you refrigerated the meat it is easier to use.
Pre-heat the oven to 200 degrees.
Prepare 2 or 3 cookie slides with baking paper.
Thaw puff pastry and cut into four even squares.
Take a heaped tablespoon or so of the cooled meat and place it into the square of pastry. Fold the pastry square into a triangle.
Brush each triangle with milk or an egg wash if preferred. Sprinkle the pastry triangles with sesame seeds to garnish.
Bake for 15 minutes or until golden and crisp.
These little Kangaroo Puff Pastry Pockets make great picnic food and would also pack up well for lunch boxes.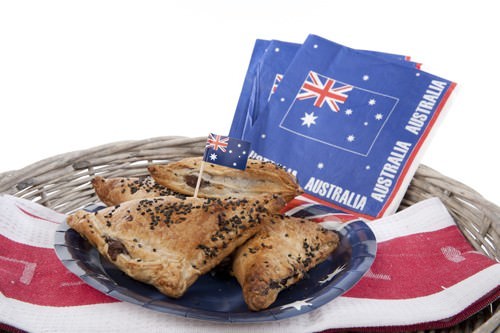 Speaking of lunchboxes, school is going back for the Gourmet family on Wednesday so I better get busy with something for the kiddies lunchbox.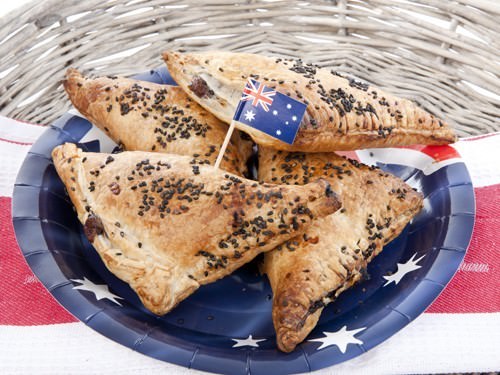 For all the mummy foodies, what do you make your kids for school lunches? I survived on 13 years of Vegemite sandwiches, but I try to make interesting food for my little ones.