I've been a little bit slow to get into the Christmas spirit this year. Usually, I'm in full swing making Christmas gifts from my kitchen but this year I was in a bit of a funk. I wanted to make something different! Then it hit me! When I was a kid we used to make gingerbread cake. It was one of my favourite cake but we only seemed to have it at Christmas time.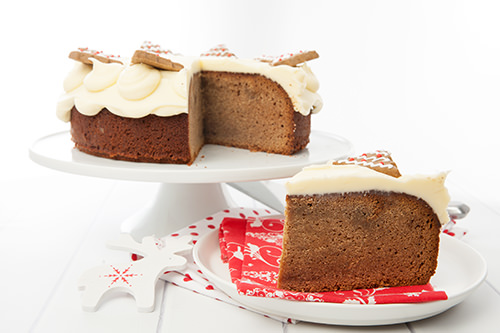 I went hunting for the original recipe I liked to cook.  Typically, I couldn't find it so the cake was put on hold.  Then I was flicking through some of my lovely 97-year-old nana's recipes and the recipe jumped right out at me.
I quickly scanned the ingredients and found it to be just like the gingerbread cake I would make when I was a teenager living at home. When I was a kid I was kind of obsessed with this cake. I would make it so regular for my siblings' school lunches,  they actually told me to stop! If you knew my brother and sister you would understand how unlikely it would be that they would actually tell me to stop baking. I wanted to make this a more festive cake.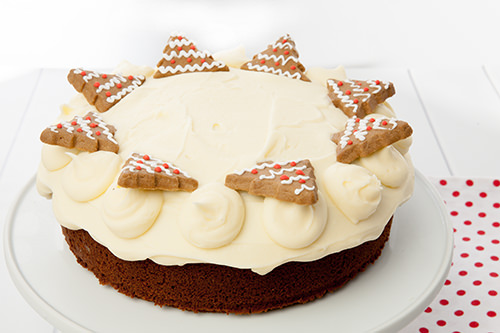 I stopped baking it, and I lost the recipe. Now I have it again so I thought I would take the opportunity to share. I wanted to make this a more festive cake
Just so that we're on the same page, gingerbread cake is very different to gingerbread cookies. The cake is far superior in my opinion. Imagine a caramel mud cake with a ginger and cinnamon flavour. Very special!  I wanted to make this a more festive cake so I started to think about ways to decorate.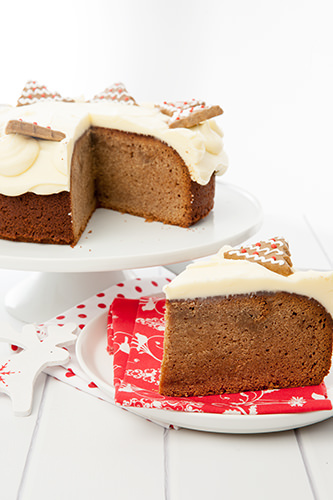 I like to use either a simple lemon glaze or a decadent cream cheese frosting to finish the cake.  Because I wanted to make this a more festive cake I chose the cream cheese frosting, plus I added some pre-made gingerbread cookies to the top to decorate. Decorating cakes isn't my forte, but this was an easy cheat.
I have given the Thermomix instructions for the cake. If you don't have a Thermomix please don't stress. This is a simple melt and mix cake and it can be made in a large saucepan on the stove.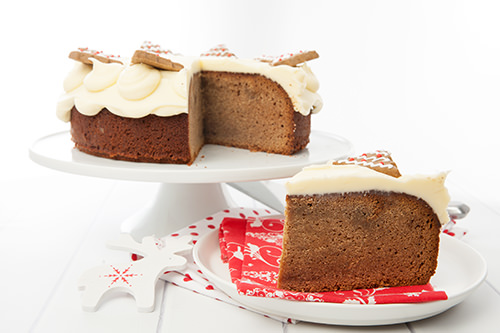 Ingredients
225

gm salted butter

room temperature

450

gm golden syrup

155

gm brown sugar

250

gm milk

3

eggs

3

tsp

ground ginger

2

tsp

ground cinnamon

1/4

tsp

ground cloves

460

gm plain flour

2

tsp

baking powder
Frosting
220

gm icing sugar

160

gm cream cheese

20

gm butter

juice 1/4 lemon

Christmas Cookies to decorate
Instructions
Pre-heat oven 150 degrees.

Grease a 24cm spring form tin.

Add butter, syrup and sugar to TM bowl. Melt 7 min/60 degrees/Speed 3.

Add milk to bowl. Combine 10 sec/Speed 5.

Add all the spices and eggs into the TM bowl. Combine 10 sec/Speed 5.

Add the flour and baking powder to the mixture. Mix 1 min/Speed 5.

Pour the batter into the prepared tin.

Bake for 2 hours.

After 1 hour check the cake every 20 minutes to ensure the oven is not too hot. If large cracks are appearing turn the oven down by 10 degrees.
Frosting
Place the frosting ingredients in the TM bowl. Process 1min/Speed 7. (scrape down intermittently)

Decorate the cake as desired.
The cake does need to cook very slowly, on a low heat for about 2 hours! On the upside, your kitchen will smell lush for a very long time!
I'm considering making this again in mini loaf tins as a neighbourhood Chrismas gift. It has the festive feel without the heaviness of Christmas cake or pudding.