Thank you to everyone who watched me make a Thermomix Baba Ganoush dip. This was my first facebook live recipe presentation.  I absolutely loved reading the comments and getting all the thumbs up! 
I've been making Baba Ganoush for years, it's one of my favourite dips because it's healthy and delicious.
The recipe doesn't include any sour cream so it's suitable for those that are on a dairy-free diet.
It's also naturally gluten-free vegan-friendly. I guess you could say it's good for everyone.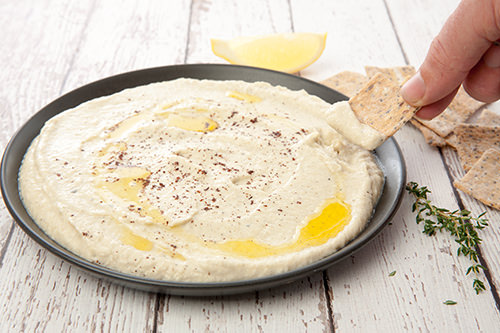 The secret to getting the traditional smokey flavour is to char the eggplant over a flame. It took me years to discover this tip. I had previously been making my baba ganoush in the oven and it never had the traditional flavour.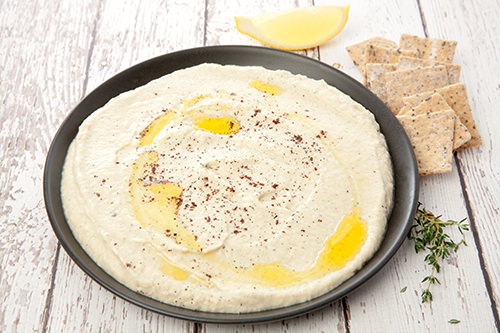 If you're not a fan of the smoked eggplant flavour you can bake the eggplant on a tray in the oven until it's soft.
During the live video, I was asked how to get a smokey charred flavour if you don't have a gas stove. There are two options; you can use your BBQ and grill the eggplant over the flame or you can use a little camp butane cooker.
I have even made Baba Ganoush whilst camping. I grilled the eggplant over the campfire! If you're a Thermomix camper this recipe will be perfect for you these holidays.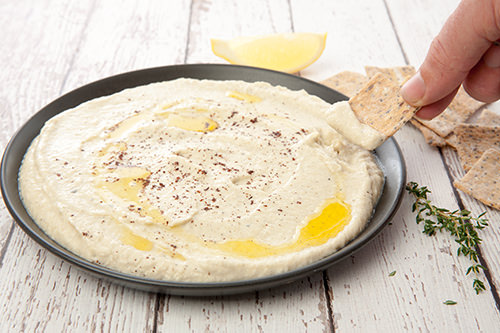 Ingredients
1

large eggplant

any size - weight not important

50

gm lemon juice

50

gm tahini paste

1-2

cloves

garlic

pinch salt to taste

pinch cumin

optional

pinch sumac

optional garnish
Instructions
Place the eggplant directly onto a flame on the cooktop.

Using tongs intermittently turn the eggplant. The skin needs to be blackened all over and the eggplant should be soft and falling apart.

Once the eggplant has cooked complete peel the charred skin off the flesh.

Place the eggplant flesh into the thermomix with garlic, lemon juice, tahini, salt and cumin (if using).

Blend 15 sec/Speed 9.

Scape down the bowl.

Taste, if required add a dash more, salt or lemon. If you need a smoother consistency you can add 10 mls water.

Blend 15 sec/ Speed 7.

Transfer the Baba Ganoush into a serving dish.

Sprinkle the sumac over the dip and refrigerate.

The dip needs to be served chilled to achieve optimum flavour and texture.
Nutrition
Serving:
50
g
|
Calories:
76
kcal
|
Fat:
4
g
In the pictures, you will notice I have drizzled the Thermomix Baba Ganoush with oil and sprinkled sumac over the top.  This was purely for presentation and doesn't affect the flavor.