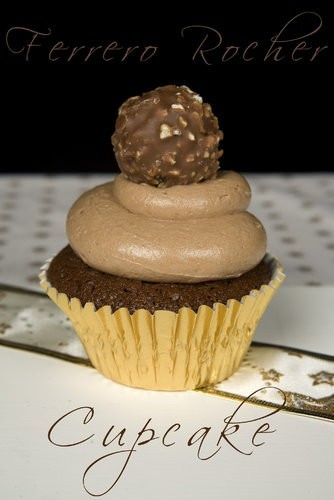 I was very excited to be told that Ferrero Rocher would be advertising on my site. You may have noticed that I love desserts! So in celebration I decided that I would bake a tribute to the great chocolate.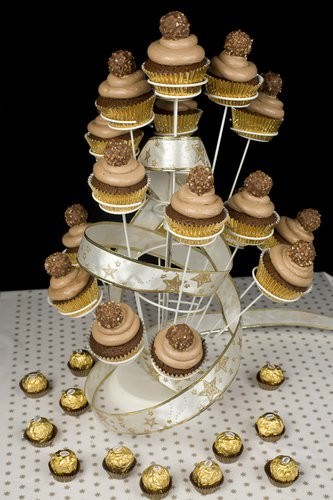 This is my first Ferrero Rocher inspired dessert, but you can rest assured I have a few more planned to follow.  Top of the list had to be a cupcake!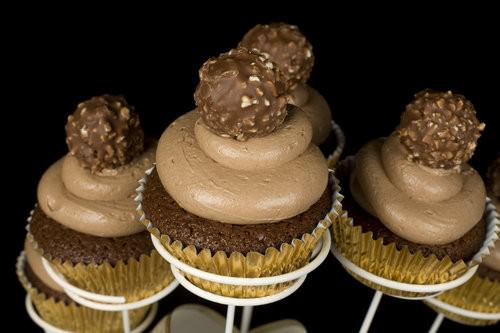 The cupcake itself is a moist brownie style cake which has Frangelico, honey and melted dark chocolate to give it the rich decedent flavours found in the Ferrero.  The frosting is a lush Nutella and dark chocolate butter cream icing, and the "piece de resistance", naturally a Ferrero Rocher chocolate is perched, pride of place!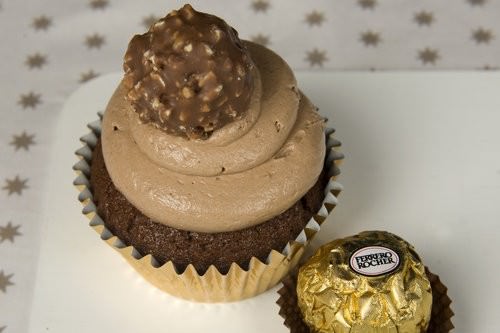 Ferrero Rocher Cupcake
Ingredients:
250gm butter
150gm dark chocolate
¾ cup honey
1 cup sugar
1 cup condensed milk
1 cup Frangelico
1 ½ cups plain flour
¾ cup SR flour
¼ cup cocoa
2 eggs
Method:
Preheat the oven to 170C/340F.
In a saucepan over a low heat, combine the butter, chocolate, honey, sugar, condensed milk and Frangelico until all the ingredients are melted.
Place the flours, and cocoa in a mixing bowl and pour the chocolate mixture into the flour.
Once flours and chocolate are combined add the two eggs and mix well.
Pour batter into prepared cupcake pan and bake.
Bake for 15-20 mins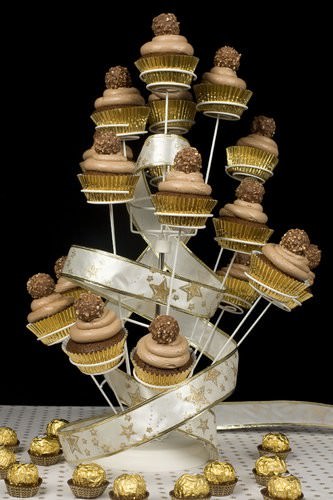 Frosting
Ingredients
250gm butter
160 gm dark chocolate melted
1 cup Nutella
2 cups icing sugar
1/3 cup cream
Method
In an electric mixer beat the butter, chocolate, Nutella and icing sugar until well combined and fluffy.
Add the cream to the mixture and beat again for about 3 mins.  The mixture should be fluffy and light and increased in volume.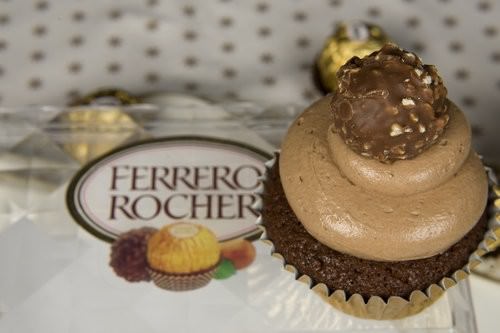 Place mixture into a piping bag and ice the cooled cupcakes. Add a Ferrero Rocher to the top of the cupcakes. Refrigerate the cupcakes. Take the cupcakes out of the fridge prior to serving to bring up to room temperature.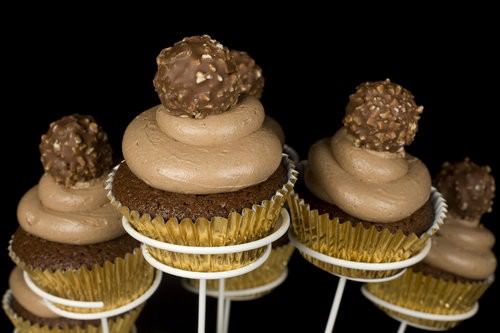 If you are now craving the Ferrero, take a look at the new Ferrero Boutique website.  Maybe do some Christmas shopping online by clicking in the lovely chocolate image to the right. I will be back tommorrow to tell you all about the launch.