Would you like to try some edible spoons with your cup of tea, coffee or chocolate? I know I couldn't refuse something as cute as one of these Edible Caramel and Chocolate Cookie Spoons.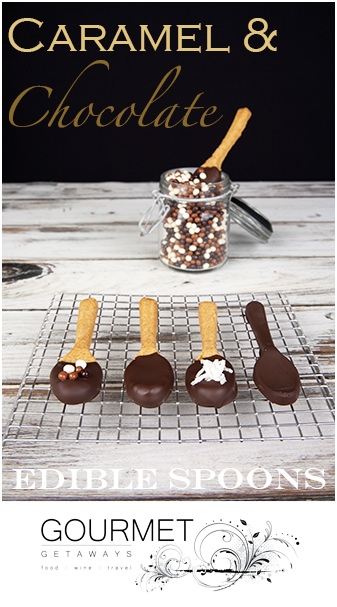 There are so many possible ways to decorate them too!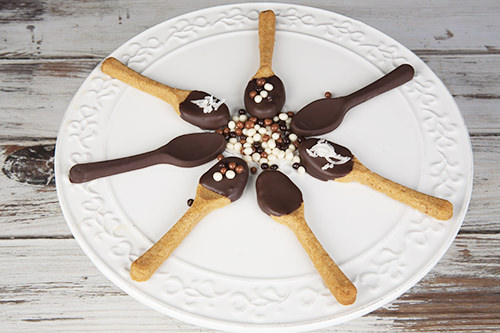 The idea to make them came to me when I was developing a triple caramel cookie recipe. The cookie dough was extremely soft and wet, that is exactly how I wanted it because it produces a really crisp cookie. However, I knew I would have to refrigerate the dough if I wanted to make perfectly round cookies. Whilst looking at the dough on the spoon it occurred to me that cookie spoons would be so much fun to make.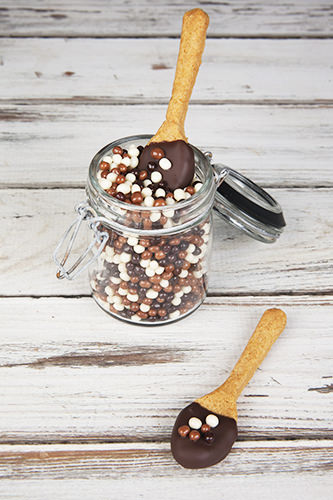 I had to do a little more thinking to come up with how, to make the cookie spoons easily, but then remembered I had a mould to make chocolate spoons.  After a quick search I found the moulds and began pushing the dough gently into the mould. It was that simple!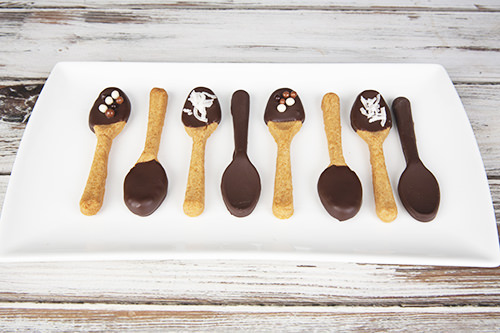 The dough I used for the spoons is a delicious caramel cookie dough that I am sure you will love in any cookie shape.  I have dipped the complete cookies into dark chocolate and then topped them with some shredded coconut and mini chocolate balls.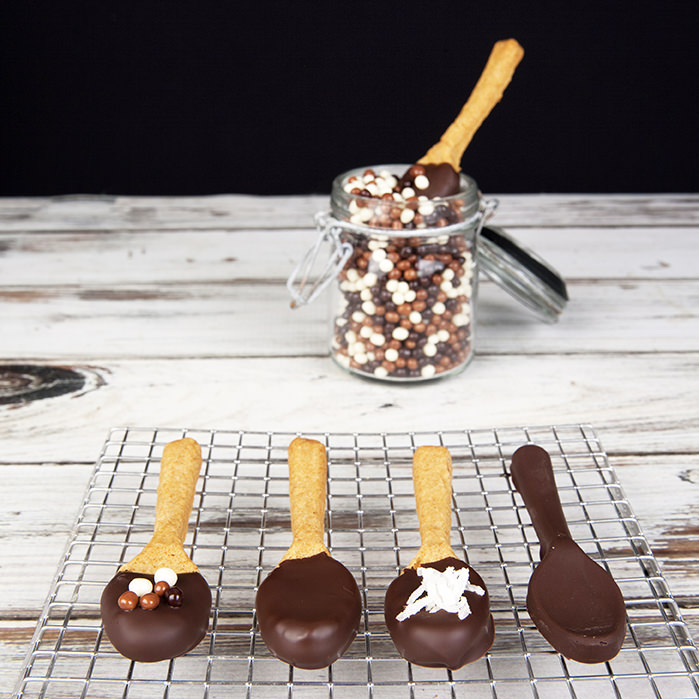 I didn't have any mini marshmallows, but I imagine adding three to a spoon, and serving it with a cup of hot chocolate would also be really nice.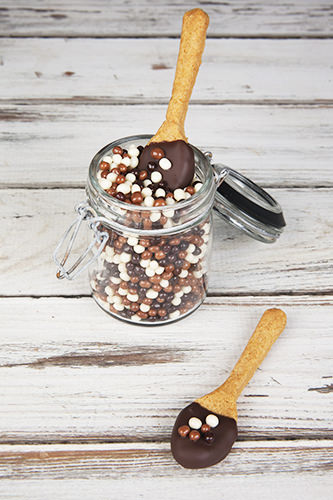 Edible Caramel Chocolate Cookie Spoons
These are the cutest cookies especially on a cold day with hot chocolate. They would great for a little girls tea party too.
Ingredients
125

gm soft butter

1/3

cup

brown sugar

packed

100

gm Nestles caramel top & fill

1 1/4

cup

SR Flour

1/4

tsp

Roberts caramel essence *optional
Decoration
150

gm dark chocolate

2

tsp

shredded coconut

2

tsp

Creative Kitchen Choco Crispies

12

mini marshmallows
Instructions
Pre heat oven to 160 degrees.

In a small bowl cream butter and sugar until light and fluffy.

Add the caramel top and fill and beat for one minute on high.

Transfer the ingredients to a bigger bowl and fold through the flour and caramel flavour.

There is no need to grease the spoon moulds prior to use.

Push the dough into the spoon moulds being careful not to over fill. They will rise slightly.

Cook for 10-15 minutes or until golden.

Leave in the cookies in the mould until the spoons are cooler and starting to firm up.

Once cooled they cookies can be decorated.
Decorating
Melt chocolate in the microwave in one minuted burst until liquid.

Dip the cookie spoons in the chocolate one at a time.

Place each spoon on baking paper and decorate as desired.
I hope you give these a try.  It feels kind of strange to bite down on a spoon but they were very delicious. Caramel and chocolate are a match made in heaven!