Japan is another one of my very favourite countries to visit. Each trip I am sure I eat my body weight at least twice over in delicious Japanese food… but some how I manage to return slimmer than ever!  I am not sure if this is due to the pure diet of rice, soy and small servings of meat, or if it's the fact that I spend so much time walking and shopping I burn off any excess! I know I scourer every last street in Tokyo and well beyond, looking for cute kitchenware,  over the top fashion or gorgeous girly trinkets.
I remember one particular day in Kyoto, it was 40 degrees at 9.00am in the morning, we walked, shopped and sipped on numerous bottles of pump water all day. It was a huge day of shopping and eating.  We didn't return to the Ryokan until almost 11.00pm and the city was still in full swing!  Exhaustion and tired children meant we had to call it a day, but I had made some great purchases.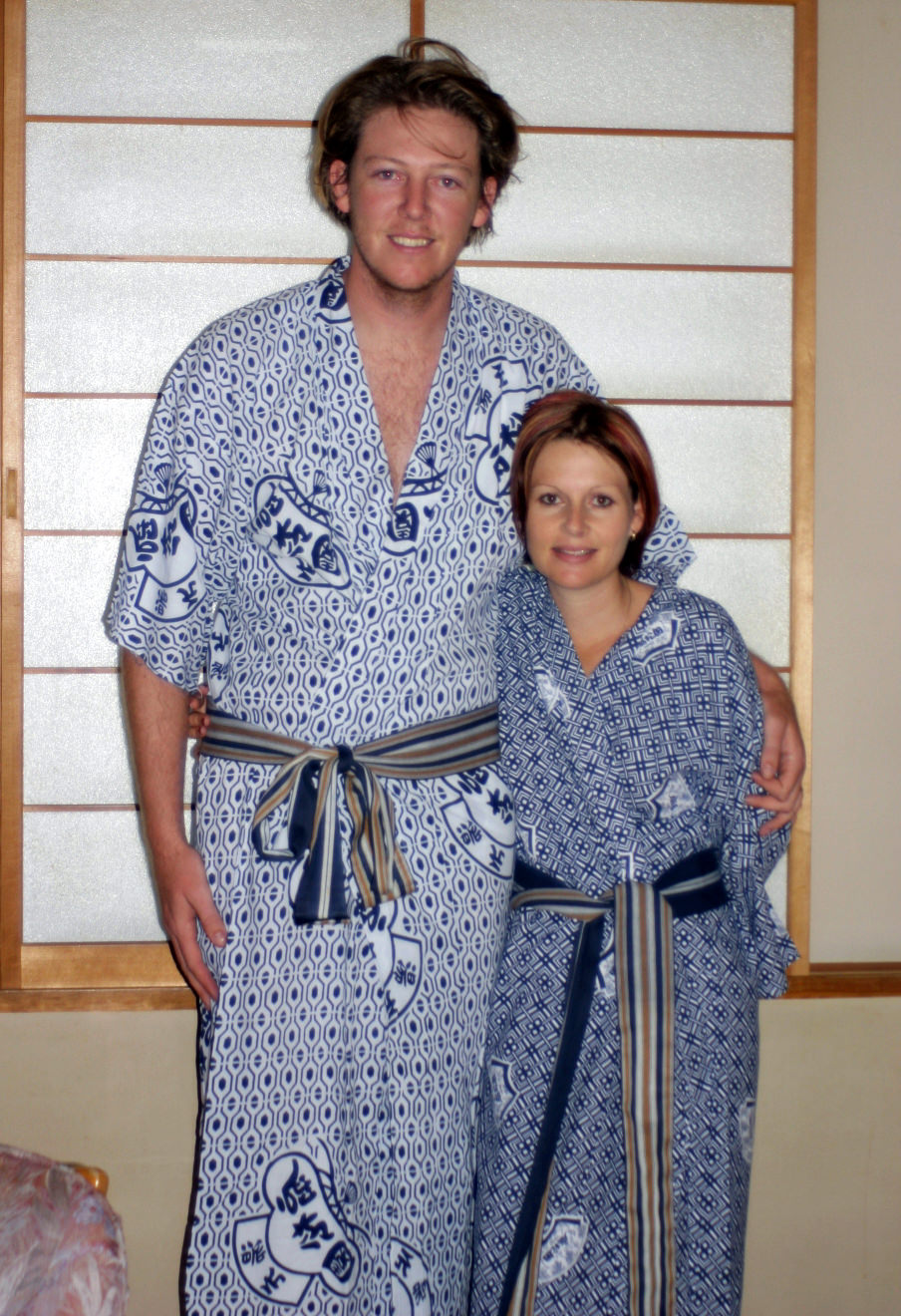 Something I had noticed on my previous visits is the effort mothers go to in presenting the food for their little children. They have cute little boy and girl bento boxes, gorgeous straps to hold them closed, little sauce containers in the shape of "hello kitty" for girls or "Pokemon" for boys.  My shopping on this day had included an assortment of these items for my own children.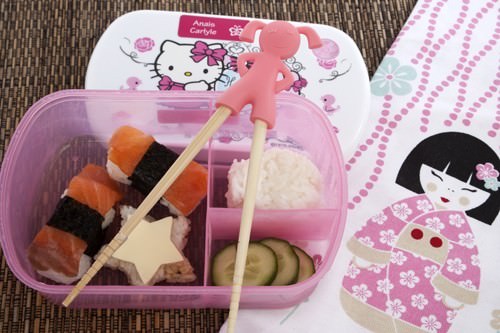 I have also been lucky enough to have more gorgeous Japanese chopsticks, teapots, fabrics and bentos given to me or sent to me by friends who live in Japan.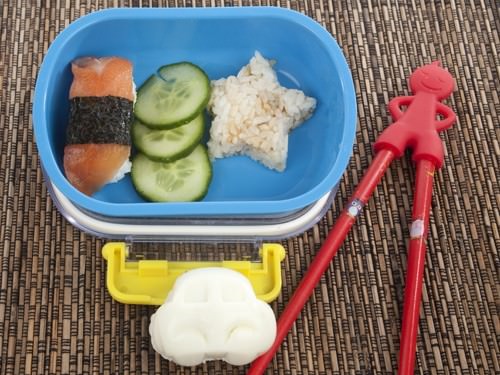 Thank you Mana, Ayako, Yuichi, Kaori and everyone else, you can't imagine how exciting it is to receive these packages!
…but back to the story!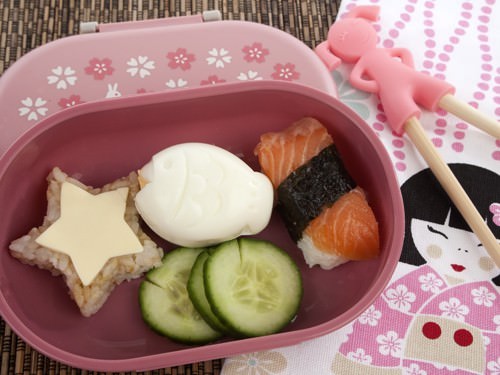 The effort and care which goes into the childrens food preparation is also stunning.  Vegetables and tofu are cut into shapes. Rice is pressed into shapes or pressed into moulds! Eggs are squeezed into cute character moulds and plastic cartoon wrappers are used to separate the food items. The Bento box is contained in a matching lunch bag with a matching drink bottle. Too too cute!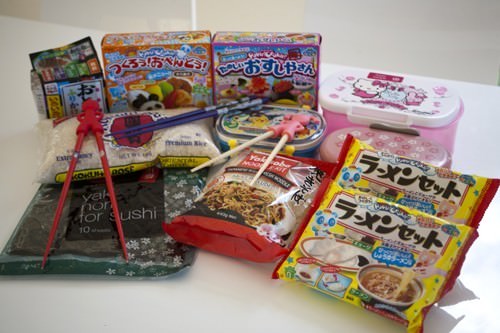 So today little Miss A and I are making our own family bento boxes.  Some of the ingredients are a little "non traditional" as it was just what was on hand when we decided to make our lunch.
I can assure readers that if your child participates in the preparation there is no food wastage.  All the off cuts of cheese and cucumber were eaten along the way by Miss A, and there were a few disputes amongst the other siblings looking for tidbits.
This was a really fun activity to do with the children.  Anais is only five and needed very little help from me.  The sushi was completed in only one hour including cooking the rice.
Ingredients:
Sushi Rice
2 cups sushi rice
4 cups water
2 Tbs Mirim
4 Tbs rice vinegar
2 tsp salt
3 Tbs sugar
Toppings
1 cucumber
100gm smoked salmon
3 pcs sliced cheese
3 freshly  boiled (hot) eggs
2 nori sheets
2 Tbs rice seasoning
to serve
2 Tbs soy sauce
1 Tbs pickled ginger
1 tsp Japanese mayonnaise
wasabi if desired
Method:
Making Sushi Rice
Rinse the rice 3 times under cold water to remove the starch. The water does NOT have to run clear. Drain the rice in a strainer.
Combine the rice seasoning ingredients (vinegar, sugar, salt and mirin) in a bowl and mix well. Reserve for later.
Using a rice cooker, add the rice and water, seal the lid and allow to cook until the end, don't lift the lid until it is finished.
Place the rice in a large bowl and add the rice seasoning immediately, mix it through the rice gently, careful not to break the grains.
Cover the rice with a clean tea towel while you prepare the other ingredients.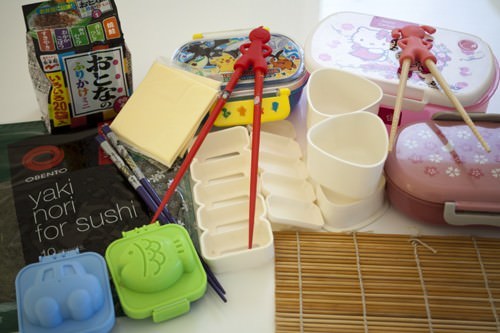 Toppings
Car & Fish Moulded Eggs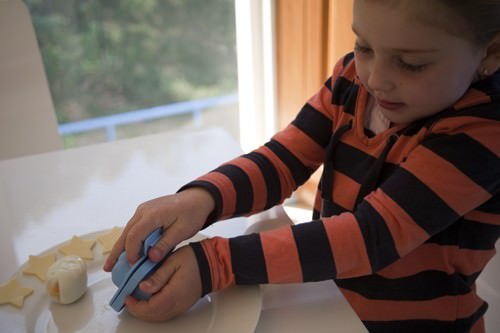 Peel the boiled egg whilst it is still hot. Place the egg carefully in the mould and seal.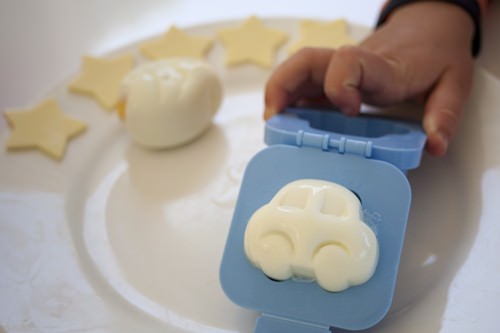 If you want to used the egg straight away plunge it into iced water for 10-15 mins before unmoulding.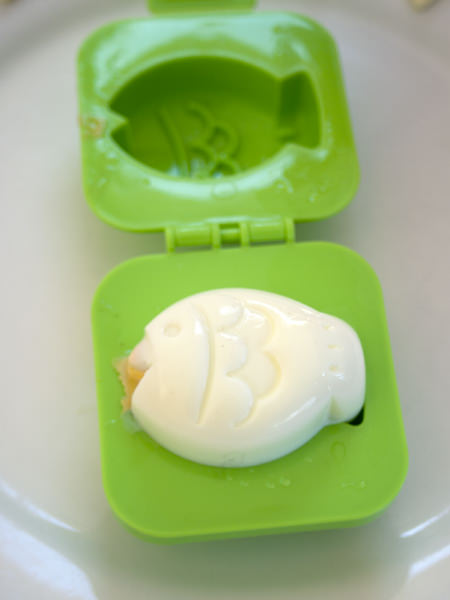 If the egg is not required immediately it can be left (in the mould) in the fridge overnight for school lunches the next day.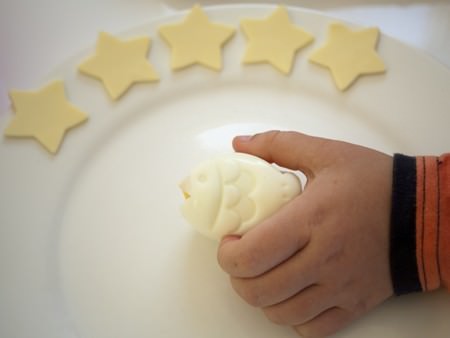 Rice Shapes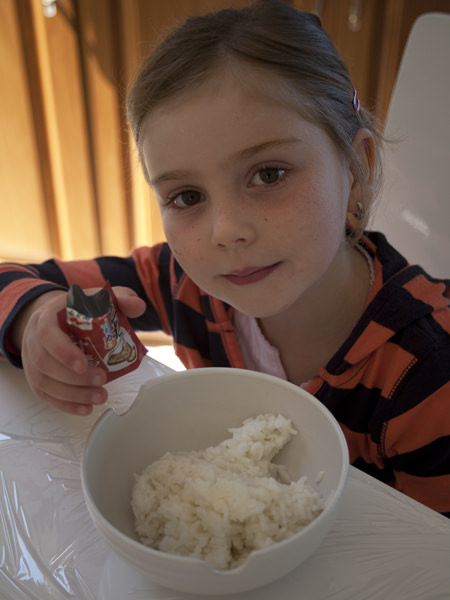 Use about  1 1/2 cups of sushi rice.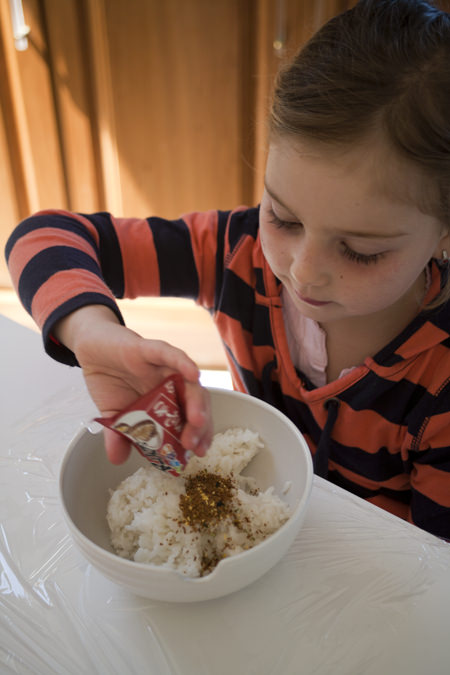 Add the seasoning flakes.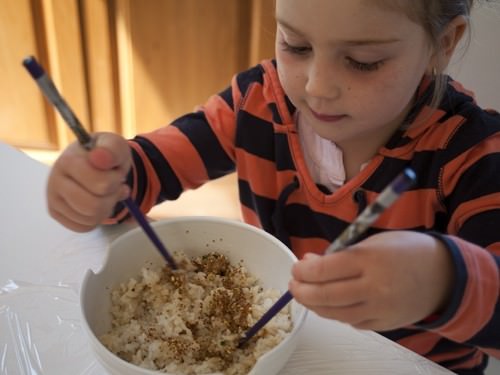 Stir gently with chopsticks to combine.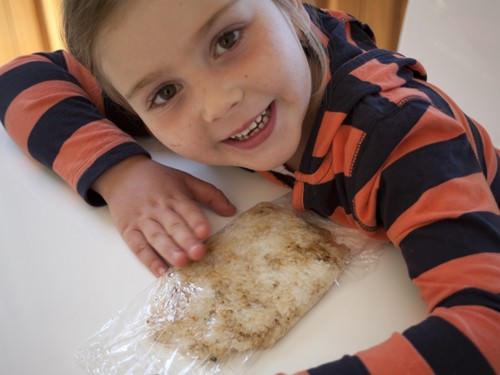 Place plastic wrap on the table and form the rice into a firm, slightly compressed rectangle.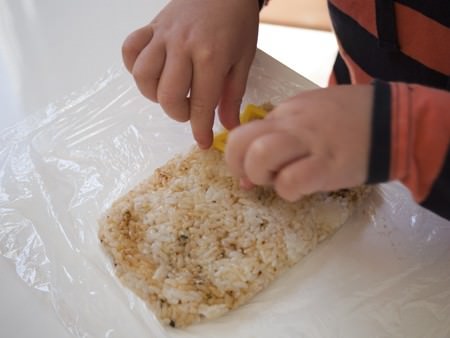 Cut desired shapes from the rice using a cookie cutter.
Cheese and vegetable shapes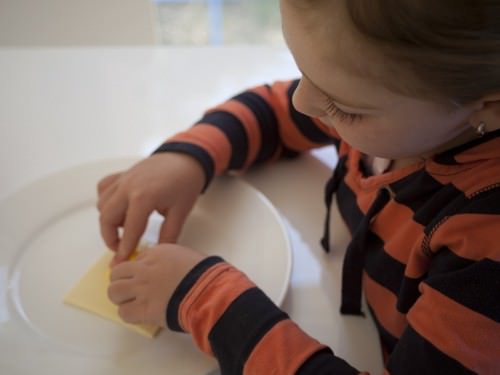 Use various sized cookie cutters to cut shapes out of the cheese, carrot, cucumber ham, or whatever food items you are using.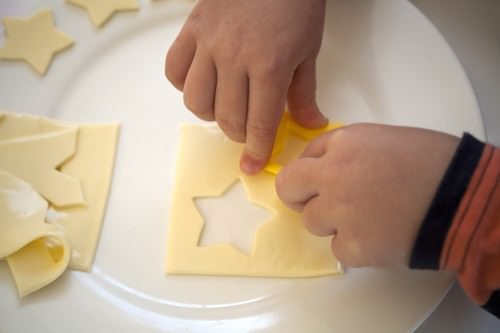 These can be added to the rice shapes or placed in the bento box on  their own.
Rice Balls
These can be made using seasoned rice or plain sushi rice.  Mine are made with sushi rice. Use a plastic triangle mould or wet hands to form the rice triangle.  Using scissors cut wide strips of nori to wrap around the rice.  Add one of the toppings to complete the ball. Rice balls can also have a small amount of filling pressed into the ball and then covered with a nori strip.
Nigiri
These are made using another shaped mold but can also be made with wet hands.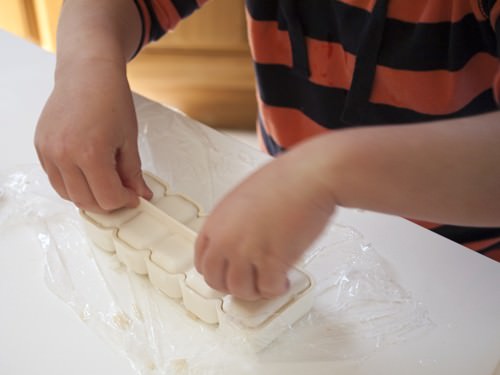 Use the seasoned rice and press into the mold.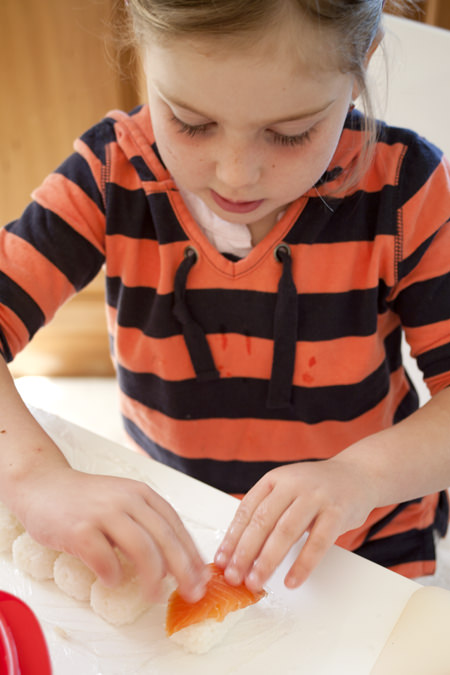 Cut smoked salmon , sashimi tuna or sashimi salmon to size. Place the sashimi on top of the shaped rice.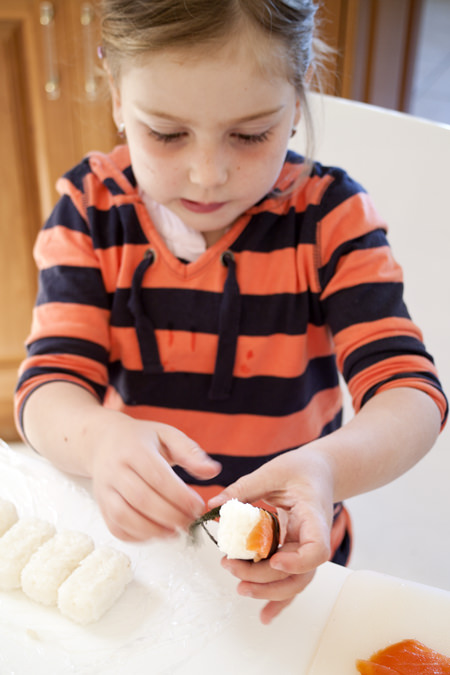 Wrap  a pre cut nori strip around the Nigiri to secure.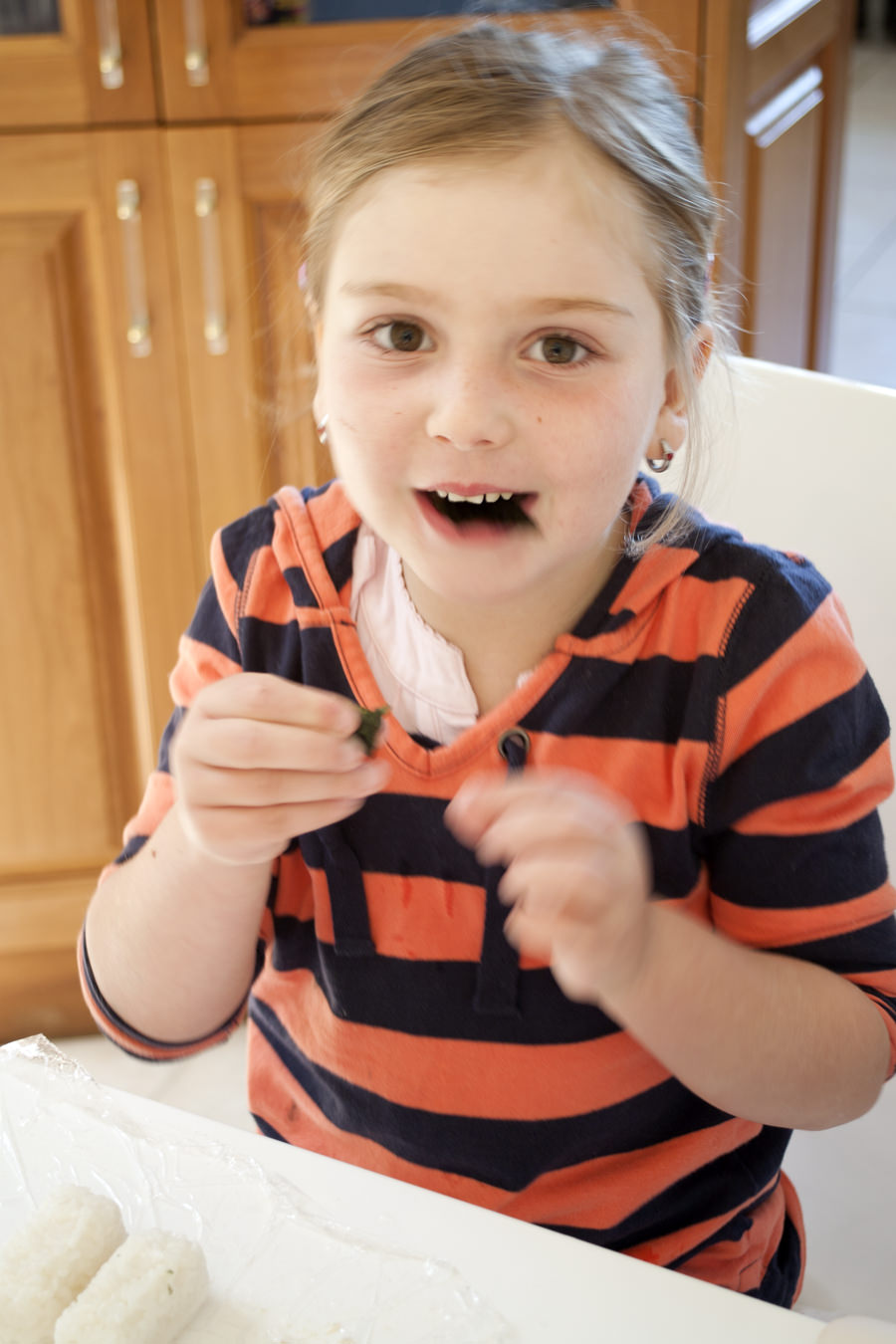 As you can see Little Miss A ate a lot of the ingredients as she was making the sushi…
I haven't used wasabi in these as they were made for the children.  I would usually add a swipe of wasabi to the nigiri before topping with the sashimi.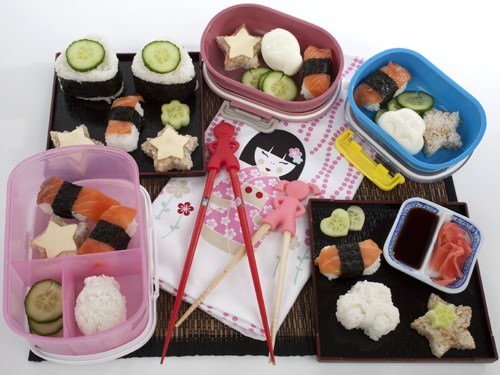 I hope you give this a try with your own little ones in the school holidays.  It really is very easy and kids tend to try foods when they had a hand in making them.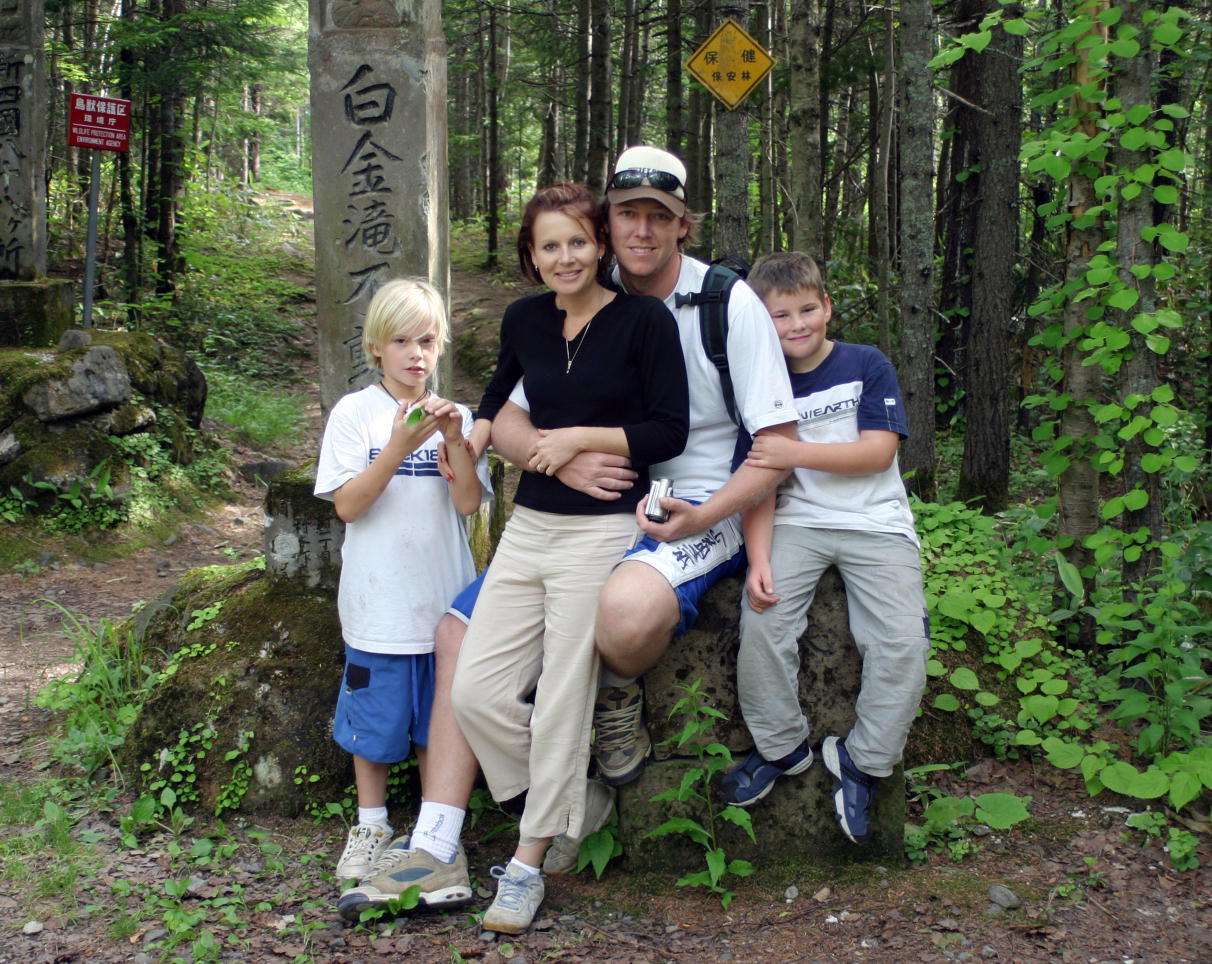 Oh… and I feel another trip to Japan is over due…
*TIP make sure you have a large bowl of water nearby as hands need to stay wet at all times when handling rice.