I am traveling with the lovely Lorraine Elliot from Not Quite Nigella. We have already completed a Bush Tukka Tour and the next stop on our Coffs Coast itinerary is the Cheesemaking Workshop at Emerald Beach. Here we will be given an introduction to the cheese making process.
As regular readers would know, I have previously been involved in the Cheesemaking Workshops beginners Soft Cheese course. In this class participants learned the art of producing delicious Camembert, Fetta, Quark, Ricotta, Mascarpone and a Greek Style Yoghurt. As with all of the classes the workshop was 100% hands on! We were each given a recipe booklet, share a cheese platter tasting, morning tea, a delicious lunch with a glass of local wine and a gift bag of cheeses to take home for the family.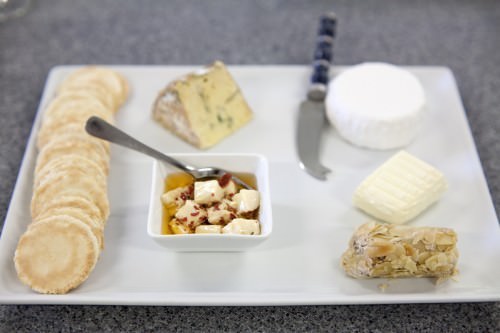 During this workshop Lorraine is accompanied by her charming husband MR NQN who is to be her photographer, and Mr GG has joined me to experience the joy of cheese as a connoisseur and cook. When we arrived at the purpose built kitchen there was a platter of delicious cheeses waiting for us to sample. Naturally all the cheeses were made on the premises and we were surprised to learn that they have all been made by the students from the previous classes.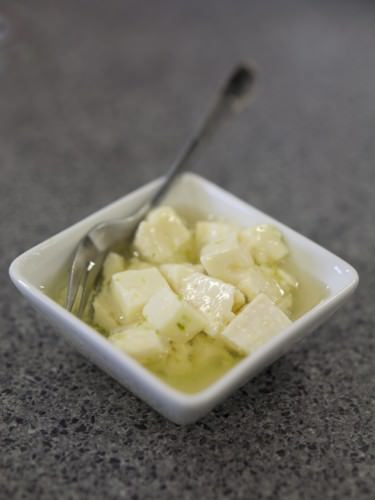 Our selection of cheese today included;
Greek Style Feta
Persian Feta – Marinated in lime zest, garlic and oil.
Persian Feta- Marinated in chilli, garlic and oil
Bucca Blue
Camembert
Quark
Labna
Rum & Raisin Quark log
Mascarpone with Strawberries
Looking around the kitchen we also noticed two trays of camembert, each in various stages of maturity from recent classes.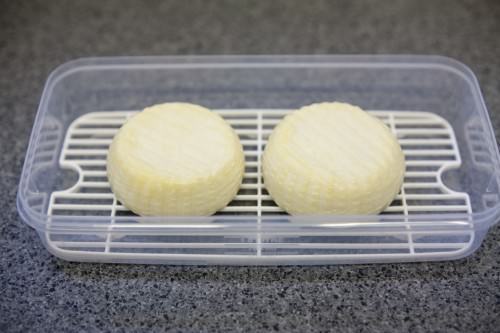 Whilst continuing to sample the array of cheeses, we learn a little about the techniques involved in preparing each of the varieties.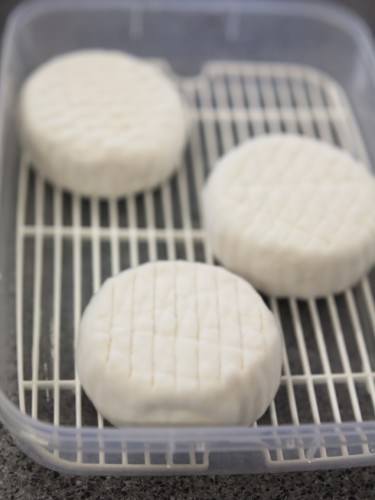 We are then offered a glass of wine from Two Tails Vineyard. The Villard Blanc from Two Tails has been one of my favourite wines for a few years now and is the perfect accompaniment to the cheese, so naturally I am quick to agree to a glass.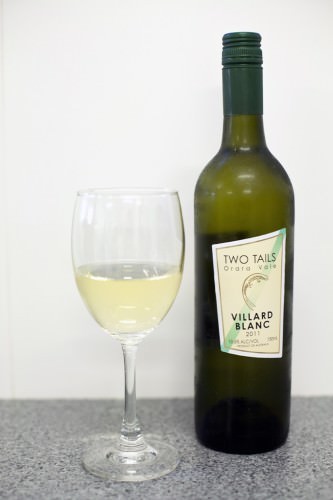 As I reached for the crisp chilled white wine I realise that I really should have sampled the Rose as it is from the vineyards new vintage. A second glass of wine is poured and I am very happy to say it was equally to my liking. The Rose was similar to the Villard Blanc in that it is not an overly sweet wine, it is crisp, light and fruit driven, absolutely perfect for this time of year.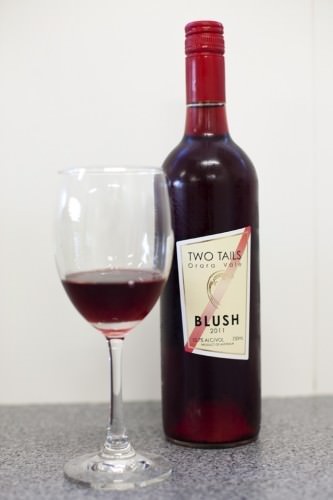 With the sampling completed it was time to prepare some cheese of our own. Ricotta is one of the quicker cheeses to make and given our limited time it was the natural choice for today's lesson. As Lorraine and I both make ricotta regularly we decided the girls should stand back and see what the boys could do in the kitchen.
Ricotta is a cheese that we all should be making at home fresh, and as it is needed. The cheese is so quick and easy to prepare, and the finished product taste so much better than the store bought variety.
Ingredients:   
2 ltr milk
100mls vinegar
Method:
Heat the milk to 90 degrees stirring gently.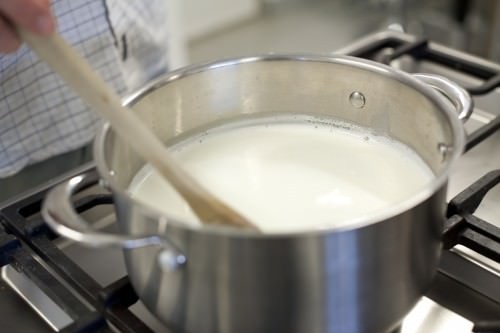 Once the milk reaches the required temperature, remove it from the heat and quickly add the vinegar and stir in two gentle circles.  Leave the mixture to sit for 20mins to allow the curds to knit and separate from the whey.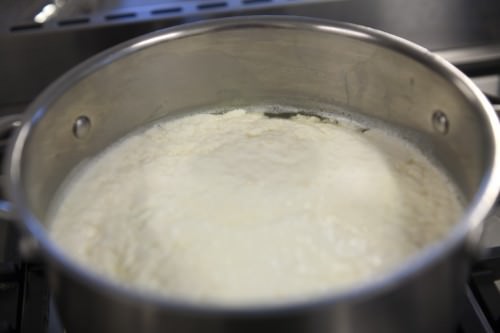 Using a slotted spoon remove the curds and place into a sieve lined with cheesecloth or muslin. Allow the mixture to drain for 5mins or until required.
The Cheesemaking Workshop offers a variety of classes;
Soft Cheese Workshop
Advanced Cheese Workshop
Bakery Workshop
Tapas Workshop
Mozzarella, Pasta & Gnocchi Workshop
The classes are not limited to the Coffs Harbour Area as Lyndall provides traveling workshops and can cater for groups in most areas.
A full description of classes and locations can be found on The Cheesemaking Workshop.  Workshops are great value at $120.
Mr GG and Julie from Gourmet Getaways would like to thank Coffs Coast Marketing for organising the day.
The Cheese Making Workshop
62 Lake Russell Drive, Emerald Beach,
PH: (02) 6656 2335
Still to come, Lorraine, Mr NQN, Mr GG and myself enjoy a sumptuous meal at Latitude 30!
All images are subject to copyright restrictions but are available for sale as a package or singularly. Please feel to contact me for a rate schedule.