I have been intending to make Chocolate Fondant Cakes for a while now but I haven't because I've been put off by the heavy recipes, and all the beating and creaming. Yes, I am a lazy cook, I like a bit of bang for my buck.
Recently a local takeaway chain added an addictive "Lava Cake" to their menu which is a very cheap Chocolate Fondant Cake. They are melt in your mouth delicious, I no longer need to go to a restaurant for my chocolate fix. But as there is only so many times you can front up to my local store for a single cake, I once again went on the search for a recipe I could call my own.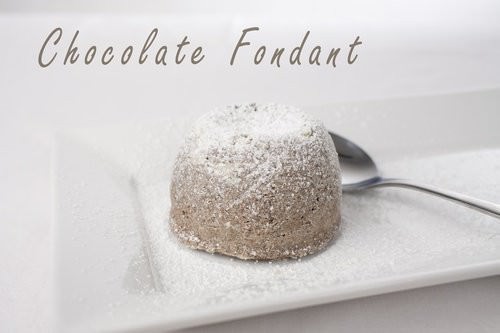 You can image my joy when I found a recipe with less than half the eggs and butter, and it is EASY! Just melt, mix and bake. It is truly the easiest chocolate fondant recipe you will ever try, and as they say, the proof is in the pudding.
Chocolate Fondant
The recipe makes 6 serves.
Ingredients:
200gm dark chocolate
170gm unsalted butter
4 Eggs
1/3 cup caster sugar
2 ½ T/s Ground Hazelnut
2 ½ T/s Plain Flour
Method:
Grease 6 Ramekins, Dariole moulds or Muffin holes with butter and dust heavily with flour or cocoa.
Melt butter in the microwave in a ceramic dish. Add broken up pieces of chocolate to the butter and stir until melted and smooth.
In a separate bowl mix eggs, hazelnut, flour and sugar until combined. Add the chocolate mix slowly to the egg mix stirring constantly.
Cool the mix in the fridge, min ½ hour.
Preheat the oven to 200C/390F.
Fill moulds 2/3 full and bake for 10-12 mins. Fondant will still be wobbly but crusty around the edge.  Remove from the oven and leave to stand for 5 minutes.
Run a palette knife around the edge of the pudding and unmold on a serving dish. Dust with icing sugar and serve.