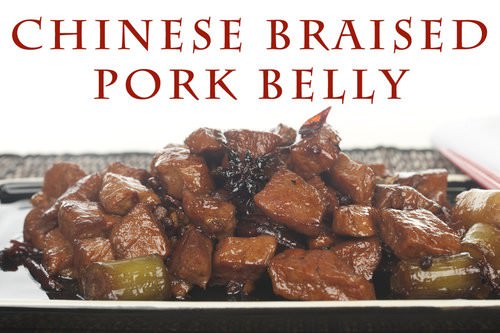 Regular readers may know that from time to time students from other countries join our family for a "homestay". For the last ten weeks Niki, from China has been a part of our family. She has taught me to cook a lot of Chinese dishes.
I had been craving a dish that a previous student had made called Chinese Braised Pork Belly. I asked Niki if she knew how to make the dish.  After a few phone calls home to mum we had the recipe, and we were ready to try making the dish together.
The dish is a sweet braised pork belly, it just melts in your mouth and is totally delicious. The braised pork takes on a rich deep caramelized spice flavour that is amazing.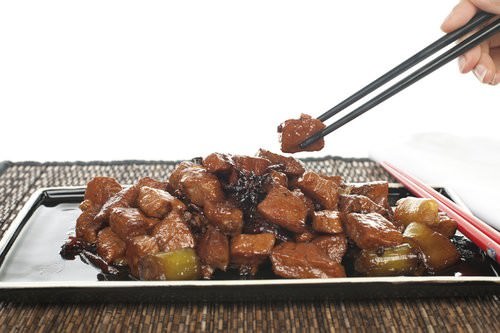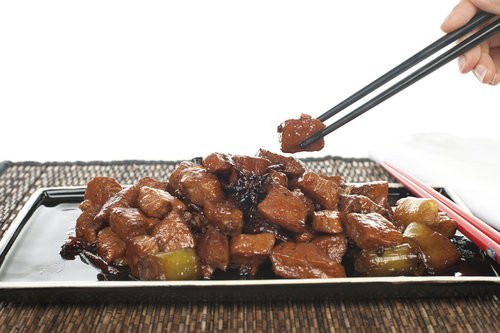 Niki explained that Chinese Braised Pork was the first leader of the Peoples Republic of China's favourite dish. Niki described Mao Zedong as the leader responsible for organizing the Chinese people. Although I know this leader is controversial Niki explained some of the good things which Chairman Mao has been credited for, such as the increase in school attendance, providing housing to all, abolishing unemployment and inflation, and facilitating an increase in health care which led to a dramatic increase in life expectancy. The Chariman was considered by the Chinese to have been a very smart man, because this was his favourite dish they also feel that by eating this dish it will lead to greater intelligence.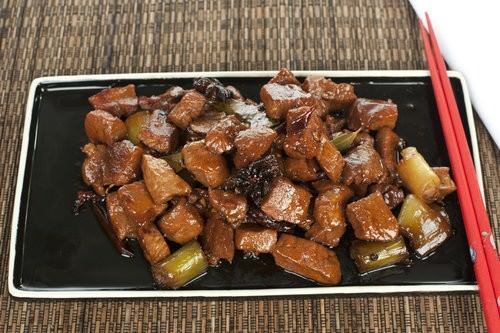 I am not sure that I will become smarter but I know why the chairman loved this dish. As you can probably tell by the images, I tried to skimp on calories and used a lean pork. DON'T DO THIS! It was a mistake, the luscious fatty pork belly is what you want for this dish.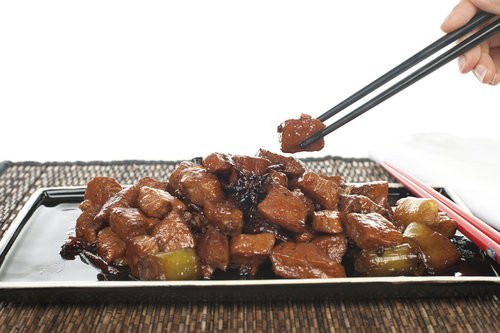 Ingredients
Step 1
3

Tbs

oil

700

gm diced pork belly
Step 2
2

Tbs

oil

¼

cup

sugar

Step 3

1

Tbs

dried Chilli

1 ½

Tbs

brown sugar

1

t

/s shezwaun peppercorn

2

cloves

garlic chopped

10

cm

sliced ginger

3

star anise

5

leaves

bay

1

chopped shallot

¼

cup

Chinese rice wine

½

cup

soy sauce

Add enough water to cover the meat
Instructions
Dice the pork into cubes.
Step 1
Fry the meat in 3 Tbs oil until cooked.

Remove the pork from the wok and set aside.

Wash wok.
Step 2
Add 2 Tbs oil and dissolve the 1/4 cup sugar in the oil.

Once the sugar is golden add the pork and stir until well coated and golden.
Step 3
Add the pepper, garlic, ginger, star anise, brown sugar and shallot and briefly stir fry.

Add the rice wine and soy sauce, stir until combine then add enough water to cover the meat.

Ensure the pork is covered in the liquid.

Place a lid over the wok and allow it to simmer for 40mins.

Remove the lid and cook off sauce until thick and sticky.
Make sure all your ingredients are prepped and measure before you commence the cooking process.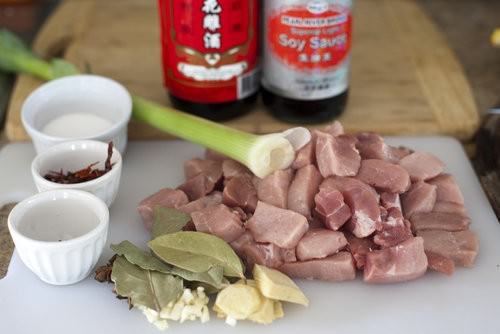 I always have to resist eating cubes of pork straight from the wok. When the homestay students were teaching me how to make this dish there was a lot of stealing from the wok and giggles as we all burnt our mouths!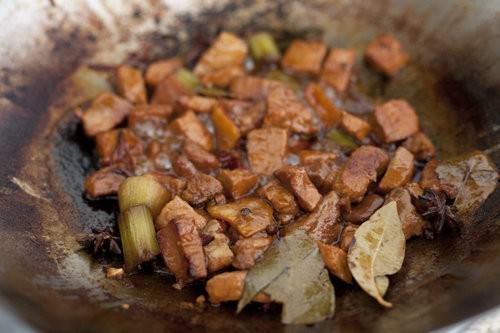 Serve with steamed rice and Chinese greens.