I wanted to make a delicious warming winter Chocolate and Cherry dessert. I knew I would have to use canned cherries as fresh are now out of season in Australia. As for the chocolate part, I knew a White Chocolate Clafoutis was the way to go!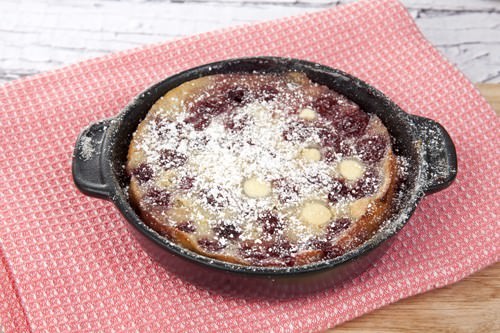 I have made Clafoutis before and started to wonder if white chocolate could be added to this classic French dessert. The more I thought about the white chocolate melting through the delicious light baked custard the more I knew this would be the dessert for me!
I was preparing to bake my usual Clafoutis recipe adding the two key ingredients, when I stumbled across Gary Mehigan's recipe from the Junior Masterchef series for Cherry and White Chocolate Clafoutis. It seemed that this combination of ingredients has been tried before in a Clafoutis. Gary's version had some lovely sounding inclusions such as orange juice and lemon zest, and I decided this would be the recipe for me.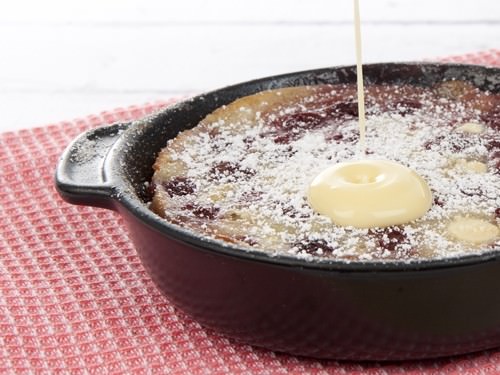 If you have been reading Gourmet Getaways for a while, you may know that I can never just "make a recipe" verbatim. It's a curse! I have made some minor adjustments and simplified the process. I also didn't make the lovely side dishes which Gary suggested as accompaniments.
Cherry & White Chocolate Clafoutis
Author:
A deliciously warming dessert, creamy and sweet!
Ingredients
Lining the moulds
50g butter, melted
1/4 cup caster sugar
Filling
55g plain flour
Pinch salt
1 egg
1 egg yolk
1/2 teaspoon finely grated lemon rind
1/2 teaspoon vanilla bean paste
80ml milk
100 ml cream
1/2 cup caster sugar
1/4 cup fresh orange juice
50g white chocolate, coarsely grated or choc bits
Marinated cherries
350gm pitted cherries drained
1 Tbsp caster sugar
¼ cup fresh orange juice
Instructions
Preheat oven to 180C.
Brush three 250 ml capacity shallow serving dishes with the melted butter. Sprinkle evenly with sugar shaking to cover. Shake out excess sugar. Set aside.
Drain the cherries and combine cherries, sugar and orange juice in a medium bowl. Set aside.
Add the flour, salt, egg, egg yolk, lemon rind and vanilla bean paste to a medium bowl and whisk until smooth.
Combine milk and cream in a small jug and gradually whisk into mixture 1/2 at a time.
Next add the sugar and orange juice, stir until combined.
Drain the marinated cherries.
Spoon the fruit into prepared dishes evenly. Add the chocolate to each of the dishes.
Pour over the batter until each dish is 3/4 full.
Place in preheated oven and bake for 20-25 minutes or until tops are golden.
Now, just so you can have a laugh at my clumsiness I have to add a little side note. On the way to take the photo's for this story I dropped two out of three of the desserts! Yep!! They smashed on the tiles and all was lost, beautiful dishes and all!!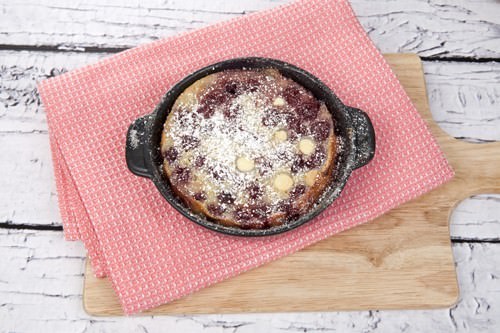 The only one remaining was the "Ugly duckling" that I had left on the kitchen bench!!
For dessert we shared one cherry and white chocolate Clafoutis amongst four people. Needless to say, I will be making this again very soon!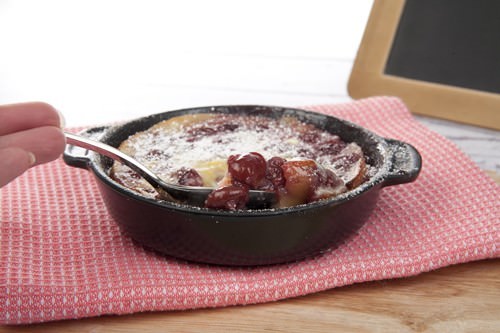 …oh and I had to keep Anais away from the smashed ones on the floor, while I went and got a cloth to clean up… she was prepared to eat it off the floor!