We are having Chicken tonight! Indian Butter Chicken Sausage Rolls that is!
Do you just want to hibernate indoors and eat simple, comfort foods in winter? I know I do! Having some quick meal options in the pantry is a big help on cold nights.
They are also very versatile.  I've been creating a few recipe ideas I would like to share with readers.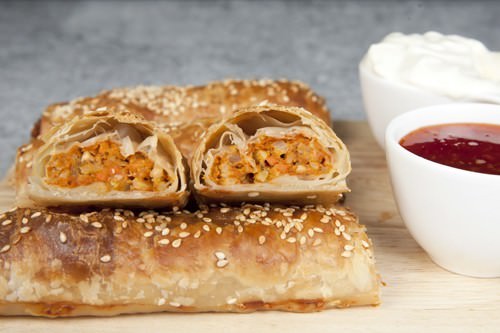 The first is a "State of Origin" snack that doubles as a meal. For those who don't know, State of Origin is an Australia Rugby League competition where NSW plays QLD for the title of "State of Origin" (of the rugby league game). State of Origin falls on a week night so I knew I wouldn't have much time to prepare a meal before the game.
We also tend to have a few people over to watch the game which means catering for the menfolk. After my poker night "faux pas" (trying to serve a decadent dessert on poker night) I was trying to come up with a quick "man food" which would get the nod from hubby.
Indian Butter Chicken Sausage Rolls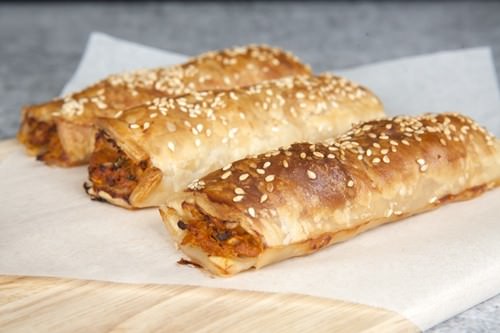 Indian Butter Chicken Sausage Rolls - EASY Game Day Appetizer
A quick and tasty finger food
Print
Pin
Rate
Ingredients
1

jar

Butter Chicken sauce

1lb/450g

2

teaspoons

garlic granules

1

onion

finely diced

500

g

ground chicken

420

g

dryslaw mix

4

Puff Pastry Sheets

2

tablespoons

milk

2

tablespoons

sesame seeds
Instructions
Preheat the oven to 180C/355F and line a cookie sheet with parchment paper.

Bring the puff pastry sheets to room temperature.

In a large bowl combine the butter chicken sauce and ground chicken. Mix until completely combined.

Add the onion, garlic and dry slaw mixture to chicken and stir until evenly mixed.

Cut each of the puff pastry sheets in half.

Add a line of the chicken mixture along one edge of each of the pastry strips.

Roll the pastry around the chicken mixture, into a sausage roll shape and place onto the oven tray. Ensure the pastry join is on the bottom of the tray.

Brush the pastries with milk and sprinkle with sesame seeds.

Bake for 20-25 minutes, until golden and cooked through
I don't know about your family, but for mine, if it's rolled in puff pastry it's a winner.
The Butter Chicken Sauce delivers all the flavour to the sausages rolls. Using ground and prepared dryslaw gives my family all they need for a quick balanced meal.
To make more of this tasty Indian Butter Chicken Sausage Rolls recipes adjust the servings above.