I love Christmas time for all the delicious fruit available to us. Stone fruit means Christmas to me. There have been so many delicious cherries in the stores that my next thought was to create a dish using cherries. The most famous cherry recipe I could think of is the Black Forest Cake, but I wanted a twist. I give you, my version, Black Forest Macarons.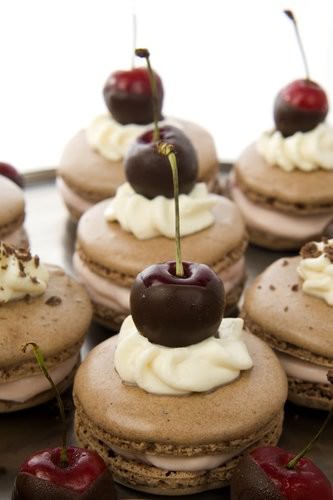 I had a little trouble finding Kirsch so I substituted for a cherry liqueur which was delicious and much easier to find. The sentiment amongst my tasters was that these macaroons were the best I have made. The reason they gave was that they are not too sickly sweet. I usually fill my macarons with a flavoured ganache and this time chose a cream flavoured with the cherry brandy and canned cherries.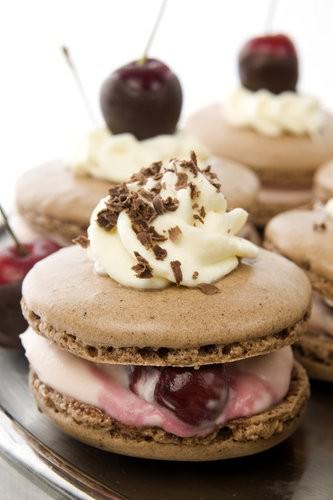 Black Forest Macarons
Macaron Ingredients:
3 egg whites
¼ cup caster sugar
1 cup icing sugar (sifted)
120gm ground almond
¼ cup cocoa powder
Cream Filling:
250ml cream
5 Tbs pure icing sugar
100gm canned cherries drained and patted dry
2 Tbs cherry brandy
Cream Topping:
100ml cream
3 Tbs pure icing sugar
1 t/s vanilla
Chocolate Cherries:
15 cherries
15gm copha
100gm dark chocolate
Macaron Method:
In your [easyazon_link identifier="B00005UP2P" locale="US" tag="gourmetgetaways1-20″]stand mixer[/easyazon_link] beat egg whites until soft peaks form.
Slowly add the caster sugar beating well between each addition. Beat until stiff peaks form.
Gently fold through the icing sugar and then the almond and cocoa.
Preheat the oven to 140C/285F.
Prepare two cookie sheets with paper.
Once the mixture is combined place the meringue into a piping bag and pipe round macarons.
Leave the macarons to sit on the baking tray for 20mins prior to cooking.
Bake for 30 mins or until cooked.
Leave on the tray to cool.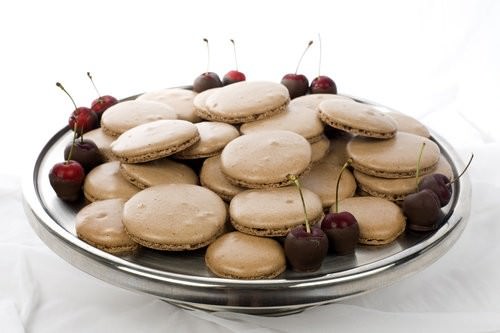 Cream Filling
To make the cherry cream filling, beat the cream with brandy and icing sugar until it is very stiff.
Stir in the cherries and refrigerate.
Cream Topping
The cream topping is made by beating all the ingredients together until stiff.
Refrigerate.
Chocolate Cherries
Melt the copha and chocolate in the microwave together. Stir until smooth.
Line a cookie sheet with baking paper
Ensuring the cherries are completely dry, dip them in the chocolate mixture and place onto the baking paper.
Once complete refrigerate the cherries.
The remaining chocolate is used for the shaved chocolate on top of the macarons.
Pour the chocolate onto a tray lined with baking paper and refrigerate. Once hard, grate the chocolate into a dish to sprinkle over the macarons.
Assembly the macaroons when you are ready to serve.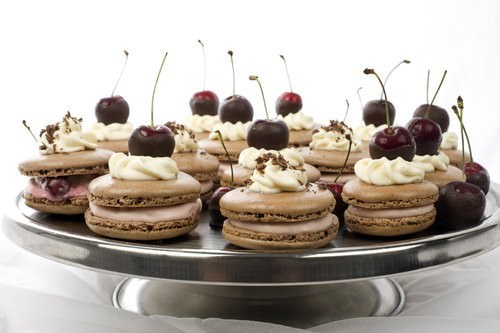 Just a warning, the Black Forest Macarons need to be eaten on the day they are assembled. The cream will soften the macaron over time. This wasn't a problem for my tasters, and the ones that were eaten the following day were still delicious, but they lack some of the meringue's crunch.