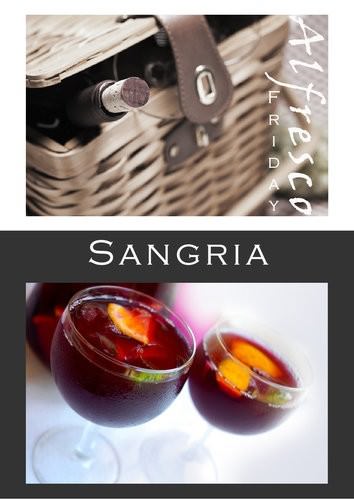 Todays Alfresco Friday is a bit of a preview for some upcoming stories.  I won't give you any more hints… except to say that I have been sampling some different flavours recently and that will be reflected in some of the dishes coming up on the site.
Friday, however is the day we put the working week behind us and welcome the weekend.  What better way to do that than with a jug of Sangria amongst friends. The recipe below is the way I make this Spanish punch.  It follows the same style as the first Sangria I tried about twenty years ago (oh dear… I am giving away big hints about my age now!!)
Ingredients:
1 red apple
1 green apple
1 orange
750mls Red Wine (clean skins)
250ml Brandy
250ml Triple Sec
1 litre orange juice
1 litre diet lemonade
ice to serve
Method:
Slice the orange into rounds and then semi circles. Dice the apples leaving the skin on for colour.
Place the fruit into a container which has a 3 litre capacity and a lid. I used three, one litre capacity containers, as I will be taking only one with me on a picnic tonight.  The other two will remain in the fridge for later use.
Add the wine and the spirits to the fruit.  Seal the container and refrigerate.  It is best to let the fruit marinade overnight as the flavour in the wine is stronger. It can however be served sooner.
When ready to serve pour about 750ml of the Sangria concentrate into a 2 litre jug, add a scoop of ice and then 500ml orange juice and 500ml diet lemonade.
This method makes about 4 ½ litres of Sangria.
The concentrate can be stored for at least a month in the fridge prior to use.
Don't forget to be healthy and eat the fruit as well! We all need our two serves daily!