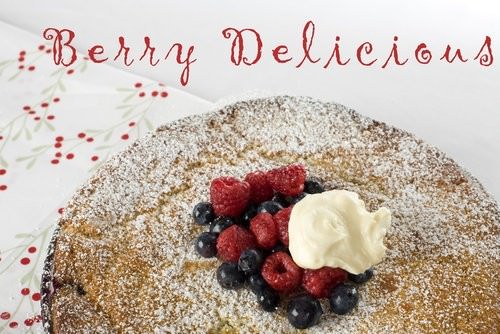 Surprise!!! This is a berry delicious self-saucing pudding. It has raspberries and blueberries and is sweet enough to even get me on a sugar high!
Where is the surprise? The surprise is that I am even awake to cook this yummy pudding much less photograph and write about it. Why you ask?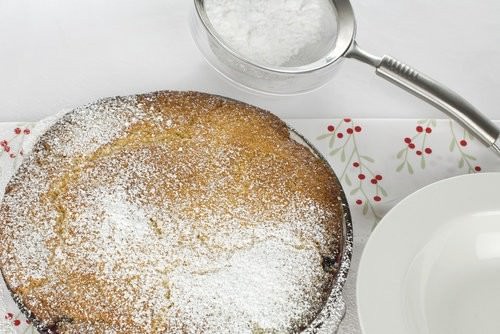 Last night I was the recipient of my first ever surprise party! My dear husband collaborated and conspired with friends and family to pull off the biggest birthday surprise party ever! I was completely oblivious! I could not have been more stunned and shocked when I walked into the house.
Hubby had gone to amazing lengths to keep it a secret, he had thought of absolutely everything!  He set up an email address called "julies40th" so I wouldn't accidentally intercept any email correspondence relating to the party. Texts and phone calls were off limits. He used google earth to make covert parking diagrams which he emailed to guests so I wouldn't notice the additional cars in our quiet street. He stashed the food and drink at a friends place so I wouldn't notice a full pantry. He had other friends and family responsible for various dishes. It was a friends job to invite me for a drink at the pub to lure me away from the house.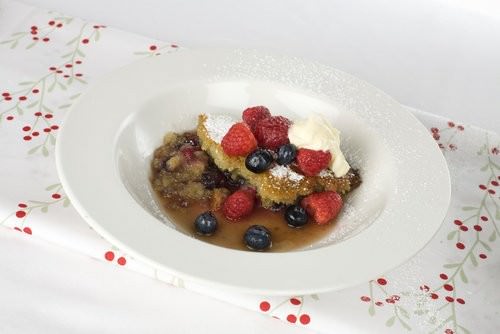 With me taken care of, out came the decorations, music, a slideshow of photographs on the big screen, a keg of beer for the boys, and the Moet was put on ice for the girls.
The friend and I returned home (I thought to pick up hubby, so he could come out with us). That's when I got the massive "SURPRISE" with cameras flashing and people laughing, and me, completely stunned. It actually took a minute for it all to sink in.
I was being given a surprise 40th Birthday! Hubby had brought my birthday forward by one month so that he could surprise me, and he had succeeded. My real birthday is the 17th of December. My birthday is so close to Christmas it is always impossible to oorganisea party, or even a get-together, people are booked out with Christmas parties or away on holidays, so hubby decided he would change the date this year!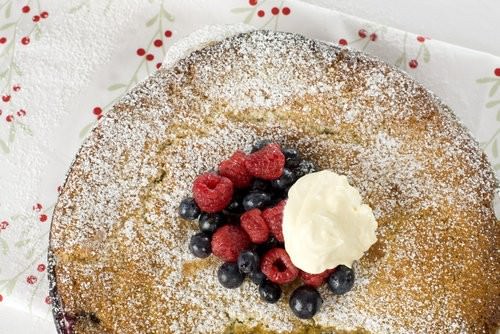 He completely surprised me!! Even my sister and her family made it down for the weekend from Brisbane. As everything sank in I started to notice all the faces of people that mean so much to me and it was a surprise all over again.
Do I have the best hubby and family ever, absolutely!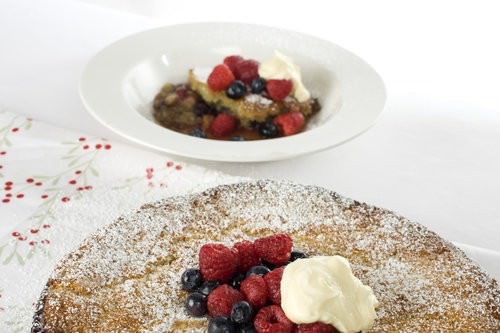 Berry Delicious Self Saucing Pudding
Pudding Ingredients:
1 cup blueberries
1 cup raspberries
1 cup flour
½ cup sugar
4 t/s baking powder
¾ cup milk
¼ cup butter melted
finely grated rind from 1 lemon
Sauce Ingredients:
320ml warm water
½ cup honey
¼ cup golden syrup
2 T/s melted butter
1 ½  t/s cornflour
Method:
Preheat the oven to 160C/320F.
Place berries in the bottom of a glass pie dish.
Add all the dry ingredients to a bowl. Add the milk, melted butter and lemon and combine.
Pour the batter over the berries. (You can also use pie apples and sultana instead of the berries)
In a jug combine all the sauce ingredients and pour over the batter slowly.
Cook the pudding for 40mins.  Allow to stand for ten minutes before serving to allow the sauce to thicken and be partial absorbed into the pudding.
I served this berry delicious pudding with more fresh berries, and mascarpone sweetened with a bit of icing sugar and vanilla.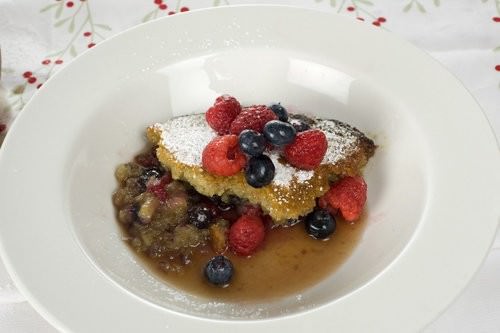 Readers, have you ever been completely surprised?  What is the nicest thing your hubby or partner has ever done for you? This surprise will give me a warm fuzzy feeling for a long time to come! Thank you everyone.