I have been making this delicious, healthy breakfast since it was known as bircher muesli! Did you know that what we know as overnight oats is also called Bircher Muesli? It was named after a Swiss Doctor, Maximilian Bircher Benner.  He created what he felt was the ultimate, healthy and filling breakfast for weight loss patients in the early 1900's.
Have you tried overnight oats yet?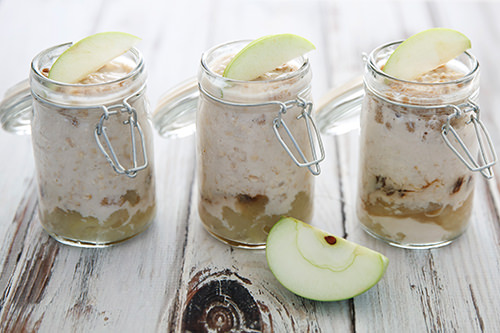 I eat overnight oats because they are delicious!!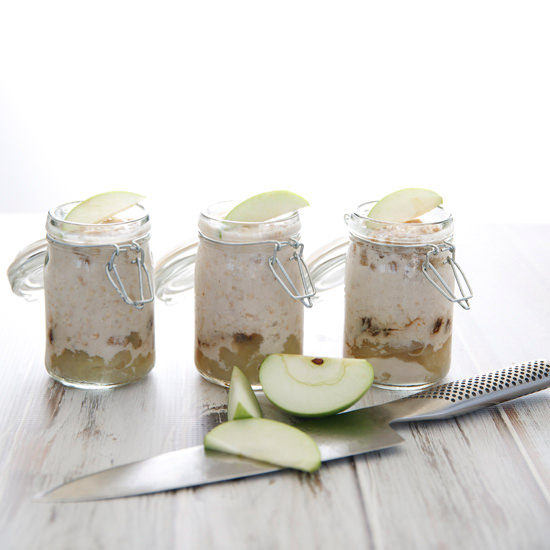 Also starting the day off on the right foot is important, especially when you have a busy day ahead. I don't tend to eat straight away as I like my morning coffee first. Then I need to get the kids off to school. Plus, gulping food, and then running out the door, really isn't my style.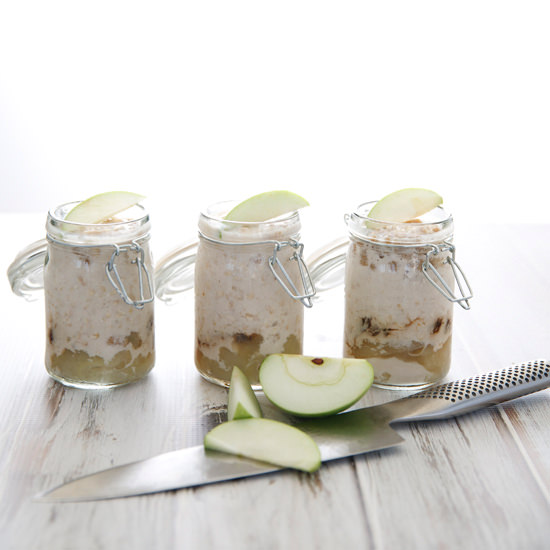 For that reason I love a portable, make ahead breakfast that allows me to enjoy what I have prepared when things settle down. I usually make up 5 jars at a time and have them waiting in the fridge. Then they can be eaten on the way to work, at my office desk, or whenever that mid morning hunger strikes. My breakfast is sorted for the whole week.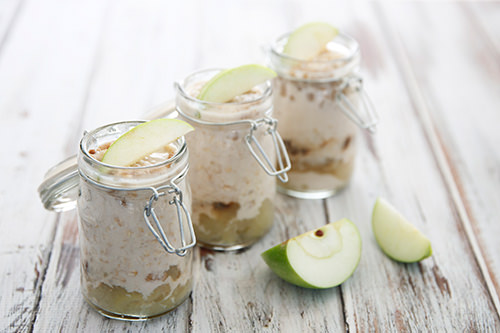 I have made all different versions of overnight oats but this Apple Pie version is by far my favourite.
If you're imagining another variation of this recipe then be my guest to mess around with the ingredients. As long as you keep the general proportions the same you can alternate liquids, fruit and spice choices to mix things up a bit, but this is a combination I love!
Alternatively take a look at the bottom of the story. I have included some other delicious recipes which have been contributed by some of my favourite food bloggers.
This recipe for Apple Pie Overnight Oats is only 280 calories. It will comfortably fit into a 1200 calorie per day meal plan. It's packed with fibre to keep you feeling full longer and also provides a serving of fruit and calcium.
I find that when you skip breakfast, the temptation is to grab something quick in your travels to work. The quick options along the way are usually calorie intense, and have questionable nutritionally value.
In this recipe I have given the names of the brands I use for each of the recipe ingredients. The reason I have done this is NOT for sponsorship reasons. I have chosen each products in the recipe because of their individual nutritional values. There can be a huge variation in calories, fat and sugar from one brand to the next. If you choose the exact brands I specify you can be assured of the overall calorie count of your Apple Pie Overnight Oats.
What do you think, are you loving this breakfast trend? I hope I have given you enough reasons to try this satisfying breakfast dish.