This Wild Rice & Blue Cheese Risotto is created out of a pantry clean-out challenge!
I am preparing to take a challenge set down by KatieGirl a fellow food blogger.  The challenge is as follows:
Clean out your pantry, and gather up the items that are lurking in the back corners. The ones you just know you will end up throwing out (nothing too out-of-date, I don't want any casualties). You can do as many as you like, but the minimum is five items.
Get creative, and devise a recipe to use them up.
When you're done, write a blog post about what you made with the ingredients, and add it to the website.
The entries will be critiqued and the winner receives a recipe book courtesy of KatieGirl.
The added bonus to me is I will have a clean pantry.
There is a note to watch out for the "use by" dates. This is a note I will pay particular attention to, I am pretty sure some of the products in my pantry are almost old enough to leave home on their own!
I recently found a chocolate sauce bottle in my mother's fridge that went out of date in 1984! The reason I checked the date is I remember the sauce from when I was still living at home. My first thought was that mum must really like that brand of sauce and has continued purchasing, but suspicion took over and I check the date. Horror! Mum's defence was "its okay it was in the fridge" OH MUM!
Then I realised the sauce had survived the demise of two fridges! Again, according to my mum, "the date is just a guide".
Anyway, I have now completed stage 1 of the challenge. My pantry is clean.
However, I am no closer to being inspired to cook. I am lucky enough to have a huge pantry, and even though it is full, there is never anything to eat in it. The items on the shelves are the same items which are always there and they haven't inspired me yet.
After assessing my pantry I have decided that 6 bottles of Cajun Spice is probably a little excessive, and I don't need 5 half empty packets of rice. Below are the items I chose for my Pantry Challenge invention test.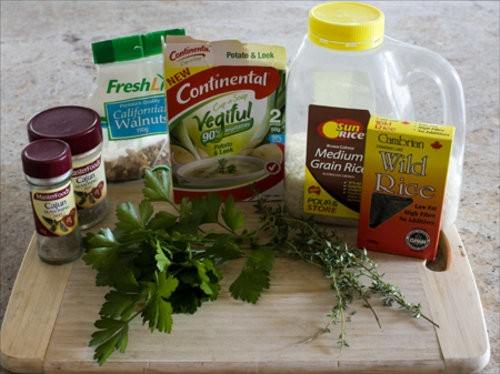 Wild Rice & Blue Cheese Risotto
Ingredients:
2 t/s Cajun Spice
1 Sachet Cup-a-Soup – Potato & Leek
100gm Pkt Wild Rice
¼ Cup Californian Walnut
2 Cups Rice
1 litre Stock
80gm Blue Cheese
¼ Bunch Parsley
4 sprigs Thyme
1 T/s Grated Parmesan Cheese
1 t/s Smokey Paprika
Method:
Boil Wild Rice with 450ml of water in a covered saucepan.
In a rice cooker add the white rice, stock, soup sachet and Thyme stripped from the stem.
Preheat oven to 180C/355F.
Place the walnuts of a baking tray and toast for 5-10 minutes.
When white rice is cooked add the drained wild rice and stir half the parsley and most of the blue cheese through the dish.
Top with the remaining Parsley, Blue Cheese and Walnuts.
Sprinkle Smokey Paprika and grated Parmesan Cheese to the top.

Verdict:
On the whole, the dish was pretty good, and I finished all the ingredients pictured except the white rice, so it's a win. I served the Wild Rice & Blue Cheese Risotto as a side with a marinated Kangaroo Steak.