Innes Lake Vineyard was to be vineyard number six on our wine tasting tour but alas we arrived Saturday morning at about midday to find the restaurant was fully booked and the staff run off their feet serving people.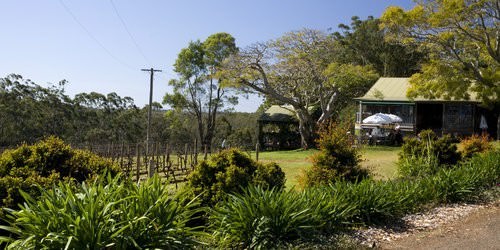 I had obviously made a slight "faux pas" in underestimating the popularity of this vineyard of a weekend with the locals.
The vineyard is set in an idyllic location, with rolling hills covered in vines, and the feeling you are miles from anywhere.  The vineyard also boasts a quality restaurant called "Little Fish" where you can enjoy a beautiful meal after your wine tasting.
Charley's Choice is the gourmet condiment range offered by the vineyard.  These marmalades, jams, chutneys, pestos and tapenades are made from the freshest local produce.  All the fruit is sourced in the Macleay Valley, and the Grape Jam is made from the Pinot Noir grape grown at the vineyard.
The staff at the cellar door will assist guests in trying the ten different styles of wine on offer at Innes Lake Vineyard.  They are available to explain the complexities of each wine and make recommendations as needed.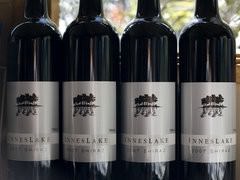 Seating for the "Little Fish Restaurant" is on the lawn, under an arbour or on the covered deck.  Being mid morning some people were still enjoying a leisurely breakfast with a coffee in hand, where others had begun to settle in with a bottle of white wine to pass away the day relaxing in the vineyard.
We had a wander around and I perused the menu. I was even more disappointed we hadn't booked a table. The menu was exceptional with a variety of interesting dishes, from large anti-pasta platters to share, to Rosemary Lamb Shank, or a divine sounding Pork Belly dish. Each dish is accompanied by a wine recommendation for a complete experience.
In summary, I can't comment on the food or the wine but I will definitely be coming back with a booking for lunch.  I can't think of anything nicer than a table on the lawn for lunch with a bottle of wine while the kids run around on the grass.
Don't make the same mistake as me bookings are definitely advisable Ph: 02 6581 1332