One of the children's favourite dishes in Thailand has been Sweet & Sour Fish or "Phad Prew Wan Pla".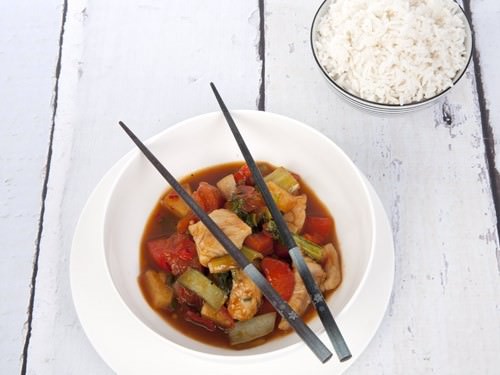 Thankfully, it was a dish which was featured in my Thai Cooking Class at Absolute Resort in Phuket.
As with all Thai dishes, this recipe has a lovely balance of flavours and it's such a simple dish to make when you know how. The list of ingredients is a little long but the sauces are common to most Thai cooking.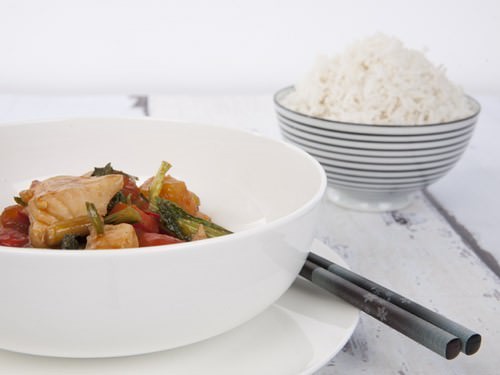 The chef hosting the Thai cooking class gave us these very important tips which apply to most Thai dishes.
Always prepare all the ingredients prior to cooking.
Only cook one or two serves of the dish at a time.
Taste the dish when the sauces have been added. Adjust the ingredients and sauces as you cook to get the balance between sweet & sour,  spicy or salty.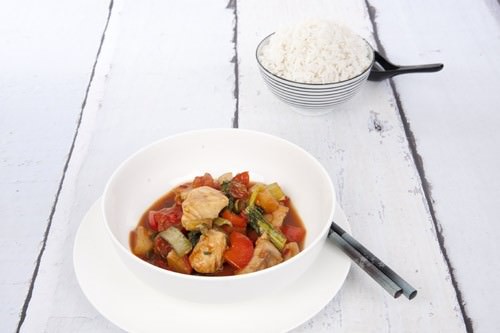 It may sound tedious to only prepare one or two serves at a time, but this really works and takes no time at all, since all the vegetables have already been prepped and are ready for use. I usually cook the children's first with only a tiny bit of mild chilli and then I make the spicier adult version. The teenager is left the "mise en place" ingredients in containers in the fridge. When he comes home he can prepare his meal fresh and have it on the table in under 5 minutes.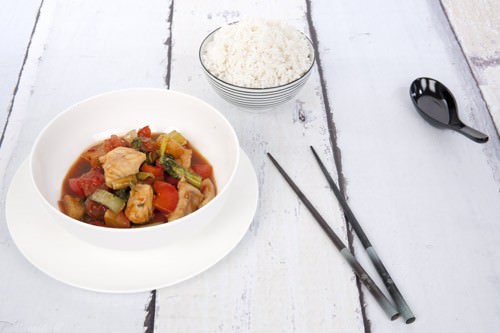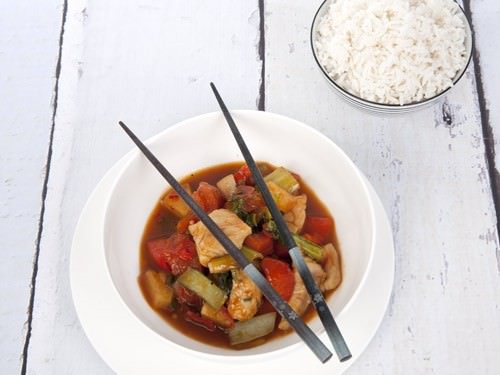 Thai Sweet & Sour Fish
This is a quick and simple dish that children will love!
Print
Pin
Rate
Ingredients
200

gm fish

2

Tbs

oil

1/4

cup

onion chopped

1

clove

garlic chopped

1/2

large red chilli mild

1/2

large green chilli mild

1

cup

baby bok choy chopped

2

shallots

1

red hot chilli

if desired

2

leaves

kaffir lime shredded

1

tomato

sliced into wedges

1/4

cup

pineapple pieces

1/4

cup

red capsicum diced

2

T

/s oyster sauce

2

T

/s rice wine vinegar

2

T

/s palm sugar syrup

1

T

/s soy sauce

light

2

T

/s tomato sauce

garnish with chopped coriander
Instructions
Ensure that all the vegetables, garlic and chilli have been chopped and ready for use.

Heat oil in a wok and add fish, cook until just done. Remove the fish and reserve for later.

Cook garlic, onion, capsicum, chillies and shallots in the wok until just starting to soften.

Add the tomato and pineapple to the capsicum mixture and stir through.

Quickly add all the sauces to the wok and stir.

Finally add the bok choy and kaffir lime leaves and continue to cook until the leaves are just wilted.

Garnish with fresh coriander and serve with rice.
I hope you try this recipe, the addition of kaffir lime leaves gives the sweet & sour fish a distinctive fresh Thai flavour.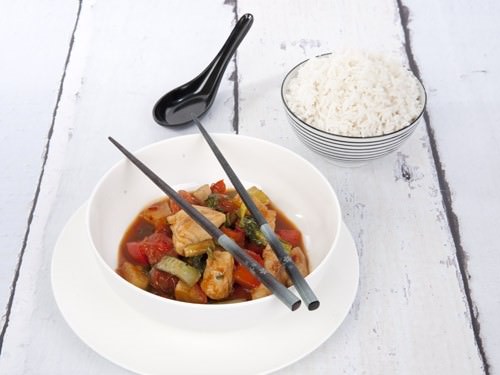 Now, I have a confession. The last time I made this dish for the children I swapped the cubed fish for frozen tempura chicken nuggets. I know this is terribly unhealthy! I deep fried the nuggets, and once the sweet & sour vegetables were made I stirred the nuggets through the dish. I was voted number one mum in our household that night!
Do you think this is something you would try at home?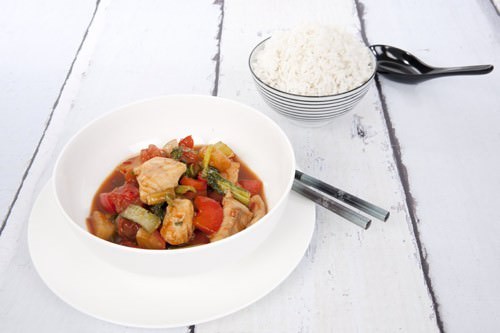 Absolute Sea Pearl Resort
42/11 Taveewong Road, Patong Beach, Phuket