The main course for this evenings meal is Shouga-yaki. Our Japanese student Mana and her friends Tomo and Mayumi are teaching us how to cook some of their favourite traditional Japanese meals. I am watching and taking photographs and notes to that I can share them on my website and recreate these dishes again.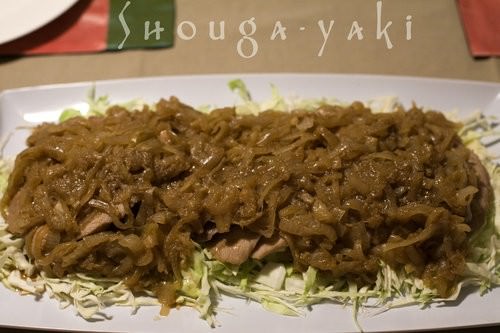 Shouga-yaki
Shogayaki is Japanese ginger pork which pork that is fried and cooked in soy sauce, mirin, and ginger.
Ingredients:
¼ lrg cabbage
4 T/s sugar
150ml mirin
150ml soy sauce
2-inch piece ginger finely grated
900gm pork thinly sliced and flattened
3 onions sliced finely
2 T/s oil
Method:
Finely slice the cabbage into long shreds and place onto the serving platter. The cabbage will form a layer which should completely cover the plate.
In a large bowl combine the sugar, mirin and soy sauce stir until combined. Add the finely grated ginger to this mixture.
Pound the pork steaks until thin and place in the marinade. Allow the meat to marinade for 30 mins.
After the meat has sat for 30 mins in the marinade, slice the onion and add to the pork marinade.
Stir the mixture until the onion is also well coated in the marinade.
Allow the pork and onion to marinade for a further 30 mins minimum. The smell of the ginger and soy sauce was amazing even at this stage. It is such a fresh healthy aroma.
Heat a heavy frying pan until very hot. Add oil and quickly fry one or two pieces of pork only at a time.
Remove the pork as it is cooked and place onto the serving tray of cabbage.
Once all the pork has been cooked pour the onion and marinade mixture into the frying pan.
Cover the frying pan with a lid and reduce the heat to sweat the mixture and cook until it is caramelised.
Remove the onion from the heat when complete and top the pork steaks with the caramelised onion mixture serve with sticky rice.
Today has been amazing fun!  The cooking has been a "Japanenglish" experience, half the cooking, cursing and counting in Japanese and half in English. Strangely we have all had a reasonable idea of what is being said at the time and there have been side-splitting giggles along the way.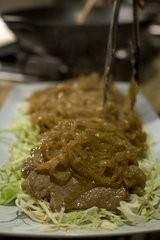 Oishi!
At the start of this cooking adventure, there were no recipes just the ingredients and a lot of adding and tasting, "ohhs," "ahhs," "smell is good," and then finally "it's good" thumbs up and we proceeded to the next stage.
The meal was delicious and the girls said: "the taste is like home taste". It will be a dish I make again soon.