Chawan-mushi is a traditional egg dish which Tomo and our student Mana are making as an entrée for their friend Mayumi and the rest of our family. It is a traditional Japanese dish and the second Mayumi heard what the girls were preparing she was saying "oooh I miss this dish" "I love Chawan-mushi" so I am confident we are in for a treat.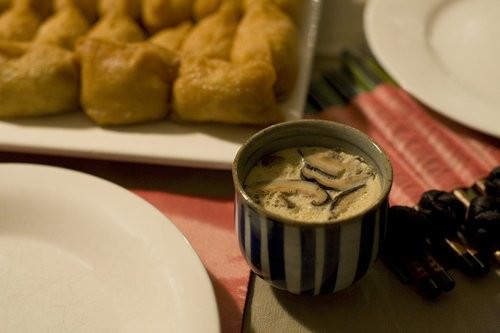 Chawan-mushi – Japanese Egg Custard
Ingredients:
6 shitake mushrooms
1 ½ cups boiling water
5 eggs
½ cup mirin *
½ cup dashi *
2 t/s soy sauce
1 t/s sugar
200 gm chicken meat
150 gm prawn
(*If you don't have dashi and mirin, you can use Mentuyu sauce)
Method:
Soak the shitake mushrooms in the hot water for 1 hour.
Cut the chicken into thin strips about 2cm long, the cut the prawns in half so that the pieces are a similar size. Jess took over this job as Tomo and Mana were busy calculating measurements in Japanese and then in English, and then back in Japanese. Mana said my math is weak, "I don't know 125ml or 1250ml of mirin" we went with 150ml.
Drain the mushrooms and reserve the liquid for later use.
Slice the mushrooms finely. Watching Tomo and Mana take turns in smelling the mushrooms and sighing was fantastic! They had a little piece of their Japanese culture and it obviously made them feel like home.
Crack the eggs into a large bowl and beat until well combined. Everyone in the kitchen took turns at doing this, there was so much going on, we even had Anais whisking at one stage.
Add the liquid from the mushrooms to the egg mixture and whisk further.
Add the dashi, soy sauce, sugar and mirin to the eggs mixture and continue to whisk ensuring it is light and well combined.
Add the chicken, prawn and mushroom to the egg mixture and whisk further.
Using a soup ladle divide the mixture between the serving dishes. Ramekins would be suitable.
The egg mixture needs to be steamed, so heat a saucepan with a steamer, once the water reaches the boil add the egg pots to the steamer and cook.
Cooking time is approximately 20 mins depending on the size of the serving dish. Makes about 6 individual serves.
The taste of this dish is like nothing I have had before. The mushroom gives an earthy taste to the egg custard, the prawn and chicken gives the dish substances and a lovely saltiness.
The texture of the dish was pure silk, there was none of the usually egg taste or texture, just silky smooth.
It was also one of the most entertaining dishes I have witnessed being cooked, we had full participation in the kitchen. What dish is an all hands in affair at your house?