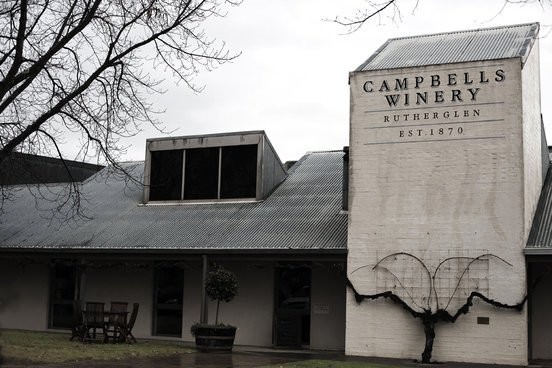 We are all well fed after our lunch at Parkers Pies Rutherglen (see part 1) The first vineyard on our wine tasting tour is Campbell's Vineyard. It's a rather apt choice as Parkers Pies uses the Bobby Burns Shiraz in their RUTHERGLEN RED Pie –Tender chunks of beef, slowly cooked in a rich mushroom and the Campbell's Vineyard, Bobby Burns Shiraz, red wine sauce.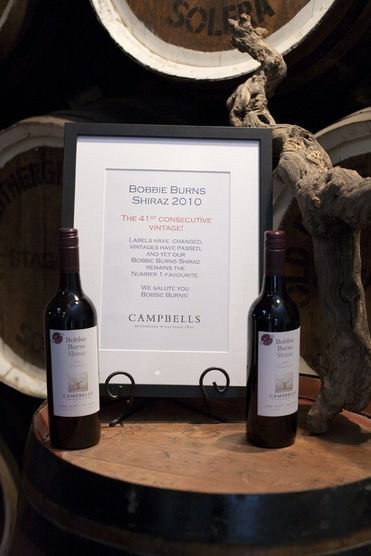 …but we have moved on from food and are sampling from the cellar.
When we arrived at Campbell's the cellar door was quite busy. We took our place at the bar and perused the tasting notes.  It seems that the Bobbie Burns Shiraz has been produced continuously since 1970. It has big fruit flavour and proven aging ability, Mr GG found this one to his liking.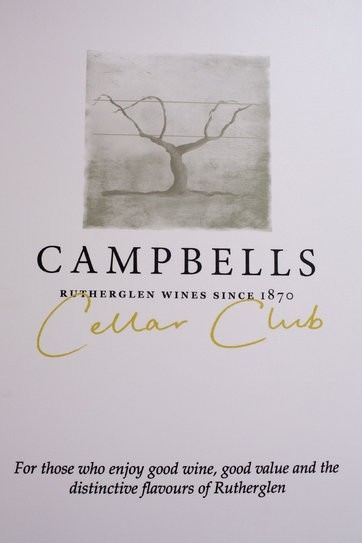 I was briefly distracted from my wine tasting by Miss Rachy, she had found the ultimate wine glass for me. We both admire the drinking prowess of Courtney Cox and her companions on "Cougar Town." Courtney has a wine glass that she has affectionately named "Big Carl." For those of you who don't know about "Big Carl," in an episode of Cougar Town Courtney fills "Big Carl" and empties a wine bottle completely. She laments that she simply can't understand how people get four glasses of wine out of a bottle. I have been looking for my own "Big Carl" ever since.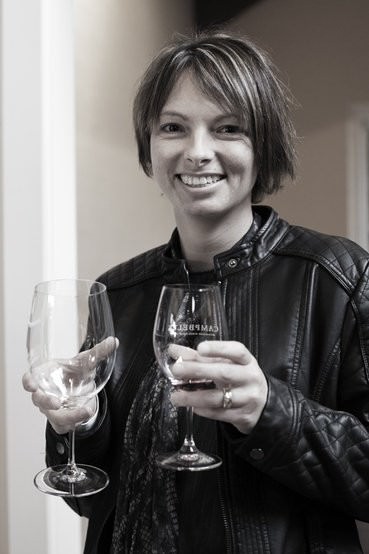 We are sampling the Campbell's range of wines from beautiful Riedel Glasses and I am pleased to say they come in all sizes, even a very generous "Big Carl".
…and I digress again. We sampled a selection of wines and are also offered local cheese, olives and crackers to cleanse the palate.  It is such a refined vineyard, which I guess could be expected from a winemaking family which has now been producing quality wine for five generations.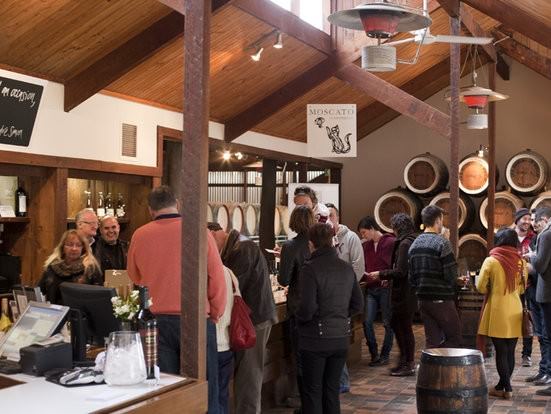 The cellar door is warm and inviting, century old barrels house the Muscats and Tokays. The barrels lend flavour to the product and are a reminder of the history and wine making knowledge which would have been passed down through the family.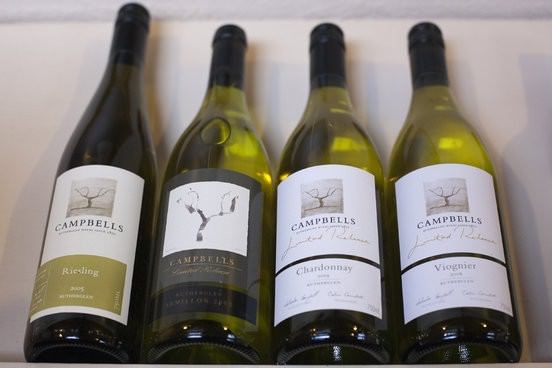 There are also many rows of new oak barrels and modern wine making equipment, the vineyard produces a wide range of wine and is obviously commitment to producing wines for generations to come.
4603 Murray Valley Highway  Rutherglen VIC 3685
(02) 6033 6000