If you have a young daughter you will probably know all about "My Little Pony." You may even know the names of each of the ponies, their colours and their "personalities", and now you know about Rainbow Dash Cupcakes.
I have to say my daughter is the youngest of my five children.  This is my first time doing the girly things. I don't know very much about dolls, tea parties and teddy bears, and I know even less about My Little Ponies. I do know, that miraculously everything seems to be turning pink in her bedroom? Although I don't quite know how that happened.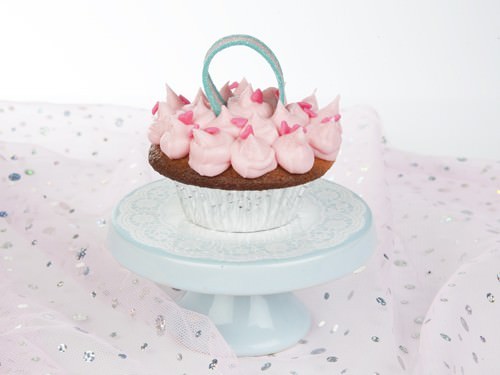 The other day Anais walked into the kitchen and announced that everyone had forgotten her teddies birthday. This is the same child who didn't even have a teddy bear until she stayed at a friends place in kindergarten! She found that other little girls take dolls and teddies to bed! Who could have guessed?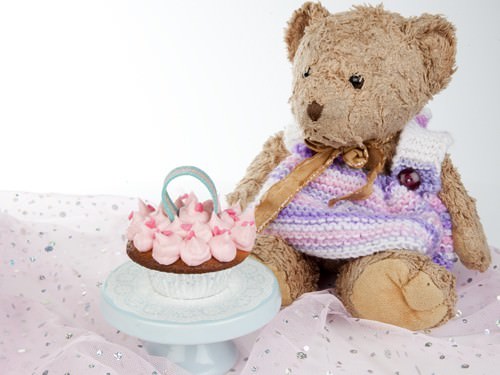 Feeling that I had neglected the softer side of raising a girl, but still a little reluctantly, I found Anais a special teddy. Now teddy is firmly established in the family, she has been all over the world with us, and apparently now has a birthday. Oh yes, teddy is a girl, named Rose, in case you wondered.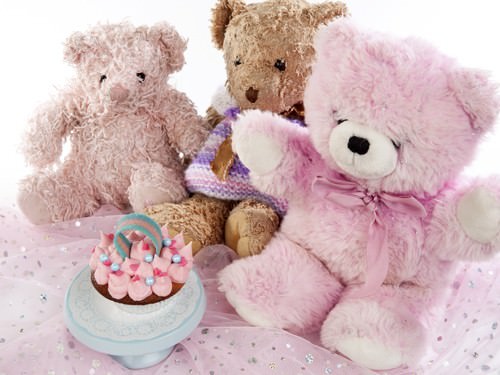 Anyway, Anais felt that Rose needed a party. She decided to organise a teddy bear's picnic with a close neighbourhood friend. She chose to make Rainbow Dash Cupcakes from her "My Little Pony" cookbook, especially for her baby.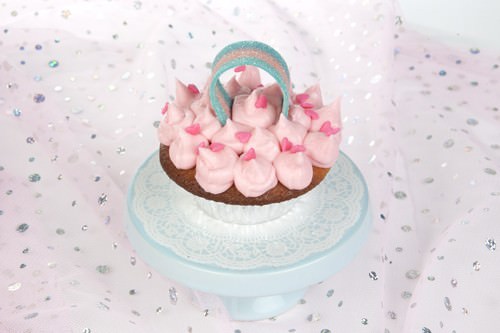 It seems I am raising a little girl.
The two girls made the cupcakes together, with some supervision from myself, and the three invited teddies.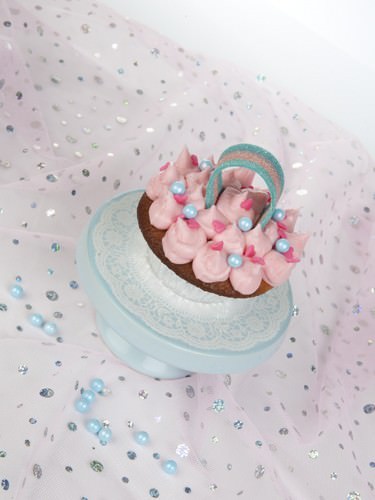 When it came time to decorate, I piped the icing and the girls placed the sprinkles and "rainbows" on the top. They were so pleased with themselves, and the result was just beautiful.
Rainbow Dash Cupcakes
Recipe Type
:
Cupcake, Snacks, Party Food
Author:
Prep time: 1 hour
Cook time: 30 mins
Total time: 1 hour 30 mins
Gorgeous Rainbow Dash Cupcakes that any little girl would love at her party!
Ingredients
Cupcakes
125gm butter cubed
1 cup sugar
2 eggs
2/3 cup butter milk (or milk with sour cream or yoghurt)
1 1/2 cups SR Flour
1 tsp strawberry essence
1 tsp pink colouring
Icing
3 cups icing sugar
120gm cream cheese
60gm butter
3 drops pink colouring
Heart Sprinkles
12 Lolly Straps
1 tsp strawberry essence
Instructions
Preheat the oven to 160 degrees and line a muffin tin with papers.
Cream the butter and sugar until light and fluffy
Add the strawberry essence and pink colouring with the eggs, beat well.
Fold in the flour and milk.
Fill the muffin papers with batter and bake until cooked.
Remove the muffins from the oven when cooked and allow to completely cool before icing.
Icing
In a small bowl cream the butter and cream cheese.
Add the icing, flavouring and colouring and continue to beat until the mixture is smooth and light.
Place the icing in a piping bag and cut the end.
Pipe dollops all around the outside of the cupcake and work your way in to the the middle.
Sprinkle hearts over the cake.
Decorate with a trimmed rainbow lolly strip.
Refrigerate to serve
Two happy girls and three happy teddies. I really enjoyed making these cupcakes with the girls, and they were so simple to decorate.
Next time I will reduce the size to a smaller cupcake as the mixture and icing was very sweet. The children JUST managed to finish the cake.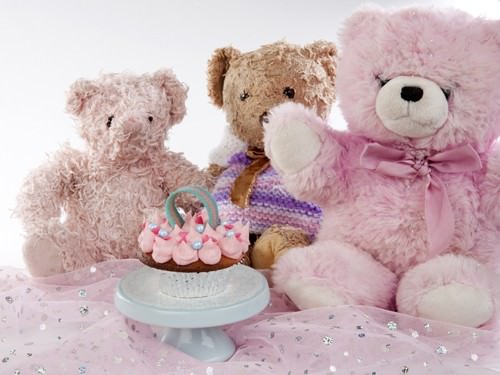 In a smaller patty paper, the recipe would make 24 and be ideal for a little girls party.