"A balanced diet is a cookie in each hand" – Anonymous. The mixture of sweet and savoury makes these Momofuku Compost Cookies the best.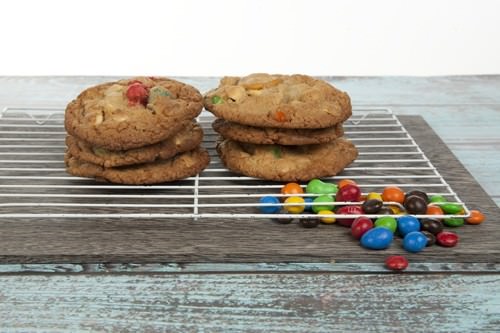 I was challenged to share a favourite cookie recipe, a recipe that sees the cookie jar emptied in record time.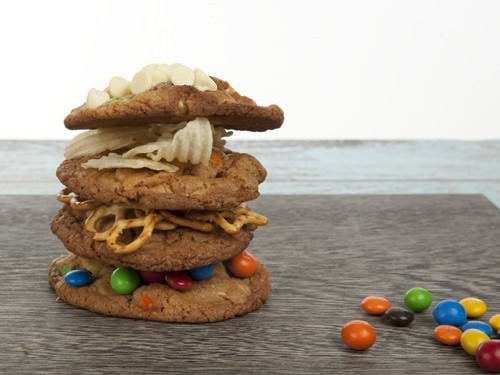 This challenge couldn't have come at a better time for me, I have been experimenting with the famous Momofuku Compost Cookie recipe. The famous Milkbar has provided blueprint for a cookie which allows the cook to throw into the cookie dough a mix of favourite sweet and savoury treats.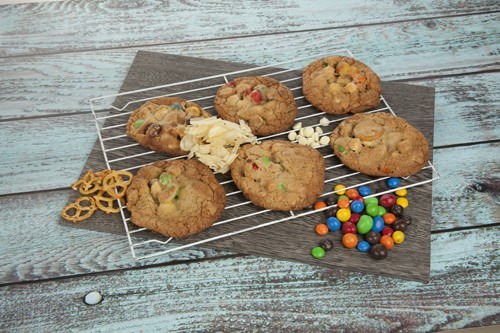 I have tried two different variations but this combination was the favourite with the family.
Momofuku Compost Cookies
Author:
Prep time: 35 mins
Cook time: 15 mins
Total time: 50 mins
Ingredients
1 cup butter
1 cup sugar
3/4 cup light brown sugar
1 tablespoon golden syrup
1 teaspoon vanilla extract
2 large eggs
1 3/4 cups plain flour
2 teaspoons baking powder
1 teaspoon baking soda
2 teaspoons salt
1 cup M&M Mix ups
1 cup plain potato crisps
1/2 cup mini pretzels
Instructions
In a mixer cream butter, sugars and golden syrup on medium high for 2-3 minutes until fluffy and pale yellow in color.
Add eggs and vanilla and beat until combined.
Increase the mixing speed to high and start a timer for 10 minutes. During this time the sugar granules will fully dissolve, the mixture will become an almost pale white color and your creamed mixture will double in size.
On a lower speed, add the flour, baking powder, baking soda, and salt. Mix only until the dough comes together and the dry ingredients have incorporated.
Add the sweet mix ins and combine for 30 secs in the mixer.
Stir through the pretzels and chips by hand until incorporated.
Using a 6oz ice cream scoop, portion cookie dough onto a parchment lined Place the cookie dough in the fridge for one hour.
Use an ice-cream scoop to form balls on the cookie slide. Take care to leave space for the cookies to spread.
Place the cookie trays in the fridge for another hour.
Heat oven to 160 degrees fan forced.
Bake the cookies for between 10- 15 minutes
Cool the cookies completely on the cookie tray before transferring to a plate or an airtight container or tin for storage.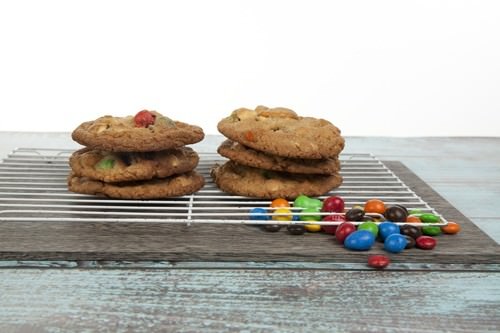 The compost cookies can be made with 1 1/2 cups of any combination of sweet treat and 1 1/2 cups of savoury items.  Here is a list of some possibilities.
Sweet
Mini chocolate chips, peanut M&Ms, chocolate raisins, Rolo chocolates, broken up violent crumble bars, rice bubbles, cornflakes or M&M Mix ups.

Savoury
Potato chips, Pretzels, Goldfish crackers, Ritz crackers, or Corn chips.
What snack foods would go into your compost cookie?