Do you get stuck for after school snack ideas for the kids? I do! I don't like to give them chips or cookies because they have no nutritional value. These pastry hotdogs may not be as healthy as an apple but the kids love them.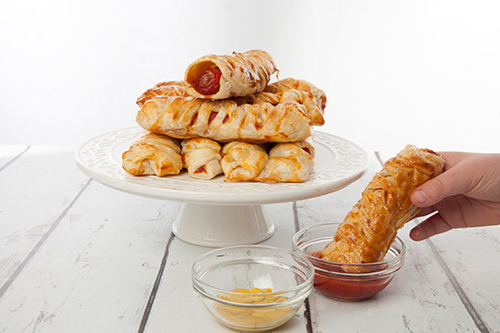 Happily the hotdogs are really quick to make. Four sheets of pastry made 12 wrapped hotdogs, which meant I had a supply in the fridge for a few days.  Once they've been cooked it's just a matter of putting them in the oven to reheat for about 10 minutes.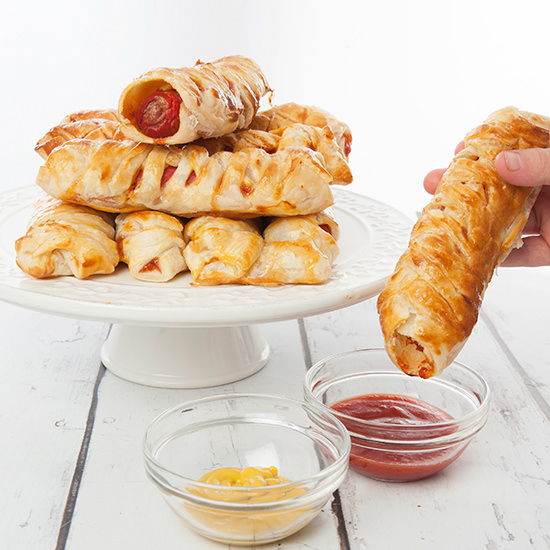 My kids are pretty active so they wrapped their snack in some kitchen paper and headed out the door to play.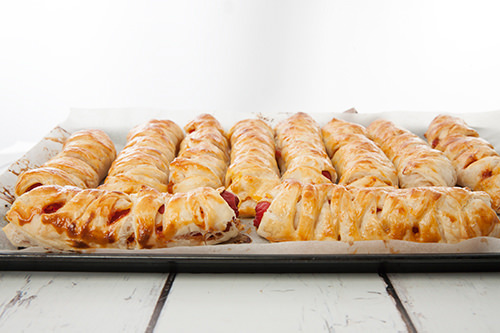 You can adjust the filling to suit your children. Mine kids love American style mustard and tomato sauce so these are the condiments I used. If your children like cheese you could also add a slice of cheese to the wrap.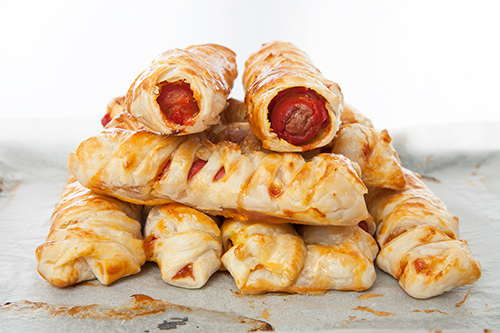 I've shared a YouTube clip below so you could see exactly how these are made. It's really simple. The clip only goes for about 1 minute, so take a look. Please also click like or subscribe. I don't put video's up very often when I do they are usually delicious.
I think these crazy pasty hotdogs would make a great kids party food. I would make them the same way but once they were cooked, slice them into thirds.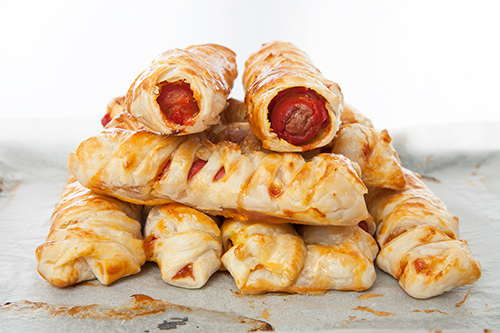 Ingredients
4

sheets Puff Pastry

12

hotdog frankfurts

tomato sauce

American Mustard

1

egg
Instructions
Pre-heat oven to 180 degrees celsius of 360 f

Line a baking tray with baking paper.

Cut the pastry in half and trim the bottom as per the video.

Squeeze the desired amount of tomato sauce and mustard onto the pastry.

Place the hotdog on the condiments.

Cut 1cm slices int he pastry sides.

Wrap pastry alternately over the hotdog.

Repeat until all the pastry is used and you have 12 pastry hotdogs.

Beat and egg and brush it over the completed pastries.

Bake for 25 minutes or until golden.
So readers, what do you make your children to eat after school? Do you get stuck for ideas also? I like to surprise the kids with something a little different and these were definitely a winner in our house. I hope your kiddies like them too.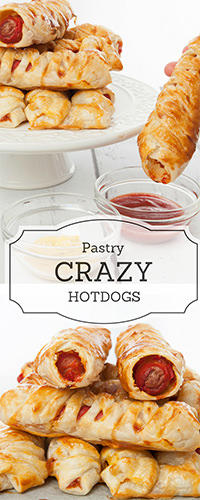 Oh, and don't forget to pin the recipe for later.