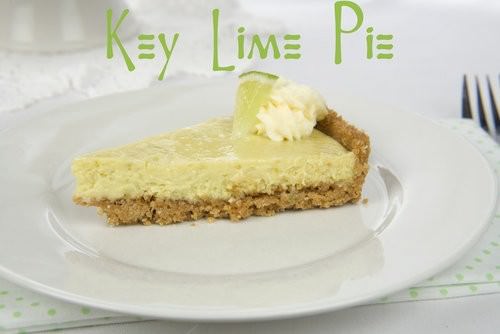 Week 6
Topic American
Key Lime Pie, it is such a cute name!
This dessert had always intrigued me because at one stage it was obviously popular, and I heard it mentioned a lot but never had the opportunity to try it.  Now I don't hear it mentioned so much, and I still haven't tried it.  So anyway, that was what precipitated the making of this dessert. My curiosity finally got the better of me and since I don't seem to see it on a menu anywhere I realized I was going to have to bite the bullet and make it myself.  So this seemed like the obvious choice for the "American Cookbook Challenge." After a lot of research it seems that there really is only one way to make Key Lime Pie and the ingredients really don't seem to vary from recipe to recipe.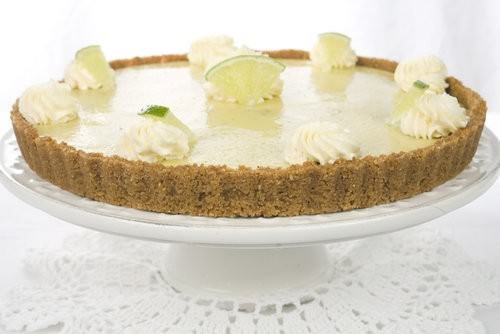 Now, I know in making that comment I will get a million variations on the recipe, so feel free to send them to me and I will happily make (and eat) them all. One common variation I have noticed is the choice between a cream topping on the pie or a meringue.  I went with the cream and I was really pleased I did.  The pie is very sweet! I would have found the meringue too sweet on the top where as the cream cut through the sweet and tart flavour.
My biggest problem with the Key Limes is that they only grow in the Florida Keys, so I couldn't make and authentic pie.  I substituted Key Limes for regular limes, but I am assured the flavour shouldn't vary too much.
I did have one little mishap making my first pie. I will share so that no one else goes down the same path.  I really thought at the outset that the pie should be a gorgeous light green! I presumed it would get the green from the lime rind so I added extra rind to get some colour in the tart. Mistake! Too much rind will make the tart too strong and tarty. Stick with the rind quantities below.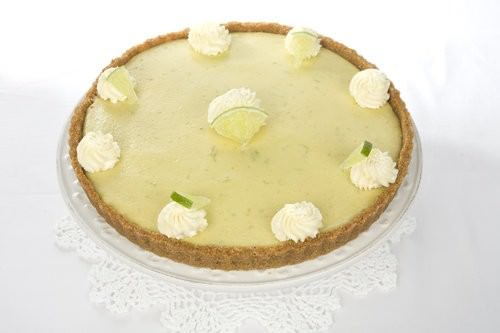 Prior to making the second tart I did some further research and found that the colour of key lime pie is a gentle cream colour, with the only green being flecks of rind.  One article also warned not to add green food colouring.  I admit I had almost been tempted, and now that I have seen some Google images I am so relieved that I didn't.
Now if I have made this pie sound difficult I am sorry.  It is the easiest pie I have made! Simple and delicious.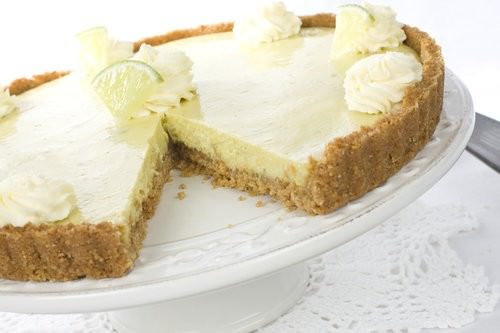 Ingredients:
Crust
200g digestive, nice or wheatmeal biscuits
1 tablespoon caster sugar
100g unsalted butter, melted
Filling
4 eggs, lightly beaten
1 x 395g can sweetened condensed milk
150ml thickened cream
4 limes juiced (1/2 cup juice)
*zest of 1 lime only 🙂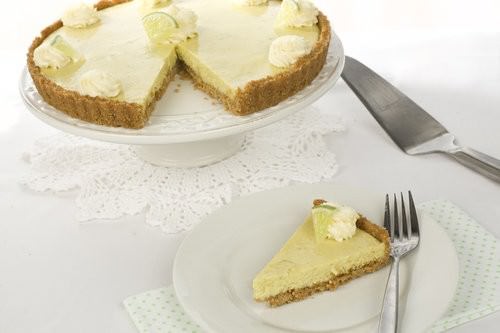 Method:
Preheat the oven to 170°C. Spray a tart tin with cooking oil.
Place the biscuits in a food processor and process. Add the sugar and melted butter and process until combined.
Press the mixture firmly into the base and up the sides of the tart tin. Use a glass to ensure the crust is firmly in place. Refrigerate while preparing the filling.
Whisk the eggs, condensed milk, cream, lime zest and lime juice until smooth. You can continue to use the cleaned food processor. Pour into the biscuit crust.
Bake for 40 minutes or until filling is just set. Cool the tart on the bench and then refrigerate for at least 2 hours prior to serving. Add cream and serve.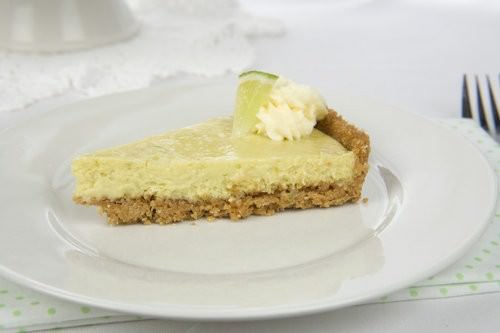 Check out what everyone else made for the "American Challenge"