Filipino style Callos. Never heard of it? Me neither. Callos is a stew that originated in Spain, it can be made with beef, tripe, blood sausage and chick peas. This dish includes tripe, ox knuckle, bacon and chorizo.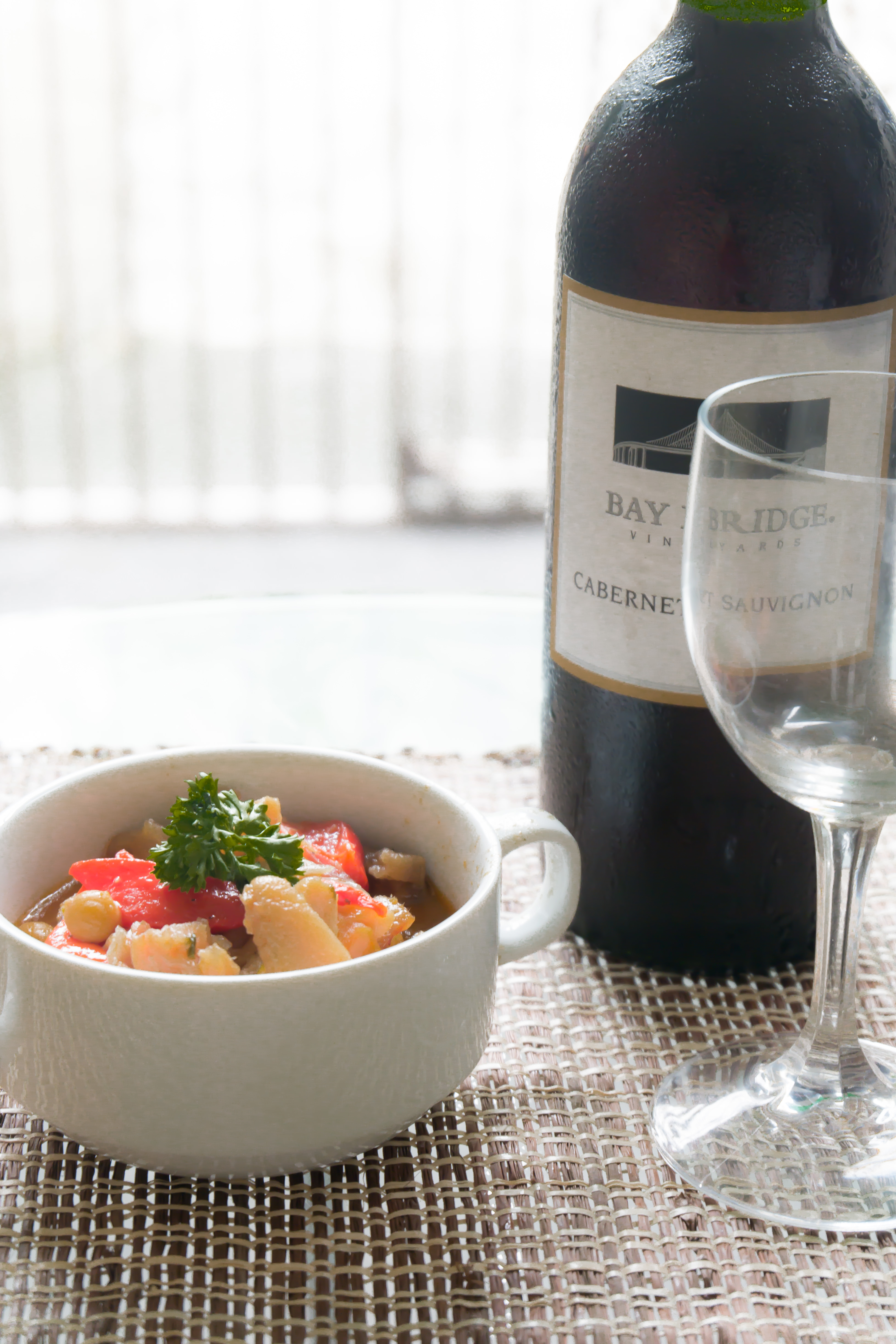 Today's dish is a Christmas special to some. It is also a menu item in Filipino-Spanish restaurants and served in special occasions. Many Filipino families look forward to sighting this dish on their Noche Buena setup.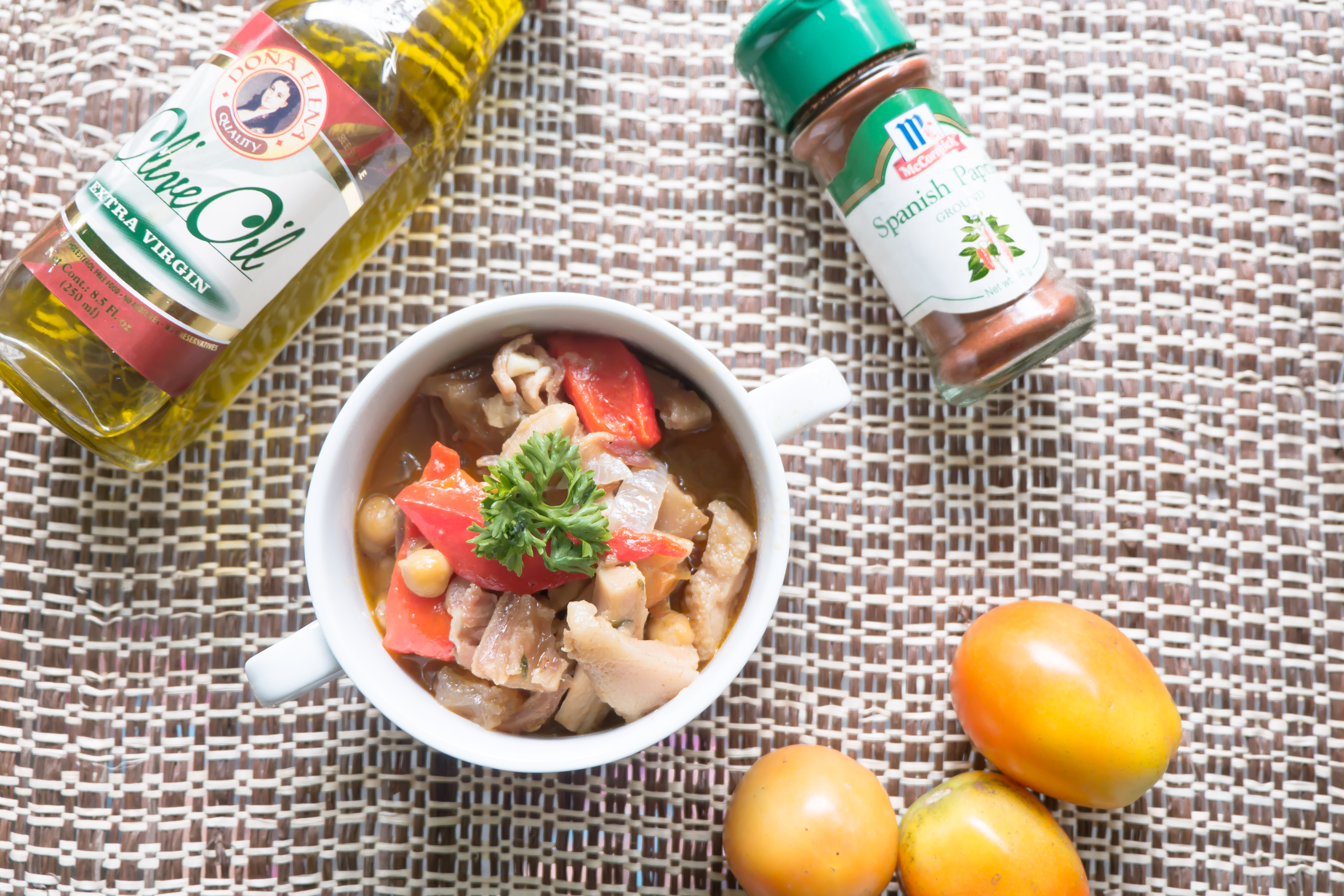 The first time I sampled Callos I was in Cloud 9. The second time I elevated to heaven. Now that I am the one making this dish, and you know I am just starting to cook, then it would be best to descend to the ground for now. Please stay with me till I serve my first Callos.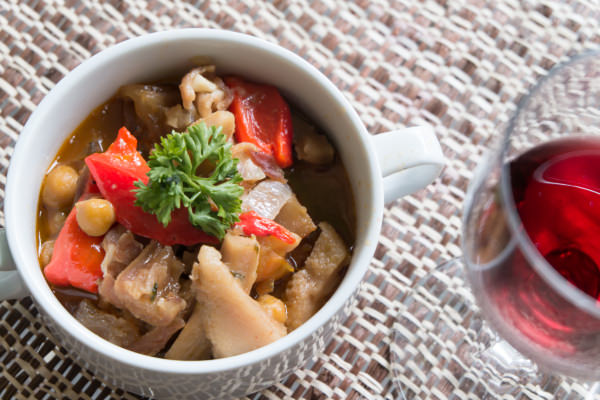 I'm sure you will all agree that the key to most meat dishes are for diners to appreciate food sans the battle against chewing tough meat. Again I was doing the traditional method of slow cooking so it took long hours to tenderise. Achieving the tenderness and all, it was absolutely worth it!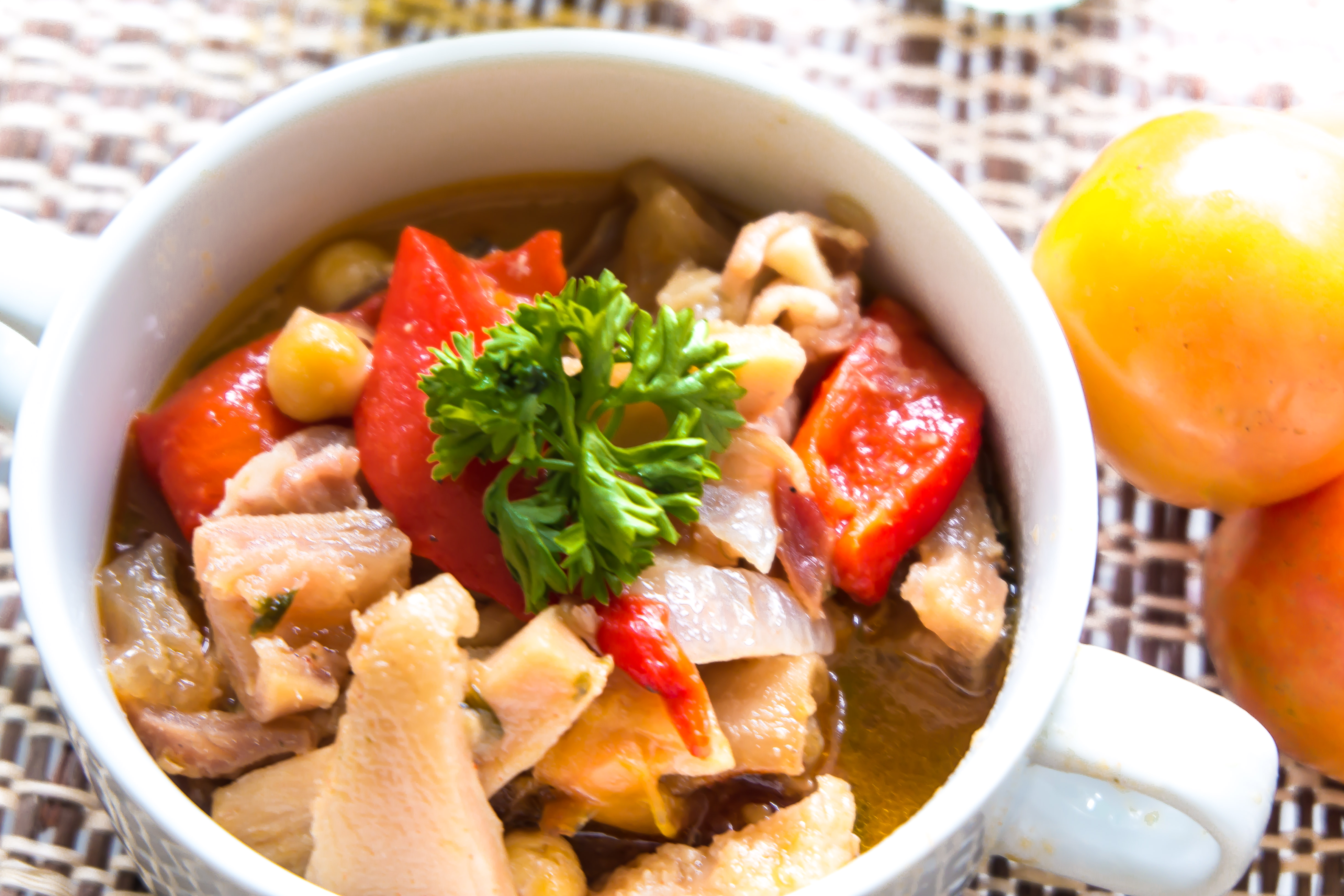 My mom loves some of the flavours of Spain like Paella and Arroz a la Valenciana. For her 66th birthday, I made Callos. The moment I had a closer look at the ingredients I felt challenged. But because I truly loved the dish in two separate dining encounters, there was no turning back.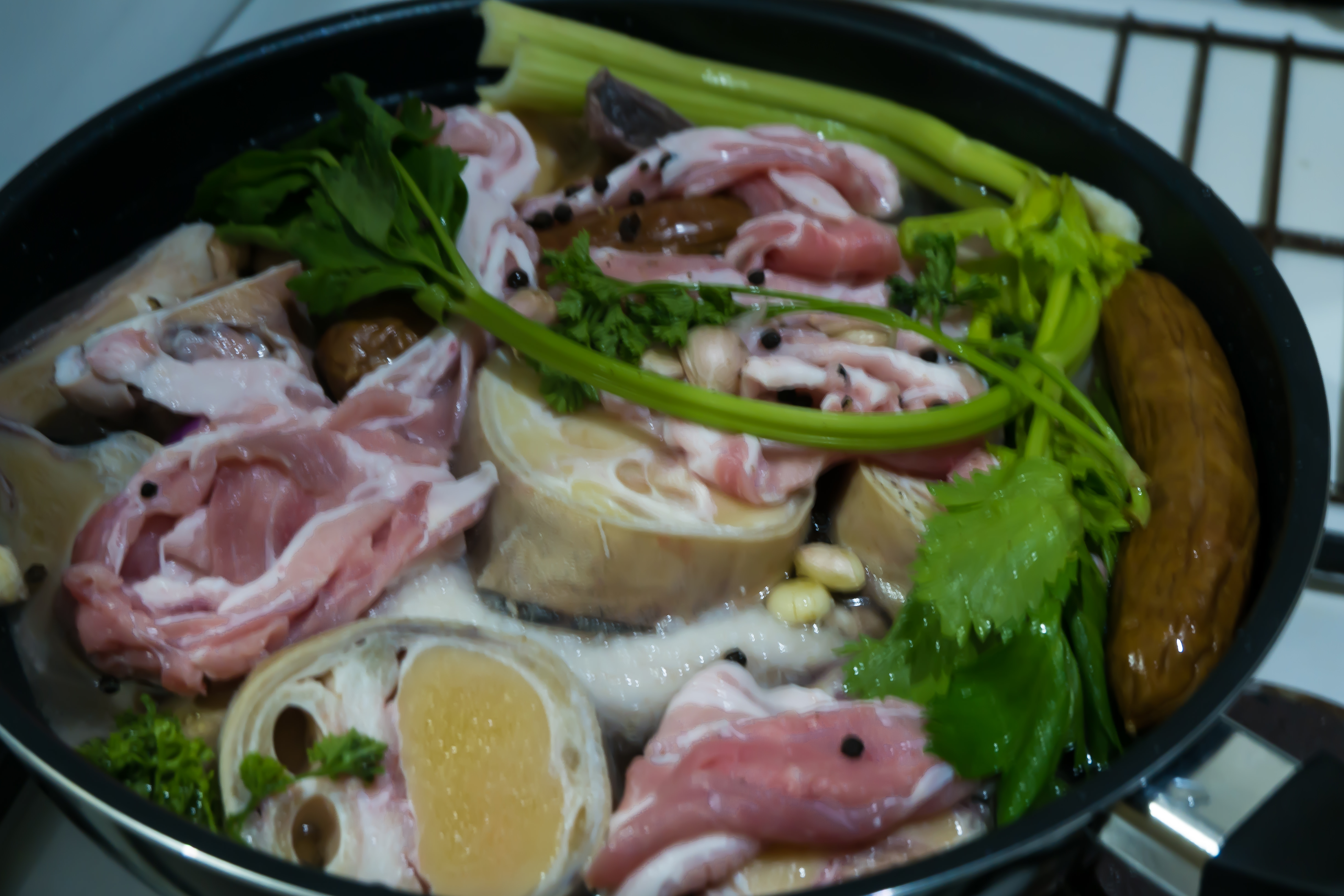 Depending on what method you use for tenderising the meat, the cook time will vary in the below recipe. This is the Callos, Filipino style. The original Spanish dish has Serrano ham instead of bacon and the addition of morcilla or blood sausage. Some will have saffron, too.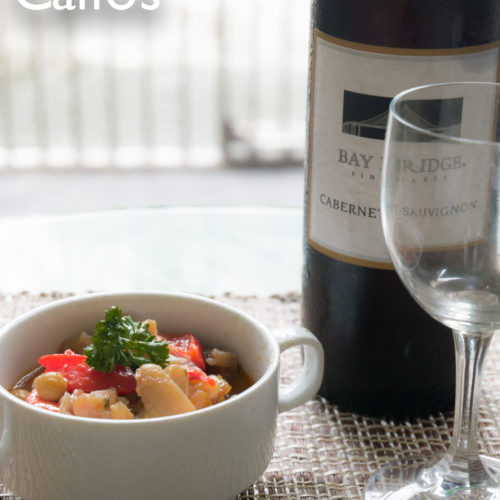 Filipino-style Callos
Inspired by the recipe book Flavors of the Philippines
Print
Pin
Rate
Ingredients
1

kilo ox tripe

cleaned

1

feet

kilo ox knuckles or

cleaned

250

g

slab of bacon

2

pieces

chorizo Bilbao

garlic sausage

1

small onion

quartered

2

leaves

sticks celery

with

6

cloves

garlic

1

Tbsp

black peppercorns

sprig of parsley

2

Tbsp

olive oil

2

Tbsp

chopped onion

1

Tbsp

minced garlic

200

g

tomatoes

skinned, seeded and chopped

200

g

can pimientos

cut into strips

400

g

chick peas

boiled and skinned

2

Tbsp

paprika

1

tsp

freshly ground black pepper

50

g

grated parmesan cheese
Instructions
Place the tripe, knuckles, bacon, sausage, quartered onions, celery, whole garlic cloves, peppercorns and parsley in a large pot and add sufficient water to cover.

Bring to the boil and reduce to a simmer and skim off froth as it comes to the surface. Remove the sausage after 30 minutes and the other meats, including tripe, as they become tender. Debone the knuckle and cut into chunks. Cut tripe and bacon in a similar way. Cut sausage in half lengthwise, then diagonally. Strain the stock and set aside.

Pour the oil in a large casserole and fry bacon to allow fat to render, then remove bacon and drain on kitchen paper. Add the minced garlic, chopped onion and tomato to the pan and sauté until the liquid is significantly reduced, then replace bacon, add the other meats, pimiento, chick peas, paprika, pepper and 1 liter reserved stock and bring to the boil.

Reduce heat and simmer for 15-20 minutes. Stir in the cheese and adjust seasonings to taste. Serve immediately.
My 6-year old nephew, Leik, was so excited to try it. He said that the smell filling the house had his stomach rumbling constantly. He did try it. I suddenly felt some tension build-up. Kids mostly don't lie, and this kiddo is cheeky enough to say how he honestly feels about things. My one-boy verdict? I got a thumbs-up sign plus a huge grin after! I didn't catch that "thumbs-up" moment. It happened all too fast and he went back to playing.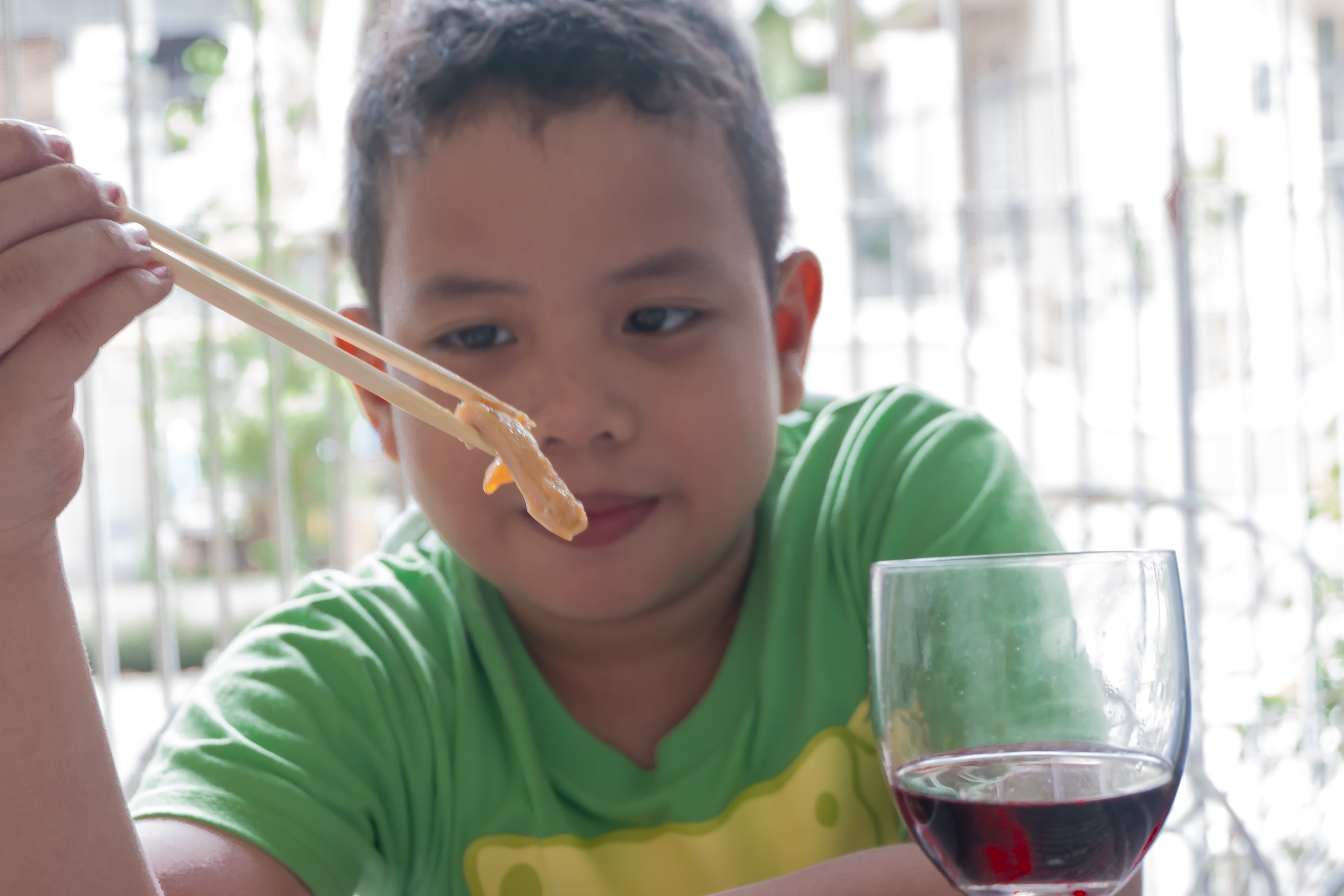 Beef tripe, "callos" in Spanish is a traditional dish in Madrid. It has been served in taverns and family dining tables for centuries. I assure you will all enjoy today's dish. A Spanish viand with a Filipino twist!