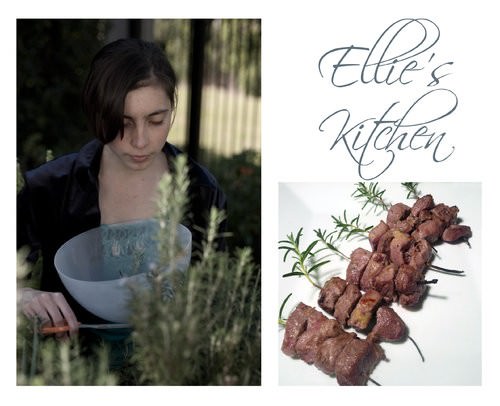 Good Morning Readers!
It is time for another guest post from Ellie.  The inspiration for this recipe came about while we were shooting her profile picture in my garden. I hope you enjoy her story!
J.
These easy Lamb kebabs are delicious I served them up to my family on Friday night with home made Tabbouleh and Hummus. Yes, you may be thinking "that's a summer meal" but really I think it's also a great winter dish.  Parsley is full of vitamin C, great for those wanting to boost their immune system and avoid the common cold. This Lebanese dish is a great family meal and excellent crowd pleaser.  Tabbouleh and  Hummus can both be made in advance and the kebabs can be threaded and kept in the fridge until needed. All that's is then required is to cook the kebabs and served with some warm Lebanese bread.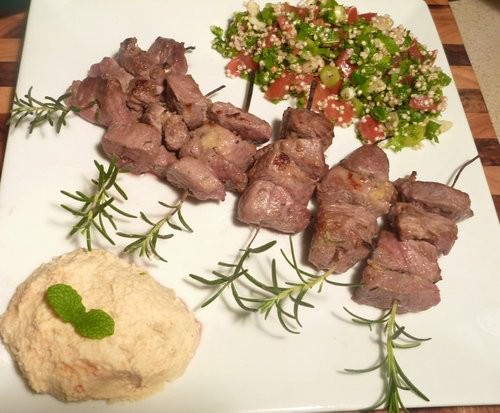 Tabbouleh Ingredients:
1 cup cooked royal Quinoa
4 shallots, finely chopped
2 tomatoes, finely chopped
1 cup mint, finely chopped
1 1/2 cups parsley, finely chopped
1 Tbsp olive oil
2 Tbsp lemon juice
salt (to taste)
Method:
Combine shallots, tomatoes, mint and parsley. Add mixture of oil and juice. Season to taste.
This can be made up to a day in advance.
Hummus Ingredients:
2 cups drained cooked chickpeas, reserve cooking water
1/4 cup tahini
1/2 cup lemon juice
2 small cloves of garlic
1 Tbsp olive oil
Paprika or Sumac to serve
Method:
Place all ingredients into a food processor, adding enough of the cooking water to form a smooth paste. Sprinkle with paprika to serve.
Lamb kebabs Ingredients:
500g lamb meat, cut into 1.5cm cubes
1 kiwi fruit, skin removed and mashed.
1 Tbsp olive oil.
9 rosemary stalks.
salt (to taste).
Method:
Combine lamb with kiwi fruit and mix to coat, Cover and refrigerate for 1-2 hours
Line the grill with foil and preheat on high.
Remove leaves from stalks, keeping 2cm of the top in tack and trim stalk at an angle so it can pierce though the meat.
Chop remaining loose leaves and combine with oil, salt & pepper.
Thread meat onto skewers. If you have difficulty threading the meat you can make a guide how with a metal skewer first.
Baste the kebabs with the oil mixture Cook under high grill until brown, turning once or twice.
*Note: Kiwi fruit acts as a tenderiser. ** Kebabs can also be cooked on the BBQ